5 Easy Ways to Track Your Stocks
You bought the shares. Now make sure they meet your expectations.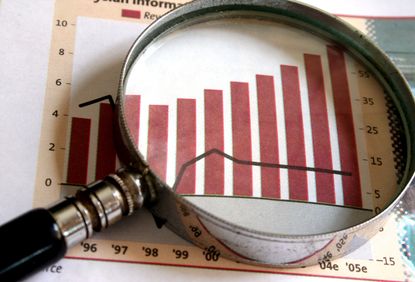 (Image credit: Getty Images/iStockphoto)
If you don't follow stocks for a living, you probably don't have the luxury (or connections) to be super-vigilant when it comes to tracking your investments.
Still, there are plenty of online resources that can help you stay abreast of news that might affect a company whose shares you own, and allow you to monitor its financial health and evaluate the stock's performance. Remarkably, many of these resources are available at little or no cost.
Consider these five broad areas in which the web can make you a more informed shareholder.
Subscribe to Kiplinger's Personal Finance
Be a smarter, better informed investor.
Save up to 74%
Sign up for Kiplinger's Free E-Newsletters
Profit and prosper with the best of expert advice on investing, taxes, retirement, personal finance and more - straight to your e-mail.
Profit and prosper with the best of expert advice - straight to your e-mail.
Step 1: Set Up Your Portfolio
If you haven't already set up a portfolio through an online brokerage account, you can turn to any of several Web sites that offer free trackers you can customize with your list of stock and fund holdings. For example, Morningstar, and Yahoo Finance contain basic tools that let you insert the number of shares you bought and at what price. The trackers then use slightly delayed stock quotes to update the value of each holding and your entire portfolio. On both sites, clicking on a stock leads you to a trove of information on the company, including recent news, his­torical share prices, filings with the Securities and Exchange Commission and more.
For more bells and whistles, consider downloading Empower. You can view your holdings using various measures, including market value, risk or the size of your position. The tracker also performs a basic analysis of your investment allocation, performance and potential tax liability. Plus, Personal Capital has apps you can run on your mobile device to track your portfolio on the go.
Step 2: Get a Sense of History
In the short term, stocks tend to behave like pinballs, bouncing erratically every time significant—or even not-so-significant—news hits. If you're investing with a long time horizon, you don't need to monitor stock prices daily (although many of us do). "Just realize that any one day won't tell you much," says Craig Hodges, co-manager of the Hodges Fund (HDPMX). "But a stock's price action over time is going to tell you the story better than anything out there."
It's worthwhile to study your stock's price movements over different time frames, including bull and bear markets. You should also compare its performance with the overall market, using a benchmark, such as Standard & Poor's 500-stock index, and any other relevant barometers (for example, the Russell 2000 index for shares of small companies). Says Hodges: "Watch where your stock's price moves relative to the benchmark over time. On up days, is your company up more than the market—or vice versa? On down days, is it actually up?"
At Bigcharts.com, run by MarketWatch, you can customize large, easy-to-read charts (a zoom feature ensures that you won't have to squint to find data points). A drop-down menu allows you to compare stocks with indexes or other stocks. You can choose among set time frames or create your own.
[page break]
Step 3: Go to the Source
The investor section of a company's Web site contains a wealth of information, including slide shows, fact sheets, historical information about the stock, recent news and upcoming events. You'll also find the financial reports that publicly traded com­panies are required to file with the Securities and Exchange Commission (you can also access this material at www.sec.gov/edgar.shtml).
Don't miss the quarterly earnings call, which is your chance to eavesdrop on a meeting with executives. During this teleconference, which is usually broadcast live from the company's Web site several hours after an earnings announcement, the honchos discuss the quarter's financial results and fill in details not included in the earnings release. Often the most informative part of the call is the question-and-answer period, when financial analysts (and sometimes you, too) can ask questions. If you miss an earnings call, don't worry: Companies often keep a recording posted on their Web site. Otherwise, search for full transcripts of the calls at SeekingAlpha.com.
Step 4: Find an Expert Opinion
Collecting financial information on a com­pany is easy, thanks to sites, such as Yahoo Finance, that put balance sheets and income statements at your fingertips. But this raw data requires some degree of analysis. For example, knowing a company's price-to-book-value ratio is useful only if you understand the underlying concept.
Of course, you could pay a professional to do the heavy lifting. Full-service brokerage houses, which charge clients commissions and other fees, produce a lot of research and analysis. But you can also obtain reports from independent outfits, such as Morningstar (www.morningstar.com; $199 per year) and Value Line (www.valueline.com; $598 per year), or through discount brokers. A more cost-effective option is to find news stories that summarize analysts' reports on your stock at sites such as Google Finance, Yahoo Finance and MarketWatch. (Another plus: News stories typically decipher analysts' jargon.)
A good source for analysts' rating changes is the "Calendars" section of Briefing.com, which also lists stock splits and earnings release dates. In addition, just as many companies forecast earnings expectations for the coming quarter or year (or both), analysts calculate their own profit estimates. Numbers from all the analysts who follow a stock are combined to produce average estimates, which you can find on Yahoo Finance. The site also lists historical estimates and revisions of average estimates -- which are a key indicator to see if something's afoot with a stock.
Step 5: Become an Active Participant
As a part owner of a company, you're entitled to ask questions. Some companies are eager to open up to individual investors. If you hold shares of a small company, try calling its executives. Many companies have an investor-relations contact who can help with inquiries and requests. A phone number is usually listed on the Web site or the back of the company's annual report.
You may also want to communicate with other investors. Online bulletin boards can be useful places to share ideas and opinions, post questions or just observe. Keep in mind that while postings can be insightful, they can also be freewheeling, frivolous—and just plain wrong. After all, you usually don't know who is really composing the message. Is it a well-informed (and well-intentioned) investor? Someone who seems authoritative but isn't? A company shill? A short-seller spreading half-truths? For that reason, you must tread carefully on bulletin boards.