What Women Want in a Financial Adviser
They're put off by aggressive sales tactics and excessive jargon.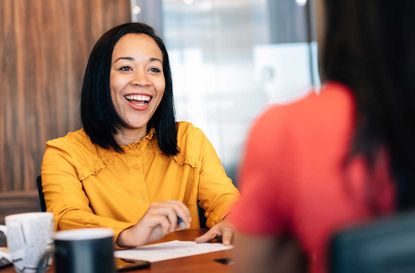 (Image credit: FERRAN TRAITE (FERRAN TRAITE (Photographer) - [None])
One way women can gain confidence as investors is to use a spouse, partner or trusted friend as a sounding board (see How to Be a Confident Investor). Add to that list a financial adviser. Reader Ann McCool writes that after being recently widowed, "The best thing I did was to find a good financial adviser. That person has helped me not only with investments but also with tax issues and estate planning."
But finding the right match can be a challenge. Reader Lynn Hood has immersed herself in copies of this magazine, among other sources, to get up to speed on self-directed investing. Still, "I would be just fine with a good financial planner who would advise me on an hourly basis," she writes. "But I have struggled to find that person."
As I told Ms. Hood, Kiplinger's generally recommends starting your search with two sources: the Garrett Planning Network, members of which are willing to work on a fee-per-hour basis, and the National Association of Personal Financial Advisors, which lists a range of fee-only financial advisers. Beyond that, however, connecting with the right counselor is a very personal decision—especially for women.
Subscribe to Kiplinger's Personal Finance
Be a smarter, better informed investor.
Save up to 74%
Sign up for Kiplinger's Free E-Newsletters
Profit and prosper with the best of expert advice on investing, taxes, retirement, personal finance and more - straight to your e-mail.
Profit and prosper with the best of expert advice - straight to your e-mail.
When consulting firm Kantar asked women about the qualities they were looking for in a financial adviser, "they used a lot of terms that would be applicable to a romantic partner," says Kantar's Audrey Looker. "For example, they talk about the 'intimate' nature of the discussion and how 'vulnerable' they feel when laying out their financial mistakes." What they want in an adviser, she concludes, "is more of a partnership rather than a vendor or service relationship."
Women also differ from men in what they would like to get out of the partnership. "Men approach investing on a performance basis: How is my portfolio doing?" says Looker. "Women are interested in the end benefit: Will I be able to pay off my house, send my kids to college, retire when I want?"
Comfort zones. Aside from aggressive sales tactics, women are put off by excessive jargon. "The financial industry has made investing seem overly complex," says Lorna Kapusta, head of women and investing for Fidelity. "Instead of talking about alpha and beta, you need to create a comfortable environment." For example, Fidelity has cut back on TVs and tickers to make its offices quieter and more relaxed, and it has developed purse-size pamphlets on financial topics that women can easily take with them.
Women don't necessarily prefer to work with female advisers, says Looker. "They just want someone they can connect with on a personal level." Nevertheless, the financial services industry is going all out to attract more women to make their offices less intimidating and offer clients a variety of perspectives (see For Some Women, the Financial Services Industry May Be a Fulfilling Career Choice).
Several years ago, Fidelity changed its job description for financial advisers to deemphasize things such as finance degrees and sales goals and shift the focus to traits such as building relationships and solving problems—"skills that women excel at," says Fidelity's Amy Philbrook. As a result, the firm has added more than 150 female advisers, who now make up 21% of the total, up from 16% in 2016.
What really turns women off are advisers who are condescending or dismissive, or who ignore them when they come in with their husbands or male partners. By some estimates, more than 60% of female investors change advisers as a result of poor service.
One of those women is my friend Loriann, who began taking a more active role in her family's finances when her husband developed Parkinson's disease. "I felt incredibly patronized when my husband's adviser began giving my husband and me mixed messages," she says. She has since begun working with a husband-and-wife team at the same firm, and that relationship appears more promising. Says Loriann, "It's important for me to have a seat at the table."

Janet Bodnar is editor-at-large of Kiplinger's Personal Finance, a position she assumed after retiring as editor of the magazine after eight years at the helm. She is a nationally recognized expert on the subjects of women and money, children's and family finances, and financial literacy. She is the author of two books, Money Smart Women and Raising Money Smart Kids. As editor-at-large, she writes two popular columns for Kiplinger, "Money Smart Women" and "Living in Retirement." Bodnar is a graduate of St. Bonaventure University and is a member of its Board of Trustees. She received her master's degree from Columbia University, where she was also a Knight-Bagehot Fellow in Business and Economics Journalism.