A 401(k) Plan Personalized for You
New retirement plan options seek to improve on standard target-date funds.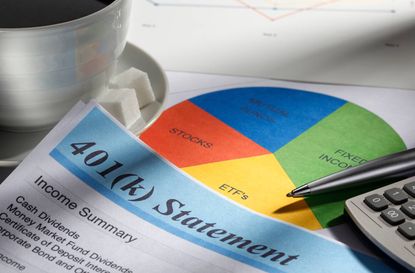 (Image credit: DNY59)
Target-date funds hinge on one principle: Age matters in investing. Young investors have time to recover from market downturns and can afford to take on more risk than those who are nearing retirement. With that in mind, target-date fund managers shift the mix of stocks and bonds to a more conservative blend as the funds near their target year.
But age isn't everything. Women tend to live longer than men, so their money needs to last longer. Some people are better savers than others. And someone who has, say, a pension may be willing to take on more risk than someone who doesn't. That's the thinking behind a new, personalized investment product that some 401(k) plans now offer.
In addition to age, these customizable accounts may consider salary, gender and the participant's current 401(k) annual savings rate or account balance (information your employer or retirement-plan administrator routinely gathers about you) to determine the appropriate mix of stocks and bonds. For example, in these customized accounts, two 50-year-olds with different account balances may hold a higher or lower proportion of stocks in their portfolio, depending on how much catching up they have to do.
Subscribe to Kiplinger's Personal Finance
Be a smarter, better informed investor.
Save up to 74%
Sign up for Kiplinger's Free E-Newsletters
Profit and prosper with the best of Kiplinger's expert advice on investing, taxes, retirement, personal finance and more - straight to your e-mail.
Profit and prosper with the best of Kiplinger's expert advice - straight to your e-mail.
Roughly half of the 401(k)-eligible workforce has access to a personalized account through their retirement savings plan. Financial firms Russell Investments and Northern Trust offer personalized accounts for some 401(k) plans. Fidelity offers individually tailored investment products called managed accounts in some plans.
Like target-date funds, these accounts typically hold funds (not individual stocks or bonds), and the blend of stocks and bonds in the portfolio changes automatically over time to a more conservative mix. Russell Investments' offering, called Personalized Retirement Accounts, has $400 million in assets. It charges 0.23% in annual expenses, making it competitive with typical target-fund expense ratios, but fees vary.
Employees can tweak the stock-bond distribution in their personalized accounts by, for example, pushing back their retirement date. But, says Andrew Scherer, a managing director at Russell Investments, "the goal is to make the process as automatic as possible."
Staff Writer, Kiplinger's Personal Finance
Brendan joined Kiplinger in 2018 and writes about technology, security and money. A Chicagoland native, he graduated from DePaul University with degrees in journalism and political science. Before moving to Washington, D.C., Brendan covered local politics for NBC Chicago and daily news for BusinessDen in Colorado.