Youth Sports Vs. College Costs – What's a Parent to Do?
In a word: prioritize. Work with your child to find what is most meaningful and what makes the most sense. Then concentrate your budget dollars accordingly. My tried-and-true postcard test can help.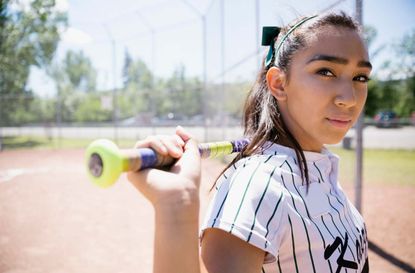 (Image credit: (c)2013 Hero Images Inc. All rights reserved. ((c)2013 Hero Images Inc. All rights reserved. (Photographer) - [None])
It's 5:30 a.m. and you're standing outside your child's room. For the next 30 seconds, you have quiet. You're exhausted, holding your head up on the door, but at least it's quiet. You know your pride and joy needs to sleep longer — school is hard, and college entrance exams will be here soon enough — but it's 5:30 a.m. Time to get up for practice.
If your kids are in a select sports league, you know what it means to have an early practice. Breakfast (and probably supper) will be fast food on the way to games and coaching sessions, and overtime will take precedence over bedtime. Meanwhile, between travel, equipment, lodging and league fees, your child's all-star career is costing you four or five times what yours did when you were growing up.
When did parenting become so cost-prohibitive? College tuition costs have more than doubled in the last generation, and the youth-sports complex has ballooned to $15 billion annually. Now, little leaguers spend the big bucks on becoming Instagram stars (opens in new tab) and hefty student loans are standard.
Subscribe to Kiplinger's Personal Finance
Be a smarter, better informed investor.
Save up to 74%
Sign up for Kiplinger's Free E-Newsletters
Profit and prosper with the best of Kiplinger's expert advice on investing, taxes, retirement, personal finance and more - straight to your e-mail.
Profit and prosper with the best of Kiplinger's expert advice - straight to your e-mail.
How do we give our kids these treasured gifts of both sports and college — and the valuable life lessons they bring — without breaking the family bank? Let's look at a few tips and mindsets you can put in place to help give these gifts to your kids without taking a second mortgage.
Take Me Out to the ...
You might have memories of that parks and rec league with the volunteer coach and the second-hand equipment. In the brave new world we inhabit now, select sports (aka private club teams) are the new order. These expensive leagues are a collection of everything from private coaching academies connected to the majors, to small business units run by self-styled coaches.
Said plainly, the youth sports world has been privatized, and it's still the Wild West in terms of regulation and extremes. Consider the 11-year-old figure skater (opens in new tab) whose career costs her family $100,000 a year, or the seventh-grade hockey player who went to live with a host family and private school in another state so he could get more ice time. Some purveyors are helping kids celebrate a year-round love of the game, while others are making a mint from putting up a building and calling it "select."
As a hopeful parent, you dream about the pros and are planning for big scholarships. Unfortunately, looking at the return on investment from a strictly financial standpoint, this idea doesn't hold up to simple math. Spending $60,000 on your little all-star's career to get a $36,000 scholarship doesn't make for a winning match. Those who get the average $9,000 per year scholarship (opens in new tab) are the lucky ones. The majority, approximately 65% of college athletes (opens in new tab), receive nothing at all.
The Old College Try
With college tuition costs increasing 200% in the last 30 years (opens in new tab), it's no wonder we are praying for scholarships. The summer odd job and the weekend waiter gig that got you through in the '80s and '90s won't even touch your kids' tuition bill today.
Keeping the big picture in mind when planning for college is the key to success. Going to the family alma mater in the Ivy Leagues is a grand tradition, but if your kid wants to be a teacher or social worker, that six-figure loan will become a permanent fixture in their lives. Or worse yet, the school doesn't even offer a major in their chosen field. We as parents agonize over preschool but readily make a $30,000-year mistake by not first helping our student choose a career and then a school to match.
Get Out the Postcards
In my last article (To Define Your Retirement Goals, Take the Postcard Test), I talked about using the postcard test to establish financial goals. I hand new clients a packet of postcards and ask them to show me which ones represent their future best. Maybe a sunny beach or a houseful of grandkids or a quiet cabin in the woods — the pictures they choose reveal and clarify their values, which helps us shape their portfolio.
The same diagnostic works for parenting, especially when multi-angle issues like athletics and higher education come up. Knowing your parenting values can help distill these decisions into a keep-able plan. Your kids will also be at the table choosing the proverbial postcards, and clarifying their hopes and abilities will help you strategize.
Would your teenager choose a picture of a winning sports team or a successful business? Maybe they picture themselves as a professor guiding students, or a politician leading movements? Would your choice of postcards be the same as theirs?
One family has a long tradition of building character and self-confidence through sports — and a daughter with a killer hook shot — so they put her on the travel basketball team. Another family sees education as the true key to success, and their son has an abiding interest in forestry, so they take the loans to send him to a special program in Montana.
The values dictate their plan, and the finances follow. Sure, the power forward and forest ranger might miss out on some other opportunities that you might have had, but that's not the point. They're spending time and money on what they value most, and the returns — character, employable skills, chasing their passion, memories — are worth the investment.
Going Pro
Financial advisers usually have a niche they serve best, and several firms are serving the college-planning (opens in new tab) space. Coordinating your teen's interests and GPA with the right school with the right program is complex enough, let alone strategizing financial aid.
A savvy adviser can help you and your scholar-to-be clarify their passions (sometimes through helpful software (opens in new tab)), match them with a school and coordinate this within your family's financial plan.
We all want to send our kids to that exclusive school, but if it bankrupts your retirement in the process, the long-term consequences are far from worth it. An adviser can help you coordinate that plan over decades, and find money for school you never knew was there.
Give Them the World
We want the best for our kids, of course. Better yet, we want the world for them. In an increasingly expensive and complex age, giving kids opportunities requires creativity and planning. You don't want them to miss a single opportunity, and you don't want to be a financial burden on them in the future.
Listening to yourself — and most of all listening to your kids — will help tune you in to what works best for your family. Even in a cost-prohibitive world, kids still have dreams and you can still help make them come true.
Isn't that a big part of what being a parent is all about?
Senior Vice President, Financial Planning, Carson Group
Erin Wood is the Senior Vice President of Financial Planning at Carson Group (opens in new tab), where she develops strategies to help families achieve their financial goals. She holds Certified Financial Planner, Chartered Retirement Planning Counselor and Certified Financial Behavior Specialist designations.