Lessons Learned From the College Bribery Scandal
Being a snowplow parent who removes obstacles is not the way to raise emotionally healthy, money-smart kids.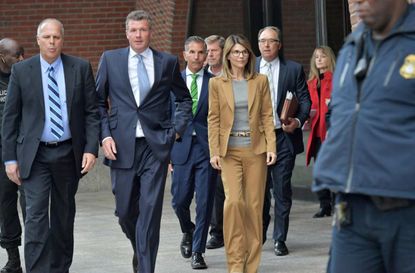 (Image credit: 2019 Getty Images)
I was as stunned as the next person when news broke recently that 33 wealthy parents were indicted on fraud charges for trying to bribe or cheat their kids' way into elite colleges. These kids were already neck-deep in privilege and opportunity. They didn't need to cheat on entrance exams or pose as recruited athletes to get into a good school. Some of the kids were on board with the scheme, and others, horrifyingly, had no clue. But in either case, the comment at a news conference by Andrew Lelling, U.S. attorney for the district of Massachusetts, says it all: "The parents are the prime movers of this fraud."
The whole rotten debacle reminds me of a story I did a few years ago about inherited wealth. It was a look at why family fortunes tend to dissipate within a few generations, and how well-off parents need to be proactive about preparing their kids, starting at an early age, to handle money and privilege. A revelation to me at the time was that it's harder than it looks to raise emotionally healthy, money-smart kids when money is no object.
One thing is certain (and someone should have told the gang of 33): Being a snowplow parent who removes any and all obstacles is not the way to go. "Too many parents want to prepare the road of life for their children rather than preparing their children for the road of life," says Rod Zeeb, author of Beating the Midas Curse and cofounder and CEO of the Heritage Institute, which coaches wealthy families on the emotional aspects of inheritance.
Subscribe to Kiplinger's Personal Finance
Be a smarter, better informed investor.
Save up to 74%
Sign up for Kiplinger's Free E-Newsletters
Profit and prosper with the best of expert advice on investing, taxes, retirement, personal finance and more - straight to your e-mail.
Profit and prosper with the best of expert advice - straight to your e-mail.
Be careful what you wish for. All parents, wealthy or not, want the best for their children. But be careful how you define "best," says Elizabeth Lombardo, a psychologist and coach who works with high-net-worth clients. Fostering a notion of conditional self-worth that depends on getting into the "best" school (or wearing the trendiest clothing or driving the fastest car) is bound to backfire. Forget about the "best" college; look for one that's the best fit.
Smoothing the way too much for your kids can lead to imposter syndrome—the feeling that because they haven't earned their successes, they're fooling people into thinking they're better than they really are. "We know that when everything is handed to us, not only are we not happier, but that's often when depression sets in," says Lombardo.
It's often the case that those who create family wealth do so by working hard, making mistakes, picking themselves up and persevering. But kids don't inherit self-discipline, resourcefulness and resilience; they have to develop those qualities themselves. Parents can help by making sure family assets are used in a positive way and by giving their kids a chance to be involved in the family's finances.
Begin with a family mission statement that highlights the values you want to foster: education, entrepreneurship or philanthropy, for example. Emphasize that "money is a tool, not a target," says Zeeb. Start early on with three piggy banks for young children so they can divide their allowances and gifts into spending, saving and giving funds.
For older kids, seed an account for a purpose or a cause they are passionate about and learn how to invest it together. Set an allowance—as generous as you see fit—that will enable an older teen or young adult to budget for his or her own expenses. Just be prepared to let the cell phone die or to take back the car when the wireless or insurance bills aren't paid.
When psychologist Lombardo asks clients who have achieved substantial success to reflect on the best time of their lives, "it tends to be when they were starting out, working extra hours and eating ramen noodles because they couldn't afford anything else," she says. "Working toward a goal makes us feel worthwhile."
Parents, please don't take that away from your kids.

Executive Editor, Kiplinger's Personal Finance
Anne Kates Smith brings Wall Street to Main Street, with decades of experience covering investments and personal finance for real people trying to navigate fast-changing markets, preserve financial security or plan for the future. She oversees the magazine's investing coverage, authors Kiplinger's biannual stock-market outlooks and writes the "Your Mind and Your Money" column, a take on behavioral finance and how investors can get out of their own way. Smith began her journalism career as a writer and columnist for USA Today. Prior to joining Kiplinger, she was a senior editor at U.S. News & World Report and a contributing columnist for TheStreet. Smith is a graduate of St. John's College in Annapolis, Md., the third-oldest college in America.