Young Entrepreneurs Fill Need in Senior Market
Start-ups focused on baby boomers and seniors strive to help keep an aging population independent and connected.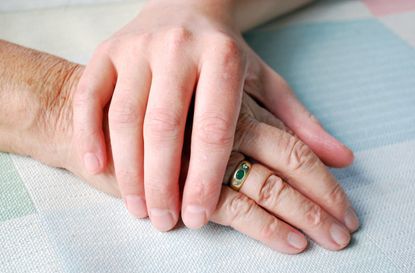 (Image credit: Getty Images/Zoonar RF)
At age 32, Sherwin Sheik watched his sister, who has multiple sclerosis, search unsuccessfully for good, affordable help through home care agencies. His mother ended up leaving her job as a molecular biologist in Los Gatos, Cal., to care for her. And he knew his beloved uncle, with amyotrophic lateral sclerosis, known as ALS, had repeatedly hired agency caregivers who didn't show up.
Four years ago, Sheik founded the online company CareLinx, which matches families and paid caregivers. By eliminating agency fees, families save an average of $10,000 to $15,000 a year, and caregivers earn more. "Traditional agencies were charging families $25 to $30 an hour while paying caregivers $10 an hour" says Sheik, a former investment banker. Caregivers "weren't being compensated for the hard work they did."
Today, Sheik's grandparents, ages 97 and 93, get daily help from caregivers hired through CareLinx. "I am delighted and proud that Sherwin is devoting himself to helping people who are at a very vulnerable stage of their lives," says his mother, Shahla Sheik, 67.
Subscribe to Kiplinger's Personal Finance
Be a smarter, better informed investor.
Save up to 74%
Sign up for Kiplinger's Free E-Newsletters
Profit and prosper with the best of expert advice on investing, taxes, retirement, personal finance and more - straight to your e-mail.
Profit and prosper with the best of expert advice - straight to your e-mail.
Sheik, now 37, is among a growing number of entrepreneurs in their twenties, thirties and early forties who are developing products and services for seniors. For many, the idea evolves from a personal experience with a parent, grandparent or sibling.
As astute business people, these young entrepreneurs also realize that a swelling-by-the-day older demographic will need their products to stay independent and connected. "Students from the top business schools are setting up companies in this space -- something I haven't seen before," says Stephen Johnston, co-founder of the San Francisco-based Aging 2.0. His company mentors start-ups that focus on baby boomers and seniors.
Mary Furlong, author of Turning Silver Into Gold (FT Press, $25), agrees. "The intellectual talent and business experience of young entrepreneurs migrating into the longevity marketplace is astounding," says Furlong, president and chief executive officer of Mary Furlong & Associates, a company in Lafayette, Cal., that advises clients in the 50-plus market.
Here's a look at senior-focused companies that have young adults at the helm.
Caregiving. As boomers age, so will their caregiving needs. A growing number of seniors do not have children to take on caregiving tasks, and those who do tend to have fewer kids than in the past. (Read Childless Seniors Need to Build a Safety Net.)
Sheik's CareLinx (www.carelinx.com (opens in new tab)) gives each family an adviser to shepherd it through the hiring process and for follow-up. The firm vets caregivers, does background checks, manages the payroll and taxes, and insures and bonds the caregiver up to $1 million.
As with CareLinx, Making Care Easier (www.makingcareeasier.com (opens in new tab)), a free Web site and app, was born out of a personal crisis. At age 35, Harvard Business School graduate Renee Fry was diagnosed with a brain tumor. Her mother temporarily moved across the U.S. to care for her. Three years later, the tumor grew back. This time, Julie, Renee's younger sister, moved to Boston to take on caregiving. Julie had expertise in elder services as marketing director of a large association of home care and hospice providers.
Then the light bulb went off for the siblings, who both hold business degrees. Friends and family were willing to help, but they needed to know how. What was missing was a way to coordinate care, share information and find caregiving products, such as walkers. Making Care Easier, which was launched in April 2014, has 68,000 users. "It's not enough to offer a way to coordinate care, but to connect you to products and services that matter to you," says Fry.
After you fill out a brief online survey to determine your needs, the company sets up a secure family "dashboard." You can send requests for help to friends and family members and share comments, medical information and expenses. Your private site provides checklists and joint calendars.
Finances. Kai Stinchcombe's grandmother had always contributed to one cause or another. As her memory started to decline, though, she lost track of how much she was giving away. Stinchcombe watched the toll those bogus expenses took on his own mother.
His 93-year-old grandmother, who lives independently in Indiana, went from doling out $50 a month to $40 a day. She once wired $2,000 to a stranger who called and claimed to be "needy," and she spent an unnecessary $6,000 on hearing aids. "She is very polite and won't hang up the phone when someone calls," says Stinchcombe, 32. His family didn't want to humiliate her by taking away her bank account or credit card.
So in 2011, along with business partner Claire McDonnell, also then age 28, Stinchcombe conceived of TrueLink (www.truelinkfinancial.com (opens in new tab)). It is his fourth entrepreneurial venture.
TrueLink is a special Visa card that protects older people from scams and unscrupulous marketers. It recognizes patterns of transactions that other credit cards would permit and blocks them. Such questionable transactions include magazine subscription companies, sweepstakes and misleading deals on TV. "We weren't looking for something in the aging market -- we kind of stumbled into it," Stinchcombe says. "We wanted to solve a problem. But we had to find out if enough people have the problem so we could build a business around it, raise venture capital and hire staff." The answer was "yes." Two-thirds of customers are daughters getting TrueLink for a parent.
End-of-life planning. In 2010, at age 30, Abby Schneiderman decided to create a Web site that provided articles on end-of-life planning. She noticed information sites for brides-to-be, house hunters, expectant parents, baby boomers sending kids to college, and retirees or those planning for retirement. "There was no reason this life stage didn't deserve the same treatment," she says. She and co-founder Adam Seifer created Everplans (www.everplans.com (opens in new tab)), which offered more than 500 articles on topics such as writing a will and appropriate attire for a funeral.
A year after starting Everplans, Schneiderman's brother died in a car accident. "We had no access to the right paperwork and no idea what my brother would have wanted," she says. "My family was left to make a huge number of complicated, expensive and stressful decisions at a time when we shouldn't have had to."
Schneiderman says she and Seifer realized that they "could create something more powerful and go beyond content to help people get a plan in place ahead of time." They turned Everplans into a platform where people can create, store and share all the important information that their families need in one place -- such as a will, advanced directives, medical records, insurance and names of advisers.
The free version provides access to certain areas of the site. For $75 a year, you can store a wider array of documents.
Communicating. The inspiration for Andreas Forsland's company came after he spent weeks by his mother's bedside in intensive care during the summer of 2012. She was unable to speak as a result of a breathing tube and ventilator, and she could not write, either.
Forsland says he wondered whether he could put sensors into an elegant stone she could hold or wear as a necklace or a bracelet. A swipe upward or a tap on the stone could indicate whatever preprogrammed message he chose -- "I'm hungry" or "Everything is okay." And a downward swipe or two taps might be "I miss you" or "I have to go to the bathroom."
In 2013, Forsland, 40, who lives in Santa Barbara, Cal., co-founded Smartstones (www.smartstones.co (opens in new tab)). "We help people who are locked in," he says. "They're capable but can't express themselves." The product's original intent was for seniors who had a stroke or a neurological disease such as ALS, but he is also finding interest from parents of children with autism.
Forsland's mother, Sarah, 73, recovered, but she wears the prototype, a stone necklace, and uses it to "speak" daily with her son. The stones use a wireless Internet connection. "It's beautiful and looks like jewelry," she says. "I keep in touch with my son with a gentle swipe or tap, asking 'Are you there?' " When Forsland was recently in Asia, he stayed in touch daily with his mother through their stones. Sarah says it "lowers my level of anxiety knowing I have the stone and can be in touch with Andreas without a cellphone."
When the product comes out later this year -- you can preorder on the site -- you can buy a two pack for yourself and your loved one for $179, or even five stones, perhaps for grandkids or other adult siblings, for $399. Of course, Smartstones is not intended to replace conversation or the cellphone, but it is useful to convey simple messages. "We are making it easier to communicate with family, friends and care providers," Forsland says.
Contributing Writer, Kiplinger's Retirement Report
Sally Abrahms is an award-winning journalist and expert on baby boomers and seniors. She has published in the
Wall Street Journal, TIME, Newsweek, AARP, The Washington Post, The New York Times, Forbes, USA Today
and others. Sally is the author of two books, and recently contributed a chapter on housing to
Not Your Mother's Retirement
. For more about Sally, go to
www.sallyabrahms.com
(opens in new tab)