Second Stimulus Check Update: Republican Plan to Include Next-Round Payments for Dependents
If the HEALS Act is passed, some people would get a second-round stimulus check that is larger than the first check they received under the CARES Act.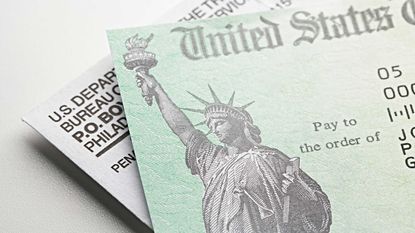 (Image credit: Getty Images)
The Health, Economic Assistance, Liability Protection, and Schools (HEALS) Act, which was rolled out by Senate Republicans on Monday, includes another round of $1,200 stimulus checks. For most people, the amount of your second-round payment, as envisioned by the GOP Senators, would be almost identical to the first-round payments you received under the CARES Act. However, if you have dependents older than 16 years of age, your second-round stimulus check would be higher under the Republican plan than what you received under the CARES Act.
Extra $500 for Dependents of All Ages
Under the CARES Act, every qualified American received a $1,200 payment. However, an extra $500 was sent to families with children who qualify for the child tax credit (basically, kids 16 years old or younger). Older dependents, such as high school seniors and college students age 23 or younger, didn't qualify for the additional amount. Neither did senior citizens living with their adult children.
According to Sen. Chuck Grassley (R-Iowa), the HEALS Act would extend the additional $500 payment to families with dependents "regardless of age." So, for example, a married couple with one child in middle school and a 21-year-old child in college would get a stimulus check of up to $3,400 if the HEALS Act is enacted. Under the CARES Act, that same family only received no more than $2,900.
Subscribe to Kiplinger's Personal Finance
Be a smarter, better informed investor.
Save up to 74%
Sign up for Kiplinger's Free E-Newsletters
Profit and prosper with the best of Kiplinger's expert advice on investing, taxes, retirement, personal finance and more - straight to your e-mail.
Profit and prosper with the best of Kiplinger's expert advice - straight to your e-mail.
Payments would still be phased-out under the HEALS Act for people with higher incomes. Payments would be gradually reduced to zero for single people, married people filing a separate tax return, and qualifying widow(er)s with an adjusted gross income (AGI) above $75,000. For married couples who file a joint tax return, stimulus checks would be reduced if their AGI exceeds $150,000. People who claim the head-of-household filing status on their tax return would start seeing a reduction if their AGI exceeds $112,500.
HEROES Act Would Provide Even More Money
The HEALS Act is not a done deal…far from it. Republicans and Democrats in Congress have to agree on a single economic stimulus package, and at this point the two sides seem far apart. While the Republicans are pushing the HEALS Act, Democrats favor the HEROES Act, which was passed by the House of Representatives in May.
With regard to stimulus checks, payments would be higher for many people under the HEROES Act than under the HEALS Act (even considering the extended payments for dependents). Both plans call for a $1,200 payment to each eligible person ($2,400 for joint filer). But families would get an additional $1,200 for each dependent (for up to a maximum of $3,600) under the HEROES Act. So, for example, a married couple with three kids could get up to $6,000. (For more information on stimulus checks under the HEROES Act, see How a Second Stimulus Check Could Differ from Your First One.)
Senior Tax Editor, Kiplinger.com
Rocky is a Senior Tax Editor for Kiplinger with more than 20 years of experience covering federal and state tax developments. Before coming to Kiplinger, he worked for Wolters Kluwer Tax & Accounting and Kleinrock Publishing, where he provided breaking news and guidance for CPAs, tax attorneys, and other tax professionals. He has also been quoted as an expert by USA Today, Forbes, U.S. News & World Report, Reuters, Accounting Today, and other media outlets. Rocky has a law degree from the University of Connecticut and a B.A. in History from Salisbury University.