10 Signs the EconomyIs on the Upswing
There are plenty of indications that the economy is shifting into higher gear.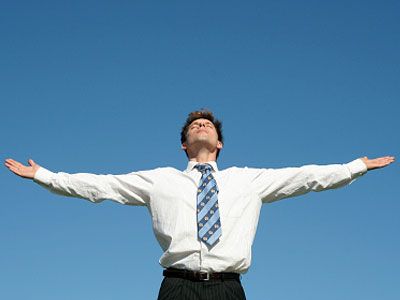 (Image credit: istockphoto)
There are plenty of indications that the economy is shifting into higher gear. And they are not just buried in economists' models and spreadsheets, but evident in the day-to-day decisions consumers and business folks make.
So, yes, you can look to the stock market -- a classic leading economic indicator, nearing a 100% gain over two years -- for reassurance about tomorrow. But you can also read the economic tea leaves on golf greens and in underwear sales.
The slide show begins with the navigation at right
By Neema Roshania and Jerry Idaszak
February 15, 2011
1/11
Sales of Boxers, Briefs Leveling Off
When it's tougher to find jobs, men wait longer to replace their underwear, and sales -- usually very stable -- fell nearly 2.5% in 2009. Now they've started to stabilize. But, much like the unemployment rate, it's likely to take a few years to recover to prerecession levels.
2/11
Desserts Are in Again
Apparently what's good for the economy is bad for the waistline. When the economy is shrinking, restaurant traffic slows, and the diners who do visit full-service eateries hold down their tabs by sticking to entrées and skipping side orders, appetizers and desserts.
But the National Restaurant Association says more customers are splurging on the sweet endings again. That's a sign that they aren't as worried about losing their jobs. In fact, the Conference Board's Consumer Confidence Index is over 60 again, after plunging to a recession low of just 25.
3/11
Less Sorrowful Searching
The number of Internet searches for "unemployment benefits," "Social Security," "unemployment office" and the like spiked in July 2010 and has been trending down since. First-time claims for unemployment insurance have been declining for months now, signaling that mass layoffs are waning and the economy is healing.
4/11
The Venti Latte Makes a Comeback
One of the first things consumers cut out of their budgets when they're feeling pinched is a jolt of high-priced caffeine served up by their local barista. It's also one of the first little luxuries that consumers find worth shelling out for when they start to feel more comfortable with the direction of the economy. So it's telling that Starbucks' net revenues increased 9.5% in 2010, after falling 6% in 2009.
5/11
Box Rebound ReflectsRising Demand
Because almost everything consumers buy at one point or another was packed in a cardboard box for shipping, higher prices for boxes and other shipping needs point to more consumption. The Baltic Dry Index, a measure of bulk shipping costs, hit a 22-year low in December 2008. Though still far from prerecession levels, it's on the rise again.
In fact, orders of durable goods -- appliances, furniture and other products with a life span of more than three years -- are improving. If you don't count airplanes and defense goods -- typically big-ticket items with tremendous month-to-month volatility -- durable goods orders have climbed in four of the past five months.
6/11
Fewer Urban DwellersAre Hoofing It
During recessions, more folks in cities resist the urge to hail a cab, opting to walk or take public transit to their destinations. But in recent months, business has started looking up for cabbies. Car sales are up, too -- for those who prefer to drive themselves.
7/11
Duffers ReturningTo the Greens
As the economy picks up, golfers, good and bad, dust off their clubs and head back to the courses they shun during recessions. There are still fewer rounds being played than before the downturn, but the number of visits to golf courses stopped declining in 2010 and even increased in the Mid-Atlantic and New England.
8/11
Faces, Other Parts Getting a Lift
Few folks actually need a more finely sculpted nose, a tummy tuck or a more buxom figure. So when money is tight, elective cosmetic surgery takes a dive. But take heart, docs, demand is reemerging. The American Society of Plastic Surgeons says the number of patients who chose to undergo the knife for a better look last year rose by more than 13 million.
9/11
More Willing to Play Their Hand
Even gamblers get more risk-averse when the economy is in a slump. By 2009, commercial casino revenues had dropped nearly 10% from their 2007 peak. The house's take increased slightly last year and will head higher this year as consumer spending racks up about a 3% gain this year.
10/11
More Couples Are Calling It Quits
The American Academy of Matrimonial Lawyers says its members suffered a 37% drop in divorce cases in 2008 and a 57% decline in 2009. But the trend has begun to turn around, with many divorce lawyers saying they've got more business than they can handle -- a backlog of pent-up demand. In part, that's because credit has started to loosen up.
During the recession, spatting spouses had a tough time arranging the financing to buy out their partner's stake of businesses and homes, as required by property divisions, so they stuck it out. Even couples without Beverly Hills mansions or multimillion dollar companies to divvy up often delay divorce when they're worried about maintaining two households and the possibility of an ex being unable to find a job.
11/11
More from Kiplinger
SLIDE SHOW: 11 Forecasts for 2011
SPECIAL REPORT: Investing Outlook 2011 (opens in new tab)
SLIDE SHOW: 10 Jobs That Didn't Exist 10 Years Ago
SLIDE SHOW: 6 Weapons Systems in the Budget-Cut Crosshairs