Social Security Overpayments Issue Draws Capitol Hill Spotlight
Social Security overpayments issue is being 'assiduously' worked on, the agency's head tells congressional panel.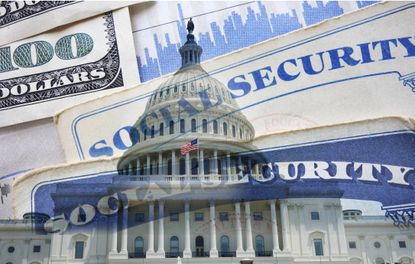 (Image credit: Getty Images)
The Social Security Administration's (SSA) payment accuracy rates remain high, the head of the agency told lawmakers today, October 18, in a hearing examining how SSA can better identify improper payments before they occur and give beneficiaries adequate notice when they occur.
Overpayments can occur, however, given the number of people served, frequent changes in their circumstances and the complexity of the SSA programs, SSA Acting Commissioner Kilolo Kijakazi said at the hearing before the House of Representatives Ways and Means Committee's Social Security Subcommittee.
SSA is "assiduously working to reduce overpayments" through steps such as annual payment accuracy reviews to identify overpayments and the reasons behind them, Kijakazi said. "The results of these reviews are used by officials to identify policy and process enhancements," she added.
Subscribe to Kiplinger's Personal Finance
Be a smarter, better informed investor.
Save up to 74%
Sign up for Kiplinger's Free E-Newsletters
Profit and prosper with the best of expert advice on investing, taxes, retirement, personal finance and more - straight to your e-mail.
Profit and prosper with the best of expert advice - straight to your e-mail.
At issue is the agency's handling and attempted recovery of more than $20 billion in overpayments to beneficiaries, a move brought to the attention of lawmakers following a joint investigative report last month by KFF Health News and Cox Media Group. The report found that SSA mistakenly made the overpayments to beneficiaries and — sometimes years later — contacted the beneficiaries demanding repayment. Often times, the beneficiaries, many of whom were on disability, no longer had the money, according to the report.
Ideally, Social Security benefits serve as one of several retirement resources, but in many cases they are the primary – and in some cases the only – income source for many retirees, as Kiplinger previously reported. Many Americans today are living paycheck to paycheck, a situation that the lawmakers recognized.
"Let's all agree that we shouldn't be going after beneficiaries who receive payments improperly," said Social Security Subcommittee Chair Drew Ferguson (R-GA) in opening remarks at the hearing. "Let's focus first on stopping the improper payments. Whether we're talking about an overpayment, or whether we're talking about an underpayment, we have to get this right."
Chair requests an overpayment recovery waiver
Ferguson requested a waiver for the overpayment recovery. He said there are inefficiencies in the system including, for example, a 10-page form that beneficiaries must "navigate" in the process. "It's still really complicated, and we're putting a tremendous burden on the beneficiary, when in fact, there are ways that we can … be more proactive" when it comes to improper payments.
"Regarding the Social Security program itself, which includes payment to retirees, surviving spouses and disabled workers, only one half of one percent of paid amounts are overpayments – an extremely low percentage," Kijakazi told the subcommittee. Supplemental Security Income overpayments are also a small percentage, or about 8%, and are higher because of the program's complexities including factors such as frequent payment adjustments that may be triggered by, for example, increased earnings, after the payment has already been made, she said.
The SSA is working on improvements including the simplification of waiver request forms to make it easier and less burdensome for people to use, she said. It is also integrating and refining an electronic wage data system, known as the Payroll Information Exchange, which will allow SSA to quickly access wage and employment data from a payroll data provider for people who authorize it, she said.
Kijakazi also noted that many of SSA's systems — including benefit and program payment as well as notice technology — are old and have had to be retrofitted as its programs evolved. In fiscal year 2023, the SSA began to rebuild its workforce after ending the prior year with the lowest staffing level in 25 years, she said.
On October 4, Kijakazi announced the creation of a team to review the agency's overpayment policies and procedures. "There is misinformation in the media claiming that the Social Security Administration is attempting to collect $21 billion," Kijakazi said, adding that this amount is derived from total overpayments during the history of the SSA programs. "Each person's situation is unique, and the agency handles overpayments on a case-by-case basis."
You can appeal an SSA request for repayment
At the hearing, Kijakazi reiterated that people can appeal an SSA request for repayment and request that the agency waive collection of the overpayment. There's no time limit for filing a waiver, she said.
The KFF/Cox investigative report cited an SSA Inspector General (IG) report showing that SSA recovered $4.7 billion in overpayments in fiscal year 2022, with $21.6 billion still outstanding at the start of 2023. The IG report reveals that SSA's most recent estimates show that the agency made about $6 billion in overpayments and $1.4 billion in underpayments in fiscal year 2021. The report admonishes the SSA — which pays about $1.4 trillion in benefits annually to more than 71 million Americans — to be a responsible steward of the funds entrusted to it.
To view a webcast of the hearing, visit the committee's YouTube channel. Stay tuned to Kiplinger for more news on Social Security.
Related Content
Esther D'Amico is Kiplinger's senior news editor. A long-time regulatory journalist, Esther has covered a range of industries including antitrust and congressional affairs, infrastructure, transportation, climate change and the industrial chemicals sector. She holds a bachelor's degree in journalism and in English.