Social Security Gets Small Spotlight On Republican Debate Stage
Views on Social Security and retirement age were noted by presidential hopefuls in the third Republican debate.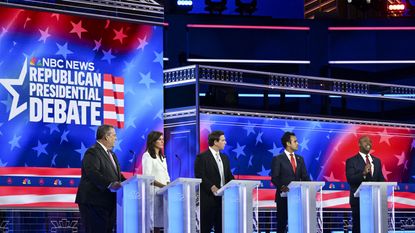 (Image credit: Jonathan Newton/The Washington Post via Getty Images)
Social Security reform grabbed only a small part of the spotlight this week as five presidential hopefuls at the third Republican presidential debate offered only brief views on whether the retirement age of the program should be changed.
Kristen Welker, host of NBC's Meet the Press and one of the moderators of the debate, which was held in Miami, kicked off the subject by saying that Social Security benefits could be drastically cut in the next decade because the program is running out of money. She quoted former President Donald Trump, who did not participate in the debate, as saying that Republicans should not cut entitlements, and asked the candidates to respond.
Former New Jersey Gov. Chris Christie and former UN Ambassador Nikki Haley each supported raising the retirement age for young adults entering the workforce, but neither one would give a specific age. South Carolina Sen. Tim Scott and Florida Gov. Ron DeSantis said they would not change the age.
Subscribe to Kiplinger's Personal Finance
Be a smarter, better informed investor.
Save up to 74%
Sign up for Kiplinger's Free E-Newsletters
Profit and prosper with the best of expert advice on investing, taxes, retirement, personal finance and more - straight to your e-mail.
Profit and prosper with the best of expert advice - straight to your e-mail.
Entrepreneur Vivek Ramaswamy did not answer the question directly but said that Social Security and Medicare benefits for current seniors should be left intact.
Christie said the exact age would be part of a negotiation process with Congress, but he is looking at raising the age for Americans currently in their 30s and 40s. He said that only three things determine whether Social Security can be solvent or not: retirement age, eligibility for the program in general, and taxes.
"We are already overtaxed in this country and we should not raise those taxes," Christie said. Social security "was established as a safety net program to make sure that no one would grow old in this country in poverty. That's what we've got to get back to."
Haley said she would change the retirement age for those in their 20s.
"First of all, any candidate that tells you that they're not going to take on entitlements, is not being serious. Social Security will go bankrupt in 10 years; Medicare will go bankrupt in eight," she said. "Instead of cost of living increases, we should go to increases based on inflation. We should limit benefits on the wealthy."
At that point, Medicare Advantage plans should be expanded, Haley said, adding that this is how to deal with entitlement reform and how to pay down debt.
Wealthy should not be collecting Social Security, candidates say
Both Christie and Haley made the point that Social Security is not meant for the ultra-wealthy.
"Rich people should not be collecting Social Security," Christie said. "I don't know if Warren Buffett is collecting Social Security, but if he is, shame on you. You shouldn't be taking the money."
"We should limit benefits on the wealthy," Haley said.
When pressed, Scott said he would not change the retirement age but that, to keep Social Security sustainable, the U.S. needs to grow its economy and cut spending as well as taxes.
"Finally, if we're going to deal with it, we have to take our annual appropriations back to pre-2020, pre-COVID levels of spending, which would save us about a half a trillion dollars in the next budget window," Scott said. "By doing that, we deal with social security and our mandatory spending."
DeSantis said that life expectancy is declining. "It's one thing to peg [Social Security] on life expectancy, but we have had a significant decline in life expectancy in this country," he said.
"What can you do to help shore up Social Security? One of the things that's causing problems is inflation," DeSantis said "When you have higher inflation, the seniors get a cost of living adjustment, which means the program's spending more, but it doesn't cover the increase in the actual inflation rate."
RELATED CONTENT
Esther D'Amico is Kiplinger's senior news editor. A long-time regulatory journalist, Esther has covered a range of industries including antitrust and congressional affairs, infrastructure, transportation, climate change and the industrial chemicals sector. She holds a bachelor's degree in journalism and in English.