Video Games Aren't Just for Teenagers
Playing video games can help retirees stay mentally sharp and stave off loneliness by connecting them with a community.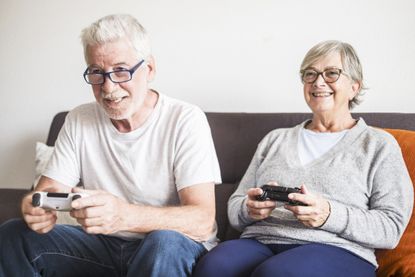 (Image credit: Getty Images)
Trish Martinelli, 52, a federal employee, has a daily noon appointment with her virtual video-game team. Michael Sick, 66, a digital marketing consultant, relaxes by playing Forge of Empires, an empire-building strategy game. Aren't Martinelli and Sick past the video-gaming age? Not at all; in fact, they're part of a growing trend.
According to an AARP survey, 44% of adults over 50 years old played video games in 2019 at least once a month—the average is five hours a week—compared with only 38% in 2016. That's 10 million more older gamers. The AARP survey includes players of all sorts of computer or video games, and the majority say they play puzzle and logic games, such as Sudoku or Words With Friends. But Alison Bryant, senior vice president of AARP Research, says a 2020 survey by MRI-Simmons found that about a quarter of gamers over 50 play multiplayer games using a video system and one-third of that group identifies as medium or heavy players.
Older people used to discover video games through their children or grandchildren; now, Bryant says, it is more "about their generation and their friends." Kids raised on video games in the 1970s and 1980s, when video games first became popular, are inching toward senior status.
Subscribe to Kiplinger's Personal Finance
Be a smarter, better informed investor.
Save up to 74%
Sign up for Kiplinger's Free E-Newsletters
Profit and prosper with the best of expert advice on investing, taxes, retirement, personal finance and more - straight to your e-mail.
Profit and prosper with the best of expert advice - straight to your e-mail.
For nonplayers, the classic image of a video gamer is a teenager slouched on the couch in front of a TV screen, frenetically pushing buttons on controllers as he kills another villain. Most video games, however, can now be played on PCs, laptops, tablets and phones, and the variety of games is endless. They also can be far more social than people think.
Keeping Minds Sharp
There are other benefits, too. "Our studies and most [others] have found that if you have older adults playing cognitively challenging video games, they tend to see improvement in cognitive abilities," says Jason Allaire, an associate professor of psychology at North Carolina State University. He also runs a lab called "Gains Through Gaming."
In one 2012 study, participants, ages 60 through 77, first took a test measuring, among other things, spatial ability, memory and focus. One group played the video game World of Warcraft, a popular interactive fantasy game, for 14 hours over two weeks. Another group didn't. When both groups were retested after two weeks, the game players who had scored well on the baseline cognitive function didn't show much improvement, but those who had scored the worst "saw the most improvement," Allaire says. "I want to stress that playing video games is a convenient and fun way to be intellectually stimulated, but it's not a cure-all," he adds. It's just another tool in the toolkit.
A later study, in 2017, recruited 33 people, ages 55 to 75, who were randomly assigned to either play the classic video game Super Mario 64 for 30 minutes a day over six months, learn the piano for the same amount of time or not do any particular task. Brain MRIs after the study found that only the gamers had an increase in gray matter, which shrinks with aging, according to Gregory West, an associate professor of psychology at the University of Montreal and a co-author of the study. The increased gray matter was in the hippocampus, which affects spatial and episodic memory, and also in the cerebellum, which affects motor control and balance, he says.
MRIs also found some improved brain function for the piano players, and atrophy for those who did neither, West says. Not enough is known about how video games affect brain health long term, but, he adds, "if we keep our hippocampus healthy, that's beneficial."
One problem is teaching people how to play the game or use the controllers on a video console. Many participants in West's experiment had trouble manipulating the controllers on the Nintendo Wii console or learning the moves needed to shift the character around. Although only two people dropped out of the piano-playing group, which used a keyboard attached to a computer, about 50% of the video gamers didn't finish the six months, West says.
Researchers and companies are trying to make video games more user-friendly. West says he and his colleagues are developing virtual environment tools that will stimulate the hippocampus the same way as Super Mario. Bryant adds that Microsoft just created a more accessible controller for those with limited mobility.
The brand-name game doesn't matter, as long as it requires multitasking, spatial manipulations and memory. For novices, Candy Crush and Animal Crossing are fairly easy to learn and play. Shooting games, such as Call of Duty, West says, don't promote better brain function the same way games that require navigating or building do. The main thing is to keep learning new games or play different levels of the same game.
Connecting With People
Some senior gamers have made a name for themselves, such as Shirley Curry, 84, who has amassed hundreds of thousands of YouTube viewers, who follow her playing the fantasy video game The Elder Scrolls V: Skyrim.
You don't have to make video gaming a major part of your life to enjoy it. Martinelli, from northern Virginia, has become hooked on a game called June's Journey. Set in the 1920s, June is a detective who solves crimes. Martinelli figures she plays 20 minutes in the morning—she's learned to set a timer so hours don't slip by—and at noon she virtually meets up with a team that can play a game within that game called The Café. She also relishes occasionally playing World of Warcraft with her grown son, who lives across the country. For Martinelli and others, video gaming has become another way to keep in touch.
Sick, who lives in San Diego, says he belongs to a Forge of Empires "guild" that works together to collaborate, trade supplies and attack other guilds. The guild includes players from around the world, but he has met a few in person. Most are younger players, he says, but a fair number are older, including one who calls himself "Creakin Deacon."
"No question it helps me stay sharper. You're always thinking ahead, calculating the odds," Sick says. Forge of Empires starts in the stone age, and every level is a different era. "I'm now in the Mars age," he says.
Contributing Writer, Kiplinger's Personal Finance
Alina Tugend is a long-time journalist who has worked in Southern California, Rhode Island, Washington, D.C., London and New York. From 2005 to 2015, she wrote the biweekly Shortcuts column for The New York Times business section, which received the Best in Business Award for personal finance by the Society of American Business Editors and Writers. Her work has appeared in numerous publications, including The Times, The Atlantic, O, the Oprah Magazine, Family Circle and Inc. magazine. In 2011, Riverhead published Tugend's first book, Better by Mistake: The Unexpected Benefits of Being Wrong.