Retirees, Declutter for a Profit
There are a surprising number of online sites to sell your unwanted or little-used items to make some serious side money and downsize your stash.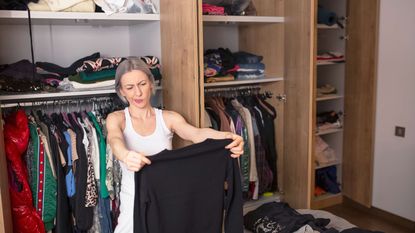 (Image credit: Getty Images )
Nearly 40 million Americans over age 50, about 60% of that cohort, say they have too much stuff, according to a survey by University of Kansas professor David J. Ekerdt.
"It's quite stressful," especially when you think about the possibility of moving, says Ekerdt, author of Downsizing: Confronting Our Possessions in Later Life (Columbia University Press, $26). "Almost every move in later life is going to be to smaller quarters."
Fortunately, a whole cottage industry has sprung up online to help you shed possessions and make a tidy profit in the process, but forget eBay. That's so 1990s. Today, most new selling sites work in connection with a smartphone app, and different apps are better for selling different things. For instance, Decluttr and NextWorth are great for selling electronics, whereas Mercari, ThredUp, Poshmark and The RealReal are better for clothes.
Subscribe to Kiplinger's Personal Finance
Be a smarter, better informed investor.
Save up to 74%
Sign up for Kiplinger's Free E-Newsletters
Profit and prosper with the best of expert advice on investing, taxes, retirement, personal finance and more - straight to your e-mail.
Profit and prosper with the best of expert advice - straight to your e-mail.
To find the app that's best for you, check out the products and brands people are selling on the site. If the item you want to sell or something very similar is featured, you've probably found the right market. Be sure to understand the shipping fees, return policies and the cut the app takes from your sale. Try out the app to see how easy it is to use and list items for sale. Some sites do more of the work for you and others less.
"It's a question of time versus money," says Michelle Madhok, online shopping expert and CEO of SheFinds.com, a website that spots deals and fashion trends. When it comes to selling items, "are you going to style them, photograph them, measure them? If you do that, you'll get the most amount of money."
But if you're the type who prefers having someone else market your items for sale, Decluttr, ThredUp, NextWorth, Poshmark and The RealReal take on the hard work of presenting and selling your gently used belongings. All you have to do is ship off the merchandise in a prepaid box.
Before giving an app your business, look for a customer service number or chat feature, so you know what kind of support to expect if something goes wrong. For any site, make sure you understand the policies for payment and returns. Stacy Kahn, a 50-year-old educational consultant in Potomac, Md., once had a buyer return a Supreme sweater five months after the sale—with a newly created hole. Despite Kahn sending photos of the damage, she had to refund the sale.
"They're not in it for the sellers," Kahn says of the app-based selling sites. "They're always going to side with the buyer."
If your garage and closets are bulging with a lifetime of accumulated stuff, here's a rundown of the most popular apps, all of which are free, and what you should know before giving them a whirl, including how payment works. Some include their cut of the sale in the price quote for your items while others charge a separate commission.
Decluttr App (Android and iPhone)
Talk about simple. Just search Decluttr for the model and make of the electronics you want to unload. (The app sells a range of devices, including smartphones, tablets, game consoles, and wearables, as well as accessories like video games, DVDs and CDs.) There's no need to take and upload pictures, navigate an auction or wait for a buyer. That's why people call Decluttr the lazy man's eBay.
You'll get a price quote that's good for four weeks and a shipping label for mailing the item (or a slew of items together) to Decluttr. As soon as the company verifies your item is in the condition you stated, you get paid. Payment options include PayPal, a paper check, direct deposit or a donation to charity.
When selling electronics, wipe all personal data by doing a hard reset to factory settings, and disconnect mobile phones from your wireless plan, also known as unlocking the phone. Unlike some competitors, Decluttr doesn't promise to wipe your devices, but the company does explain how to do it yourself, and there's a user help center if you need customer support.
NextWorth (iPhone Only)
One app that does promise to wipe your electronic devices of all personal information before selling them to a buyer is NextWorth. A few clicks on NextWorth's app or website gets you a quote for selling your device. That price holds for 30 days and is payable through PayPal or a check. A customer service phone number and email form appear prominently on the website in case you need to contact the company after shipping your device to them.
"Electronics are the easiest thing to sell" because they're standard, says Madhok. "I just sold an old Apple TV device."
A good rule of thumb for selling old electronics is that the higher the item's original purchase price, the better you'll likely do in the resale market. That means iPhones, iPads, MacBooks, Beats and Bose brands will have you seeing green.
ThredUp App (Android and iPhone)
The consignment clothing market has exploded online during the economic recession as people clean out their closets to generate extra cash, but not all apps for selling clothes are alike. Some, like ThredUp, favor specific brands and types of clothing, so browse sites to see where your wardrobe will find the warmest reception. ThredUp users love activewear like Lululemon and The North Face as well as established brands like Anthropologie and J. Crew. It's also a great place to sell a huge volume of gently used children's clothes, Madhok says.
Here's how it works. ThredUp sends you a prepaid shipping bag that you fill with high-quality clothes. That means no signs of wear, damage or alterations, and no missing size labels. Send the clothes via U.S. Postal Service or FedEx, and after receiving your shipping bag, ThredUp tells you which items it wants and how much you'll be paid. Your payment choices are via Stripe or PayPal, or a credit to shop on ThredUp or a range of partnering websites.
The downside: You may not get much for your clothes. "They've gotten very picky," Madhok says. "You throw everything in a bag and ship it to them, but you end up getting $5."
You also have to pay to have the rejected clothes returned to you or ask to have them donated. Because the company does not send receipts, you won't be able to deduct the donations.
The RealReal App (Android and iPhone)
For designer clothes and accessories, Madhok swears by The RealReal.
"I'm getting rid of all my "Sex in the City" shoes. They don't really fit with my COVID life," she says. "The RealReal will sell those, and you'll get 60%. It's giving up cash for convenience."
The site's most popular brands are Chanel, Celine, Hermes, Cartier, Louis Vuitton, Rolex, Gucci and Prada. The company will authenticate the item and set a price. Once it sells, you can receive a direct deposit, mailed check or credit for purchases.
Mercari App (Android and iPhone)
Unlike the previous apps that sell your items for you, Mercari connects buyers and sellers for a range of goods featured on the site: clothing, electronics, toys, home goods and beauty products. That means more of a cut for you, but more work and potentially a risk of fraud.
"Check people's rankings to make sure they have a history of buying things online," Madhok says. "I wouldn't send anything abroad."
To list an item, upload photos and a description of the product. Once someone purchases it, you must ship within three days. You must rate the buyer to create a track record for other sellers. After a 10% cut, Mercari pays you instantly in your account (which can be used to shop on the site) or by direct deposit to your bank.
Poshmark App (Android and iPhone)
This app's hallmark is social selling. You can comment on and share listings. Poshmark parties are a powerful vehicle for selling clothes of a certain brand—and the parties signal which brands are most in demand. Uploading photos is easy, and many people enjoy perfecting the visual display. A flat shipping cost for buyers keeps things simple.
On the downside, Poshmark charges a 20% commission on sales over $15 and takes a $2.95 cut of smaller sales. That compares to 10% on Mercari and between 2% and 10% on eBay. Customer service is email only, and the harder you work to promote your products, the more sales you'll secure.
Leah Ingram, 54, a writer in Slippery Rock, Pa., likes the ease of Poshmark. "It's list it and pretty much forget it," says Ingram, who's been using the app for three years. "Plus, I have the backing of the app should anything go wrong with a sale."
Clothes that are new with tags fetch the best prices. Ingram even buys merchandise at thrift stores and then sells her purchases on Poshmark. She calls it "retail arbitrage."
Katherine Reynolds Lewis is an award-winning journalist, speaker and author of The Good News About Bad Behavior: Why Kids Are Less Disciplined Than Ever – And What to Do About It. Her work has appeared in The Atlantic, Fortune, Medium, Mother Jones, The New York Times, Parents, Slate, USA Today, The Washington Post and Working Mother, among others. She's been an EWA Education Reporting Fellow, Fund for Investigative Journalism fellow and Logan Nonfiction Fellow at the Carey Institute for Global Good. Residencies include the Virginia Center for the Creative Arts and Ragdale. A Harvard physics graduate, Katherine previously worked as a national correspondent for Newhouse and Bloomberg News, covering everything from financial and media policy to the White House.