What the Retirement Community Property Market is Like
Before you invest in property in a 55+ retirement community, consider whether it's a sound idea.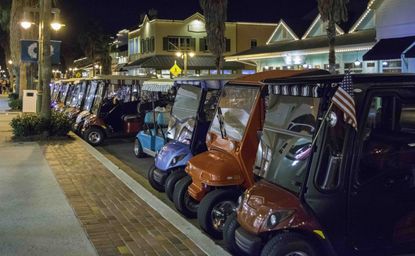 (Image credit: Getty Images)
Bob Anckaitis had no intention of moving to Florida's well-known retirement community, The Villages. Ten years ago, while on a family trip to Disney World with their kids and grandchildren, the retired U.S. Army officer and his wife, Kathy, decided to stay in Florida for an extended visit.
"We saw an ad about a preview week for The Villages," Anckaitis recalls. He and Kathy had no plans to buy a place, but that changed when they settled into their vacation home. "It was $120 a night for five different home designs, so we booked a 2-bedroom/2-bathroom cottage. It was outfitted with a golf cart, two bikes, tickets to shows at the arts center. By the end of our stay, I was walking around saying 'Wow, this place is pretty great.' ''
The Villages had hooked the Anckaitises. They quickly scrapped the idea of renting at The Villages and, even with a primary home in Pennsylvania, where Bob, now 77, had served as town manager of Palmer Township, the retirees decided to buy a second home at The Villages.
Subscribe to Kiplinger's Personal Finance
Be a smarter, better informed investor.
Save up to 74%
Sign up for Kiplinger's Free E-Newsletters
Profit and prosper with the best of expert advice on investing, taxes, retirement, personal finance and more - straight to your e-mail.
Profit and prosper with the best of expert advice - straight to your e-mail.
"I'm not one to linger over decisions, so one of the first houses the agent showed us was available fully furnished, with a golf cart," he says. "It was for sale for $340,000. We offered $320,000 cash, no waiting, no appraisal. Within hours, it was accepted. It was a great decision.''
Carried Away by the Goodies
A tour of 55+ active lifestyle communities can be a whirlwind of swimming pools, golf courses and nightly cocktail parties. There's a Shangri-La effect that can sweep people up into the feel-good frenzy, and it's easy — sometimes too easy — to make a decision without weighing all of the angles of a pricey financial commitment.
What are the real costs? Homeowner association fees? Taxes? Utilities? And what happens to the value of a place in a retirement-focused community?
Regency at Caramella Ranch is a new 55+ active lifestyle community outside of Reno, Nev. Real estate agent Katrina Karasawa says buyers there have to weigh the lure of new construction against the general real estate market in this booming region near Lake Tahoe. Caramella Ranch homes range from the low $600,000s to $1.2 million. The monthly dues are $284.
"At this price point, buyers have many choices, so they have to want to be at Carmella Ranch," says Karasawa. "It's a lifestyle choice. As a retiree, you have to be set up financially. The dues are always going to go up and so you want to take advantage of what the community has to offer.''
Buyers also have to be aware of how 55+ active community developers may maximize their profits by increasing density.
Carol Evans, 68, had a house built at Latitude Margaritaville Daytona Beach. She was pleased with the construction when she moved from New York to this popular Jimmy Buffet-inspired development, but quickly decided to sell.
More and More Newcomers
"They decided to build cottages, which increased the number of homes there, but they didn't add the amenities to support them,'' she says, adding that the development's land often flooded and was located too far from shopping, the beach and other amenities.
There are more than 2,000 active adult communities from Florida to California, and all along the Sunbelt in between. Click on websites such as PrivateCommunities.com or 55Places.com, and the results can be overwhelming. Florida has 673 to choose from. California has 220. Arizona has 151. There are 217 more in the Carolinas. Pennsylvania has 215.
"Over the past decade, the housing market has been driven, in part, by the 73 million Baby Boomers who have been buying homes as they retire and adopt new lifestyles,'' says Rob Parahus, president and chief operating officer for Toll Brothers, one of the leading home builders in the U.S.
Prices are all over the map. In The Villages recently, there were 422 for sale listings on Zillow — ranging from a three-bedroom, two-bath mobile home for $155,000 clear up to a $2.1 million fairway-fronting lake house with four bedrooms and three baths.
At Sun City Grand in Surprise, Ariz., prices range from $145,000 for a one-bedroom, one bath mobile home to $1.09 million for a two-bedroom, three-bath house. There is a price point for nearly every income, which has only increased the number of 55+ Americans seeking these kinds of communities.
House Value Trends
But the long-term market value of homes in 55+ active communities has demographics and Father Time working against it. According to Zillow, 34% of owner-occupied U.S. homes are owned by residents aged 60 or older; 55% by residents aged 50 or older.
As this Silver Tsunami of homeowners passes on, however, upwards of 20 million homes are expected to hit the market through the mid 2030s. That will bring a sea change that housing officials and developers say needs to be factored into long-term use and valuation.
The good times may be rolling now in Latitude, Sun City and The Villages, but there's reason to be judicious and cautious when considering the long-term investment values and market for these 55+ active communities.
Today, the Anckaistis's house at The Villages is worth north of $550,000, up 72% in a decade. The Anckaistises are also pleased with the relatively fixed monthly and annual costs. The amenity fee for all of the community's goodies (pools, tennis, etc.) is just $189 per month. Add in the costs for water, sewer, trash, gas, insurance, taxes and a "development district assessment," and the monthly costs can rise to nearly $1,400, depending on the sale price and the home size.
Less well known than The Villages is Fairfield Glade, a huge planned community started in 1970 in Cumberland County, Tenn., near Knoxville. There is a great deal of new construction so there is a lot of competition between the sellers of older homes and newer ones.
A brand new 2,200-square-foot, three-bedroom, two-bath house, for example, is listed for $535,000. Meanwhile, a comparable house built in 2006 has been on the market for three months at $515,000. That's up 84% from its $280,000 sale in 2018, but the price of the house barely moved at all from a 2011 sale to its most recent in 2018, according to Zillow.
Gretchen Harvell, 85, moved to Fairfield Glade in 1995 with her husband, a retired Air Force officer. She recently sold the house they built and took a loss, she says, due to water damage. Nonetheless Harvell insists newcomers are snapping up resale homes and building new ones.
"We have 'Halfway Backs,' who are folks who moved to Florida and decided it was too hot, and we have people from California with the millions they've made and have to put somewhere. They are buying two or three homes at a time. They're building like crazy!'' Harvell says.
There are similar stories from other communities.
In Solivita, another established 55+ community south of Orlando that opened in 2009, residents say expansion has caused crowding. With 5,900 total homes expected across 21 neighborhoods and no new pools or recreational facilities being added, residents believe resale of homes that are closer to Solivita's original amenities will be more desirable than newer spots.
Whatever the long-term financial prospects, the siren song of warmer weather, manicured landscaping and tailored activities can be hard to resist. Like Bob Anckaitis at The Villages, Sandy Krolick and his partner fell hard and fast for Grandézza, a 425-acre master-planned community in Estero, Fla.
"We walked through the doors [of the clubhouse] and there was this huge swimming pool with a waterfall," says Krolick. "We both said 'Lovely,' and within a month, we went back, sold her house in New Jersey and bought an attached villa for around $500,000.''
Do Your Due Diligence
Becky Sluck had expected to work until 70. But when she was 66, her company moved abroad. Retirement arrived earlier than expected for the former senior marketing director, and she put her prodigious research skills to work.
The goal was to move from the beloved Portland, Ore., home she shared with her husband and live in a 55+ active community in sunnier climes. They settled on one of the 1,238 ranch-style homes at Trilogy at La Quinta in the Palm Springs area of California. Here's her advice:
Start sooner rather than later. "The first thing we realized is we should have downsized earlier, especially if moving out of state. There's a lot to the process. We dug into what housing options are out there; what about storage; temporary housing.
Hire experts. "Get a real estate agent in both locations right away — experts in your neighborhood and an expert where you're looking to go.
Investigate where you want to live. "Be prepared to act quickly. We sold our house for $960,000 and paid cash for our property in La Quinta. That's something buyers should understand. Most people buying at these developments are paying cash, closing fast.
Understand all your costs. "A good real estate agent can tell you about the costs of these developments. For instance, at PGA West in La Quinta [another 55+ community] there are five different HOAs within one development. Also, different areas of communities can be on different electric or gas grids. Bills can differ depending on which grid. Our bills are cheaper than others within La Quinta."
Know the rules. "You have to be really careful about home owners association rules. At ours, you can't keep a car in the driveway. You have to be 45-years old to live here. Our daughter is 30, so if your kid loses their job, they can't move into your casita. You can't have three cars. You have to make sure you read the covenants, conditions and restrictions to make sure nothing is hidden from you,''
Note: This item first appeared in Kiplinger's Retirement Report, our popular monthly periodical that covers key concerns of affluent older Americans who are retired or preparing for retirement. Subscribe for retirement advice(opens in new tab)(opens in new tab) that's right on the money.
Laura Vecsey is a former sports and political columnist for major daily newspapers in Seattle, Baltimore, Albany NY and Harrisburg PA. She has also done extensive writing about real estate with Zillow, StreetEasy, Keller Williams and eXp Realty. She has contributed to numerous news publications (The New York Times, The Guardian, AARP, DC Report) and is a licensed real estate agent in Saratoga Springs, NY.