Rent Is Rising, But Try These Four U.S. Cities
A new study shows where to rent the largest urban apartments for $1,500.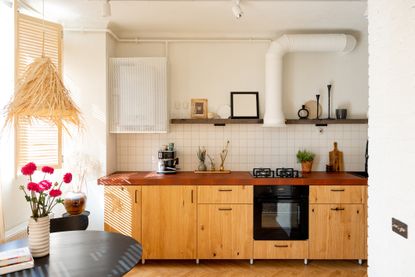 (Image credit: RossHelen for Getty Images)
No matter what city you live in around the country, chances are you're paying a lot more in rent than you were just a few years ago. And if you are searching for a place to rent, you may be shocked at how little space you can afford at today's prices. New research from the nationwide apartment listing service, RentCafe, shows you exactly how much square footage of space you can get for $1,500 in 200 U.S. cities.
The fact that you get the smallest square-footage bang for your buck in cities like Brooklyn, Manhattan and Boston is not surprising. But it is shocking to see how expensive smaller urban apartments are in states like Florida and Idaho, which were formerly very affordable. It just goes to show that rental prices have skyrocketed all over the country, contributing to the national housing and homelessness crises.
If you're contemplating a move to find more affordable rent options or just want to see how your city compares against the rest of the map, here's everything you need to know about the new rental research. First, let's get the bad news out of the way before we dive into the good.
Subscribe to Kiplinger's Personal Finance
Be a smarter, better informed investor.
Save up to 74%
Sign up for Kiplinger's Free E-Newsletters
Profit and prosper with the best of expert advice on investing, taxes, retirement, personal finance and more - straight to your e-mail.
Profit and prosper with the best of expert advice - straight to your e-mail.
The Most Expensive Rental Markets In America
To conduct its research, RentCafe looked at 200 U.S. cities and the amount of square footage you could get for a monthly rental price of $1,500. The study found that California ranks as one of the most expensive places to live, with 32 out of the top 50 cities with the least space per $1,500 price.
But there's something different about rent prices in California. Instead of being a state where big cities compete for tiny spaces with skyrocketing rent prices, Californians in smaller cities are paring down and accepting less room for the median $1,500 price.
Researchers believe this is because location (being next to a beach or park, for example) outweighs most Californians' desire to live in a home with more square footage. To that effect, California holds the title for the top 16 spots out of 20 in small cities that pay the most for the least space.
Manhattan claims notoriety as the top big city offering the least space (243 square feet) for a $1,500 budget, with Boston close behind. San Francisco came in third place with only 336 square feet for a $1,500 budget.
Cities with the cheapest rental prices per square foot
If you like living in a larger city but don't want to give up your space, Wichita, Kansas could be the place for you. It ranked number one on the large city list of places where you can get the most square footage (1,463 sq-ft) for $1,500 per month. Not far behind is Toledo, Ohio, where you can get 1,379 square feet of space for $1,500.
When it comes to smaller U.S. cities that offer the most space for the cheapest rent, Columbus, Georgia takes the number one spot, offering 1,545 square feet of space for $1,500. In second place is my hometown of McAllen, Texas, where my family currently lives without me. There, you can get 1,471 square feet of space for $1,500, but I must warn you, temperatures hover above 90-degrees for most days of the year.
If you've been looking to move, this breakdown can serve as a helpful guide for where to pack up and go next. It all depends on what location you're prioritizing, what budget you have, and what type of job you have. Hot tip: If you sign a multi-year lease, you can typically save on rent over time and won't be a victim of yearly price gouges. And just like with a job offer, you should always try to negotiate before signing any fixed rent price.
Brittany Leitner is a freelance journalist with over 10 years of experience in lifestyle, health, and more. She received a Digital Health Award for her reporting in 2019 as well as numerous awards for her work in poetry. She previously held positions as senior editor at Elite Daily and managing editor at The Dr. Oz Show. Follow her online @britariail.