How to Win in a Red-Hot Housing Market
Whether you're a buyer or a seller, these strategies will help you get the best deal.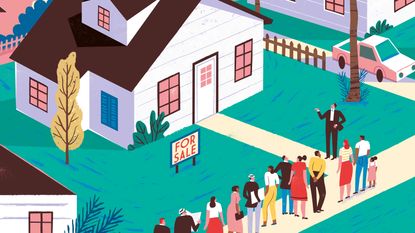 (Image credit: Illustration by Iker Ayestaran)
Laura Gross knew that she'd be facing fierce competition this spring when she was getting ready to bid on a four-bedroom house in Troy, Mich., a suburb of Detroit. So she pulled out all the stops: She waived an appraisal contingency, offered $30,000 above the home's $285,000 list price, wrote a letter expressing why she loved the home (it reminded her of the house she grew up in a mile away), and offered the seller a free 60-day rent-back.
The seller chose Gross's offer over seven others. "I knew I had to offer above list price and waive con­tingencies to even have my offer considered in this market," says Gross, an accounting manager at a manufacturing company.
Gross is just one in a tsunami of house hunters who have flooded the housing market since the coronavirus pandemic began. She experienced firsthand how tough today's housing market is for buyers.
Subscribe to Kiplinger's Personal Finance
Be a smarter, better informed investor.
Save up to 74%
Sign up for Kiplinger's Free E-Newsletters
Profit and prosper with the best of expert advice on investing, taxes, retirement, personal finance and more - straight to your e-mail.
Profit and prosper with the best of expert advice - straight to your e-mail.
The U.S. is facing a nationwide housing shortage amid strong demand, fueled partly by super-low mortgage rates. "Homes are getting snatched up because there's simply not enough supply," says Jeff Tucker, senior economist at Zillow, the housing marketplace and data tracker. Unsold inventory sat at a 2.5-month supply in May, according to the National Association of Realtors (six to seven months of supply is considered a balanced market). Properties stayed on the market for just 17 days that month, on average, down from 26 days in May 2020.
New homes are also hard to find, with new-home sales sinking to a seasonally adjusted annual rate of 769,000 in May, down 5.9% from April. "For a while during the pandemic, you couldn't buy a brand-new house even if you wanted to, because builders had such a severe shortage of labor and materials," says Ali Wolf, chief eco­nomist at Zonda, a housing data and consultancy firm.
Tight supply and continued strong demand from buyers has caused home prices to skyrocket, says Alexander Hermann, a research analyst and one of the lead authors of the Harvard Joint Center for Housing Studies' 2021 State of the Nation's Housing report. U.S. home prices saw a 15.4% annual gain in May, according to the S&P CoreLogic Case-Shiller Home Price Index. Among the largest metro areas tracked, Phoenix, San Diego and Denver experienced the highest year-over-year price gains.
The takeaway: Buyers have to be strategic to nab a home in today's red-hot market. And though it's a seller's market, there are steps sellers can take to get top dollar and sell quickly.
Smart moves for home buyers
Buyers will have to be aggressive—and creative—to defeat their competition. Before you begin your home-buying journey, you'll need to wrap your head around three things.
Number one: Be prepared to offer more than the asking price. More than half of homes (54%) sold above their list price in May, according to Redfin, up from 26% a year earlier. Number two: You may have to bid on a number of homes before you have an offer accepted. And number three: You may not be able to find a home that has everything you're looking for.
"Homes that are totally updated and move-in ready are receiving a ton of offers," says Jeff Checko, a real estate agent at RE/MAX Advantage in Nashville. "If you're willing to make an investment in a home that requires some renovations to get what you want, you'll be in a much better buying position."
Hire an in-tune agent. With homes flying off the shelves, choosing a real estate agent who is plugged in to your local market is more important than ever. Look for an agent who has completed a large number of recent transactions in your target neighborhood, suggests Hal Hovey, a real estate agent at Coldwell Banker 360 Team in Oak Harbor, Wash.
Working with an agent who knows which homes are about to hit the market is crucial, Hovey says. When interviewing potential agents, ask them how they keep their ear to the ground. For example, they may be a member of Facebook groups for real estate agents in your area where agents promote their upcoming listings and buyer needs, says Hovey.
Online reviews of agents from past clients can be a source of valuable intel, says Judith Weiniger, the founder and broker of Weiniger Realty, in Warren, N.J. "Look at the content of the review and not just how many stars the person received," she says. "Is the agent accessible? How well do they know your market? Do they do a good job of guiding buyers throughout the home-buying process?"
Get your financial ducks in a row. Cash is king in any market, but right now an all-cash offer nearly quadruples a buyer's chances of winning a bidding war, a recent Redfin study found. But if you are planning to get a mortgage, line up your financing before you start shopping for a home, advises Pete Boomer, a mortgage executive at PNC Bank.
Boomer recommends getting preapproved for a mortgage—however, "not all mortgage preapprovals are created equal," he says. He recommends getting a fully underwritten preapproval, in which a lender collects all of your financial information and underwrites a loan up front. That means your loan approval is only subject to an appraisal and title insurance. Submitting this kind of preapproval letter when you make an offer on a home "gives the seller peace of mind that you're a highly qualified buyer," Boomer says.
A fully underwritten preapproval also gives buyers the ability to waive a financing contingency, because they've already cleared many of the major hurdles in the mortgage approval process, says Rob McGarty, the founder of Bushwick Real Estate Services, in Seattle. McGarty also recommends that buyers use a local mortgage lender "because big banks operate within a very rigid framework that puts the bank's timelines ahead of the contract's deadlines, which results in delayed closings and potential loss of the buyer's earnest money," he says.
Check your phone often. Being the first one to tour a new listing can enable you to make an offer before other buyers do, says Daniel Gyomory, a real estate agent at Keller Williams Advantage in Novi, Mich. Have your agent sign you up for instant notifi­cations through your local multiple listing service (MLS) so that you get pinged when a home that meets your criteria goes on the market. Because homes are selling at warp speed, "you have to be ready to drop everything to go look at a house at a moment's notice," Hovey says.
Waive contingencies judiciously. Some 16% of home sellers expect buyers to waive contingencies, a May survey by Realtor.com found. Even though that's rarely a good idea, "in this crazy seller's market, we've seen instances where buyers are waiving all contingencies," says Rachel Foy, broker and owner of Hillman Homes, in Newton, Mass.
However, buyers should still protect themselves even if they decide to waive the home inspection or appraisal contingency. One way to reduce your risk of purchasing a home that needs major repairs is to perform an inspection of the property before making an offer. "Pre-offer inspections will give you the comfort of knowing what kind of shape the home is in and allow you to waive a home inspection contingency when you write your offer," Foy says.
Moreover, with many homes getting bid up significantly above their list price, appraisal gaps—when a professional appraiser's valuation of a home comes in lower than the accepted offer—have become a frequent obstacle for buyers. As a result, partially waiving an appraisal contingency can make your offer more attractive. (Just make sure you have enough cash in the bank after you cover an appraisal gap to still qualify for a mortgage.) "A lot of times what I do is advise buyers to say, 'If the appraisal comes in low, we agree to cover an appraisal gap up to a certain amount of money, such as a $20,000 shortfall,' " says Geoff Strobeck, a real estate agent at Compass in Boston. "It gives the seller more assurance that the deal will close, and it protects buyers from having to shell out more money than they're comfortable paying for a home."
Chantal and Carlos Gonzalez used that tactic when they bid on a four-bedroom house in Maplewood, N.J., earlier this year. "We waived the appraisal by 50%, so in the event the home didn't appraise we'd be on the hook for half of the difference," says Carlos, a filmmaker. (The home appraised for $609,000, a hair above their contract price of $605,000.)
The Gonzalezes also tweaked their offer's home inspection contingency to make their bid stand out. "We told the sellers we'd only walk away if there were structural issues with the house, and thankfully we didn't find any during the inspection," says Chantal, an ad salesperson at Pinterest.
"Right now, I recommend buyers limit home inspection repair requests to safety, structural and environmental defects," such as radon or termites, says Sarah Bandy, a real estate agent at Jason Mitchell Real Estate, in Colts Neck, N.J., who represented the couple. "You can look past a broken window."
Write a heartfelt letter to the seller. "In a situation where there are a dozen or more offers, there's a high likelihood that the top two offers are nearly identical," McGarty says. "I find anything that tilts the cards in your favor is worth doing."
Writing a letter to the seller can tip the scales in your favor, but there's a caveat: Letters to sellers can violate Fair Housing laws that govern discrimination against protected classes (such as people of a certain race or religion), causing some agents to call these so-called love letters "liability letters." Even a statement as seemingly innocuous as "The house is within walking distance to our church" could raise a red flag. Your best approach? Have your agent proofread your letter for potential Fair Housing discrimination violations before you submit your offer, and "stick to emphasizing what features about the home appeal to you," Hovey says.
Find out when the seller will be reviewing offers. A lot of home sellers are setting deadlines for offers so that they can compare offers side-by-side instead of reviewing them as they trickle in. Ask your agent to find out if there's a deadline that you have to meet in order to be considered.
Get in line for new construction. Although there's currently a shortage of new homes for sale, builders are starting to ramp up production. Housing starts in May rose 3.6% from April, according to Census Bureau data.
"Rest assured, more supply is coming for new homes," Wolf says, "but it takes a long time to go from buying dirt to building a home." Therefore, if you have your eye on a new community, "joining a builder's wait list is a good idea," she says.
Smart moves for home sellers
If you're selling in a pricey market and either downsizing or moving to a less expensive area, it's a great time to cash out—especially if you're willing to rent until the market cools and supply increases. That said, you don't want to make any costly mistakes when selling your home.
Price your home at market value. There are several schools of thought when it comes to setting a listing price. You can price your home below what it's worth in an effort to draw tons of offers (and hope some bidders offer above listing price); you can price it at its market value; or you can price it high, to give yourself room to negotiate. Strobeck says the best pricing strategy in today's market is to set your home's listing price at, or slightly below, its value based on comparable properties ("comps") that recently sold near your home.
"The kiss of death in this market is listing a property too high," says Strobeck. If you price your house above comparable sales in your neighborhood, you may not get a single offer. "You start to lose leverage once your home has been on the market for more than a week, which means you may have to make price cuts," he says.
Hovey says flexibility is key: "I like to wait until the day we put a house on the market to set the listing price because the market is changing so rapidly," he says. "The price I give a seller today may be radically different from what I gave them a month ago."
Do a little staging. You want to present your home in the best light possible. Often, that means staging your home with furniture you rent, chosen by a professional designer, that will appeal to a wide range of potential buyers. "I'm staging all of my vacant listings right now, because with the pandemic, buyers are being extra selective of what homes they want to see in person," says Foy. She's not alone: 31% of sellers' agents said they staged all homes prior to putting them up for sale, according to a recent survey by the National Association of Realtors.
Furnishing an entire house, though, can be costly—staging a 2,000-square-foot home typically costs about $2,000 per month, according to HomeAdvisor. But a fully staged home is not a requirement in a seller's market, says Weiniger. "For a recent listing, we added new lighting, bedding and simple white drapes to the master bedroom," she says. "It didn't cost a lot of money, but it made the house look more modern."
If you want to keep costs down, consider virtual staging, which is when a designer digitally adds furniture and accents to photographs of your home. "Virtual staging has come a long way, and it gives buyers the ability to visualize what the house will look like when it's furnished," Strobeck says. According to one Redfin estimate, virtual staging costs between $39 and $199 per room.
Offer a bird's-eye view. Nowadays, professional listing photos are the bare minimum. Pictures taken by a drone can make a big difference, "especially if your property has a lot of land," Foy says.
Bandy took drone photos and a video when she listed Harris and Julie Hafeez's home in Freehold, N.J., this summer. "They allowed you to see what the whole property looked like from an aerial perspective," says Harris, the owner of a health care management company. That was especially advantageous, he says, because the house sits on 2.5 acres.
Additionally, 3-D walking tours are catnip for online house shoppers, says Bandy. Proof: From March 2020 through February 2021, for-sale listings on Zillow with a 3-D tour garnered 65% more views than listings without a 3-D tour.
Set a deadline for offers. Reviewing offers one by one as they trickle in can make your head spin. Setting a deadline for offers and reviewing them in one sitting can help. "I suggest listing your house on a Thursday or Friday and setting a deadline for offers the following Monday," Hovey says. "That gives buyers a full weekend to tour your home."
Another reason to put your house on the market on a Thursday: Homes listed on Thursday typically sell faster and are more likely to sell above list price than those listed on any other day of the week, a Zillow study found.
Don't focus only on the offer's price. Certainly, you want to maximize your home's sales price, but price isn't the only factor to consider when comparing offers. In some cases, you may want to choose a lower offer if the buyer is more qualified than the highest bidder. Paul and Jane Guse, both teachers, accepted an offer lower than the highest bid when they sold their three-bedroom ranch house in Westland, Mich., in June. "There was a higher bid, but the offer we accepted had zero contingencies," says Jane.
Mortgages will stay affordable
It's irrefutably a seller's market with respect to supply and demand, but it's still a great time to purchase a house when it comes to locking in a low mortgage rate.
The 30-year fixed mortgage rate hit a record low of 2.65% in the first week of January. Since then, rates have ticked up, to about 3% in mid July, according to Freddie Mac. But 3% is still a phenomenal mortgage rate, says Sarah Bandy, a real estate agent at Jason Mitchell Real Estate, in Colts Neck, N.J.
Joel Kan, an economist and industry analyst at the Mortgage Bankers Association, forecasts 30-year mortgage rates to climb to 3.5% by the end of this year. That's about what Kiplinger is expecting, with mortgage rates climbing to 3.8% by the end of 2022 (see Long-Term Rates Will Edge Higher).
Generally, conventional loan borrowers need a credit score of 740 or higher to qualify for the best rates, says Pete Boomer, a mortgage executive at PNC Bank. It pays to shop around and compare offers from several lenders: Borrowers who get five quotes save an average of $3,000 over the life of their loan, says Freddie Mac.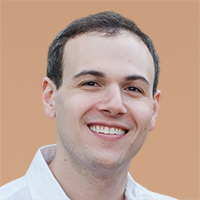 Contributing Writer, Kiplinger's Personal Finance
Daniel Bortz is a freelance writer based in Arlington, Va. His work has been published by The New York Times, The Washington Post, Consumer Reports, Newsweek, and Money magazine, among others.