Other Uses for Life Insurance You May Not Know About
There may be potential benefits to life insurance beyond its traditional uses, especially when it comes to taxes, estate planning and long-term care. Could life insurance play a larger alternative role in your retirement strategy?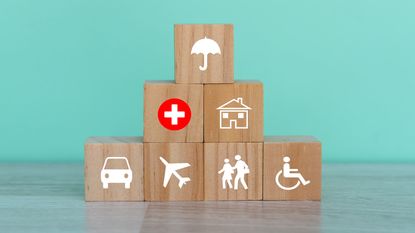 (Image credit: Getty Images)
Did you purchase a life insurance policy years ago to protect your loved ones? Just over half of adult Americans have a life insurance policy, and more say they're interested in purchasing one. However, needs can change later in life when the kids are grown up and a retirement nest egg seems big enough to absorb financial shocks. Those nearing and in retirement may see less reason for their life insurance policy than when they first purchased it and may see the premiums they pay as burdensome.
But for many, there are potential benefits to continuing a life insurance policy or purchasing certain types in retirement, when it comes to taxes, estate planning and long-term care. Here are some ways to use a life insurance policy that you may not know about.
What Are the Tax Benefits of Life Insurance?
The tax benefits of a life insurance policy are potentially even more valuable now that the "stretch IRA" is no more. In 2019, the SECURE Act (Setting Every Community Up for Retirement Enhancement) eliminated the option for most non-spouse beneficiaries to stretch out RMDs (required minimum distributions) over the course of their lifetime. Now, most non-spouse beneficiaries must drain tax-deferred retirement accounts within 10 years of the original owner's death. Depending on how much is in the account and the beneficiary's tax situation, this could mean an increased tax burden and a faster end to the tax benefits of the inherited account.
Subscribe to Kiplinger's Personal Finance
Be a smarter, better informed investor.
Save up to 74%
Sign up for Kiplinger's Free E-Newsletters
Profit and prosper with the best of expert advice on investing, taxes, retirement, personal finance and more - straight to your e-mail.
Profit and prosper with the best of expert advice - straight to your e-mail.
In contrast, life insurance proceeds paid to beneficiaries are generally income tax-free. In fact, some individuals should consider using life insurance to help transfer wealth to the next generation. Life insurance policies can provide business owners additional opportunities, such as paying off business debt, funding buy-sell agreements related to someone's business or estate, or funding retirement plans.
What Are the Long-Term Care Benefits of Life Insurance?
It's estimated that 70% of Americans age 65 today will need long-term care at some point, and the costs can be staggering: The median annual cost for an assisted living facility is $51,600 and the median
annual cost for a private room in a nursing home is over $105,850. Yet, many Americans nearing and in retirement do not have long-term care insurance. Many people who do want to plan for long-term care costs may not want to invest in traditional long-term care insurance, because premiums can rise significantly, and there are typically no benefits if the owner ends up never needing long-term care.
As a result, traditional long-term care insurance has become less popular in the last decade. An alternative option is to use a life insurance policy with long term care benefits. These policies combine the benefits of long-term care insurance with those of permanent life insurance through the purchase of an optional rider. They can still provide a death benefit if the owner passes away without having needed long-term care. If the owner does need long-term care, a certain amount of money or time is allotted to cover costs. If this amount isn't used up, some policies can offer a "return of premium" guarantee upon death or termination of the policy. If a remaining amount is passed on, beneficiaries may be able to enjoy it tax-free, depending on the policy.
Unlike traditional long-term care insurance, this type of life insurance policy's premiums don't rise. However, some require lump-sum payments at the start, which can make purchasing a policy difficult for some.
The Bottom Line
While your financial planning needs may change as you near and enter retirement, that doesn't necessarily mean that your life insurance policy is obsolete. There are many potential benefits to life insurance beyond its traditional use to look into when creating a retirement or estate plan. A professional can help you understand how your particular policy works, and if any of these strategies could apply to your financial plan.
Disclaimer
Harlow Wealth Management is an independent financial services firm helping individuals create retirement strategies using a variety of investment and insurance products to custom suit their needs and objectives. Harlow Wealth Management Inc. is an SEC Registered Investment Adviser and an insurance agency registered with the state of Washington and other states. They do not provide tax or legal advice. Legal and tax advice should come from qualified professionals who can provide advice on these topics.
Disclaimer
Insurance guarantees are backed by the financial strength and claims-paying ability of the issuing company. Life insurance riders may be available for an additional annual premium; riders may not be available in all states. Life insurance policies are subject to medical underwriting, and in some cases, financial underwriting. Optional LTC benefits are NOT a replacement for long term care (LTC) insurance. Living benefits and LTC riders are not available on all index universal life products. Accelerated death benefits and LTC riders are subject to eligibility requirements.

CEO, Harlow Wealth Management
Chris Harlow is a Certified Public Accountant and CEO of Harlow Wealth Management, serving metropolitan Portland and southwest Washington to help clients craft their financial strategies for retirement. Chris' past experiences have instilled in him a dedication to guiding clients through tax and retirement strategies. He has passed the FINRA Series 65 securities exam; holds life insurance licenses in Washington, Oregon and Arizona; and has his CPA license.