Your Doctor is Retiring. Here's How to Find a New Physician
More doctors are considering quitting due to burnout from the pandemic. If you must find a new physician, get recommendations from friends and review a potential replacement's qualifications.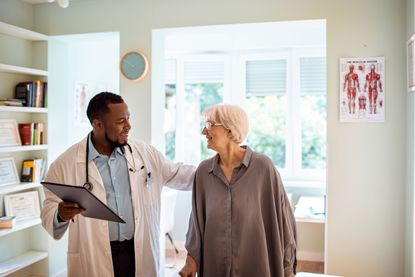 (Image credit: Getty Images)
You've known your primary doctor longer than your best friend. She has been there through minor medical issues and larger health scares. And now, she is retiring.
It can feel like a real loss when a long-time physician -- whether your internist or a specialist who has helped you through an acute or chronic illness -- retires or simply decides to leave. That's likely to happen more in the coming years. Fifty-four percent of doctors surveyed by the recruitment company Jackson Physician Search say the pandemic prompted them to reconsider their job. Of those doctors, 21% are considering early retirement and 15% are thinking of leaving the field entirely. (Fifty percent said they were considering changing employers.)
Finding a new doctor is never easy, especially when insurers limit whom you can see. Doctors themselves often stop accepting newcomers if their roster of patients is full. Still, you entrust your doctor with your health, so it's worth taking the time to find and research the one that's right for you.
Subscribe to Kiplinger's Personal Finance
Be a smarter, better informed investor.
Save up to 74%
Sign up for Kiplinger's Free E-Newsletters
Profit and prosper with the best of expert advice on investing, taxes, retirement, personal finance and more - straight to your e-mail.
Profit and prosper with the best of expert advice - straight to your e-mail.
Get Referrals for a New Doctor
If you know your doctor is retiring, don't be shy about asking for recommendations. Sometimes the retiring doctor will refer patients to another physician in their practice. That's what happened with AnnMarie McIlwain, a patient advocate who was dismayed when her parents' doctor, who had treated them for decades, retired. Her parents, who live in Boston, are in their 80s. "It was a big blow," says McIlwain, who works as a patient advocate in Summit, N.J.
Fortunately, the retiring doctor recommended a new physician in the same practice, who McIlwain came to like. While "we miss the former doctor, the move exceeded our expectations. She is a younger doctor who not only is an internist but specializes in geriatrics," McIlwain says. "When they started with their original doctor, they didn't need a geriatric doctor. Now they do." For those in their 70s and beyond, finding a primary physician who specializes in geriatrics is ideal, but "sadly we don't have that many with that specialty," McIlwain says.
Not all practices are so intentional in transitioning their patients, and most doctors will only refer patients to other physicians within their own practice. That's not necessarily bad, McIlwain points out, as your medical records won't have to be transferred, but don't just stay at the same practice for convenience. You'll want to consider all your options.
A doctor who takes your insurance should be your top priority, but even that can be tricky. Doctors within the same practice may accept different plans and insurers. Because the insurance information listed on the doctor's website may be out of date, always call the practice and ask if it takes your specific health plan.
If you have Medicare Advantage, which you get through a private insurer, you'll need to make sure the doctor is in your network, just as you would for any other insurance. For traditional Medicare, you should confirm your doctor is a Medicare provider, but nearly all are, says Betsy Chandler, president of MIC Insurance Services in Kinnelon, N.J.
For other referrals, ask any specialists you see -- your gynecologist or cardiologist, for example -- as they often know good doctors outside their own field and can recommend someone. Reach out to friends and family, but have some questions prepared, such as how responsive the doctor is. Simply being told someone is nice, "is not a qualification," says Trisha Torrey, founder of the Alliance of Professional Health Advocates. "Nice does not equal capable."
Jenny Geer, of Mamaroneck, N.Y., had to switch her primary doctor, as well as others, when United Healthcare changed its coverage. "Even though I was interested in credentials, personal recommendations carried more weight for me, especially when I was looking for a primary doctor rather than a specialist," she says.
Geer, 62, also faced a common problem: The two doctors most friends suggested were not accepting new patients. McIlwain says, in that case, one option is to ask whoever referred you to ask the doctor if he could possibly make an exception for you. It may not work, but it's worth a try.
Check Qualifications of Doctors You are Considering
Checking a doctor's credentials -- education, residency, fellowships -- can be helpful, as well as whether he or she teaches at universities or medical schools. See if a doctor is board certified at Certification Matters and in what specialties. Board certification is voluntary and requires physicians to complete further education and pass exams regularly.
State boards of medicine will also provide information about whether disciplinary action has been taken against a doctor. Castle Connolly, a research company, offers this information and rates doctors through a peer-reviewed process.
Don't put too much weight in a doctor who is named to a "top doctor" or "best physician" list. These awards may not have strict criteria for selecting winners, and instead the company creating the list could be making money by selling plaques to the honorees.
Torrey, 70, of Leesburg, Fla., has faced a revolving door of doctors. "I've lived here five years and I'm on my fourth primary." So she has the routine down pat. Once Torrey gets a recommendation, usually from friends, she checks on the doctor's ratings on sites such as Vitals.com and Healthgrades.com. But, she suggests, don't just glance at the overall rating, which can be misleading. Dig deeper. How many people have rated this doctor? Are there enough to draw any conclusions? What are the complaints? Do different patients have the same complaints, such as a brusque manner or long wait times?
Not surprisingly, many doctors aren't impressed with these sites. "I'm a physician, and maybe I'm a little sensitive, but their comments, positive or negative, can get overblown," says Mohan Nadkarni, a professor of medicine and chief of general internal medicine at the University of Virginia Health System.
Assess the Doctor's Bedside Manner
Once you find a physician who takes your insurance, is available and seems well-qualified, the next step is to have a conversation. Because health insurers won't cover a simple get-to-know you chat, you'll need a reason to visit the doctor, such as an annual physical. Otherwise, you'll have to pay out of pocket. "The most important thing you can do is give the doctor you're interested in a kick of the tires," says Nadkarni. "See if the physician is listening to you. That's one of the most important parts of taking care of a patient."
Experts suggest going in with some prepared questions and your medical records, although a doctor in the same practice can access those records easily. The questions should help you get a sense of the doctor's overall philosophy.
Research has shown that patients look for three things in their doctors: confidence, effective communication and rapport, says Kevin Fiscella, a professor of family medicine at the University of Rochester Medical Center and a practicing family physician. Those attributes can mean different things to different people, however. "Some doctors are very focused and efficient and move quickly," he says. "Others take a more measured approach." Some patients prefer to be told what to do, whereas others want to discuss the pros and cons of treatment suggestions. It's all about what you feel more comfortable with. Most important, Fiscella notes, is that you feel valued and heard.
Patients also have a responsibility "to recognize and accept that a doctor probably has far less time for you than you want," McIlwain says. So make good use of that time by coming prepared with questions and any relevant information. "You have to work [at having] an effective conversation -- to be concise, have a current medications list and topics you want to cover. This is not tea with a friend," McIlwain says.
If the doctor doesn't seem like the right fit, find someone else. It may be a short-term hassle, but in the long run, you want someone you can trust and feel comfortable with.
Still, it pays to be open-minded. For instance, you might assume an older doctor is more experienced, easier to relate to and therefore a better fit, but don't be too quick to write off a practitioner that seems too youthful. A younger doctor may be more up to date on medical science. You also don't want someone who is just a few years away from retiring because you'll have to go through the whole process of searching for another doctor all over again.
A new doctor, who looks at you with fresh eyes, can be a plus. Geer finally found an internist who, she says, is a bit more of a stickler about things than her previous doctor. "I heard some new things regarding my health and wonder if my old doctor wasn't paying attention," she says. "The fact she found something to be concerned about validated my choice."
Contributing Writer, Kiplinger's Personal Finance
Alina Tugend is a long-time journalist who has worked in Southern California, Rhode Island, Washington, D.C., London and New York. From 2005 to 2015, she wrote the biweekly Shortcuts column for The New York Times business section, which received the Best in Business Award for personal finance by the Society of American Business Editors and Writers. Her work has appeared in numerous publications, including The Times, The Atlantic, O, the Oprah Magazine, Family Circle and Inc. magazine. In 2011, Riverhead published Tugend's first book, Better by Mistake: The Unexpected Benefits of Being Wrong.