How New Graduates Can Make the Most of a Terrible Job Market
A pandemic AND a recession? The Class of 2020 can use all the help they can get, and the president of Denison University is happy to pitch in by sharing job-hunting advice tailor-made for today's grads.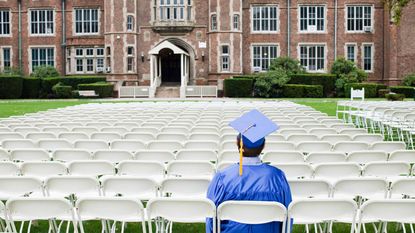 (Image credit: Getty Images)
There's no way to sugarcoat it: The seniors leaving campus this spring are graduating into one of the worst job markets in recent memory.
With the unemployment rate expected to exceed 20% in the coming months and the U.S. now officially in the grip of a recession, employers are rescinding job offers, delaying start dates and freezing hiring.
At the same time, COVID-19 is forcing much of the recruitment process to go virtual, upending the career fairs, campus recruitment visits and other services that many students rely on to find their first jobs after graduation.
According to a survey conducted in June by the National Association of Colleges & Employers, 9% of employers are revoking offers to recent college graduates and 33% are delaying start dates. And as of the end May the number of internships on ZipRecruiter was down 31%.
For graduates, then, the message is simple: Be realistic and be ready. The job market will get better, and you should be prepared for when it does. The question you should ask yourself is this: How do I use the next few months to be ready to take advantage of the job market as it comes back to life? Here are some specific ideas to help put you on the right path.
1/6
Be flexible: Opportunities do exist
Right now, that dream job in the city, working for that dream company, might not happen. But that's OK. There are still jobs out there. It just might take more work and more flexibility to find them.
It's all about keeping your options open because there are more jobs and internships available than many realize. It's just not true that nobody's hiring. It's important to be open to a wide range of opportunities. The best first job out of college is the one that exists! Contact your college's career service centers to get advice on available jobs and internships. Also, there are a wide range of websites that list jobs that are coming open for recent college graduates. Examples include: Indeed.com, careershift.com, LinkedIn.com and
2/6
Network, network, network
My advice would be to start with your alma mater. Many colleges are finding that their alumni and parents are very willing to create opportunities on the fly. It's just a matter of reaching out and asking. You can do this in two ways:
First, make sure you are communicating with your college's career center to ask what they are doing to help recent alumni. Also, remember that friends, family members and even your faculty can be helpful.
Second, use LinkedIn and/or your college's alumni networking platform or directory to find alumni in your city or profession of choice, and reach out to ask if they will talk with you.
Before you get on the phone, make sure you do a quick Google search of the person and the company where they work. You don't need to be an expert on them, but you should be familiar with their career and place of work.
Once you get the person on the phone, ask them to talk about their career. How did they get started? What was their path to their current job? What mistakes did they make? What advice do they have for you? People like to share their life journey. Before you end the call, ask them if they know of any openings and ask them to suggest somebody else for you to call (and ask for an introduction to that person!).
3/6
Stay engaged
Be ready to act on the opportunities that arise. Is your résumé up to date? Are you doing all the right things in terms of building a personal brand? A personal brand is the story you tell about yourself and that you want others to tell about you. Your brand is shaped by the skills, experiences and competencies that shape you and your personality. In truth, there has never been a better time to build relationships. There is a lot empathy for recent college graduates in these unprecedented times.
Also, if you had a job or internship that was rescinded, periodically stay touch with the hiring manger. Send them an email. Call their office and set up a quick phone call check-in. If those don't work, send a letter. Show you are still interested, earnest and ready to go when they are.
If there is a position or firm that you are excited about, spend extra time tracking the company on their social media, website and other publications. That way when you connect with the hiring manger you can incorporate that information in your check-in emails.
4/6
Don't let this time go to waste
While it is not a particularly great time to be looking for a job per se, it's never a bad time to develop new skills. There are so many new and different ways to develop career-related skills that weren't available even five or 10 years ago, including the growth of career service centers on college campuses.
This also includes new career training offerings on platforms like LinkedIn and Microsoft as well as massive open online courses (MOOCs) that can provide specialized training at low cost or for free. Check out these options at IDEO U and Inside Sherpa.
This is great news for recent graduates as employers are more focused on skills and credentials, and less concerned about what degree you have and where you went to college. Now is the time to skill-up and bring more to the table.
So, this summer students should figure out how to add to their skill sets. The truth is employers are going to be very sympathetic to this graduating class. And at some point in the next six months, employers will go from not being able to focus on recent graduates to desperately needing them.
5/6
Be prepared to go virtual
Work on your virtual skills. Think ahead about where you would do a virtual interview. You need a quiet room and make sure you know what is on the walls and what the person at the other end will see. Get somebody from your college career service center (or an alum or family friend) to do a mock virtual interview. Zoom, FaceTime and other platforms make this easy and important.
Be sure to test the technology before the interview. Some platforms may require app downloads or have a more detailed log-in process. You'll want to do all of this in advance so you're ready to go at interview time.
6/6
Understand that resilience pays off
This job market represents an opportunity for new graduates to show employers what they're really made of, to prove that they are resilient, creative and that they know how to deal with the challenges that life throws at them. Use the summer months to build a narrative about how you turned this time period from a challenge to an opportunity.
That alone will speak volumes to future employers.
This downturn is temporary, however painful. The job market will return, employers will soon need help and entry-level candidates will again be well positioned to jump on those opportunities. My message is to remain positive, be realistic when looking for work and be ready to go when things start to turn around.
With the right skills and the right attitude, this coronavirus summer might prove to be a net positive in the careers of today's graduates that sets them up for success for years to come.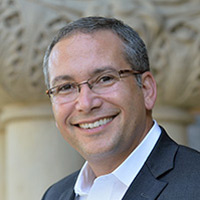 University President, Denison University
Adam Weinberg is the 20th president of Denison University. He previously served as president and CEO of World Learning, one of the premier international education, exchange and development organizations, and as vice president and dean of the college at Colgate University, where he was a member of the sociology department for more than a decade.