Low Interest Rates Got You Down? How to Boost Your Returns on Cash Savings
If you've got a lot of money sitting in cash, it could be worth looking into using a cash management system to find a better rate of return. Let it do the work while you reap the rewards.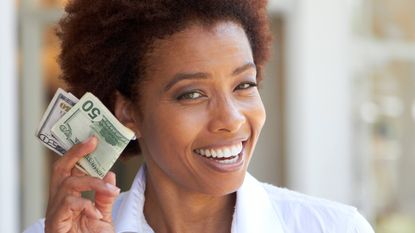 (Image credit: Getty Images)
Most investors are far more devoted to keeping an eye on their stocks, bonds and real estate than their cash reserves. After all, why shop around for a better bank account or CD just to increase your rate of return by, say, 50 basis points (or 0.50%)? Yearly, that's only $50 extra on $10,000.
Recently, I revisited some of my assumptions about cash management after my conversation with Gary Zimmerman of MaxMyInterest (opens in new tab) on the Stay Wealthy Retirement Show. What if you could consistently earn higher cash yields these days with very little effort? An online cash management platform may help you strike that suitable balance between convenience and value.
Today's Cash Management Climate
Conditions seem ripe for improvement. For starters, Americans have $1 trillion more in checking accounts (opens in new tab) today than they did a year ago. Are you among them? An extra $50 on $10,000 may not seem worth it, but an extra $500 on $100,000 might.
Subscribe to Kiplinger's Personal Finance
Be a smarter, better informed investor.
Save up to 74%
Sign up for Kiplinger's Free E-Newsletters
Profit and prosper with the best of expert advice on investing, taxes, retirement, personal finance and more - straight to your e-mail.
Profit and prosper with the best of expert advice - straight to your e-mail.
Even under normal circumstances, it's been estimated that the average American holds 58% of their assets in cash (opens in new tab), and millennials hold closer to 65%. That's a lot of loose change left to languish.
And yet, in the current climate of record low interest rates, where can you find those extra basis points, without exposing your assets to undue risk? The answer is often found online.
The Virtues of Virtual Savings Accounts
While brick & mortar banks used to offer appealing rates, online banks have been increasingly dangling more competitive rates than those traditionally available. Without physical branches to maintain, these online institutions are able to reduce their overhead costs and pass some of those savings to you.
Logistical Liabilities
That said, online banks face hurdles of their own.
Emotion: If you're used to conducting your banking under a single, local roof, an online leap may feel daunting or even insecure.
Effort: Sustaining optimal rates across scores of nationwide providers can quickly become a tedious, whack-a-mole endeavor. You might park your money one place today but spot a better yield somewhere else tomorrow. Do you pop over to greener ground?
Organization: There's also record-keeping required as you move your money around. And what about ensuring you retain quick access to your cash if you actually want to spend it? It can quickly become a hassle to track it all, for yourself and the IRS.
Building a Better Mouse Trap
Fortunately, for every set of technological challenges, it seems there's always one or more innovators building a better mouse trap to fix them.
What have they come up with so far? These days, pairing your existing savings and investment accounts with a well-built cash management platform may offer the best of both worlds. The right platform should help you resolve the logistical headaches just described; offer safe, easy access to your cash as needed; and help you conveniently earn the most competitive yields every day.
To be clear, an online cash management platform doesn't need to be a savings or checking account itself. For example, Zimmerman describes the MaxMyInterest (opens in new tab) (MAX) platform as being more like an "air traffic controller" for your actual bank accounts. With it, you can:
Continue using your existing brick and mortar bank and checking account(s) if you wish. This can mitigate the concern of moving everything to an online bank and maintain any existing connections or transfers you have in place.
Funnel longer-term cash savings into a handful of higher-yielding money market accounts.
Let the platform do the work from there: tracking current best rates among their online banking partners, shifting your cash savings as needed to maximize your interest rate, and reporting the results back to you and your financial adviser (opens in new tab) (if you have one).
Safety for Your Numbers
If you have significant cash reserves, there's another important feature to seek from a cash management platform. As you may know, the FDIC (opens in new tab) typically protects your deposits against institutional failure, but only up to $250,000 per person. An automated platform like MAX recognizes this issue and regularly ensures you remain under these limits at each financial institution. Extra yield is nice, but full FDIC protection is nicer.
Putting Your Cash to Work?
It's important to note that online cash management is not for everyone. In particular, if your cash reserves are modest, a slightly higher yield may not warrant the extra hoops involved to adopt a new tech solution. In addition to some upfront set-up work, there are also modest fees involved. And even transparently reported record-keeping is still likely to be a little more work than if you keep your cash in one or two familiar accounts at your existing bank.
But if you are sitting on a healthy amount of cash — especially if it exceeds FDIC limits — an automated cash management platform may be a great way to plump up the interest earned on otherwise fallow funds. As a value-add, it may also help keep those brick-and-mortar banks on their toes, once they realize they've got some competition for your cash.
This article was written by and presents the views of our contributing adviser, not the Kiplinger editorial staff. You can check adviser records with the SEC or with FINRA.
Founder and CEO, Define Financial
Taylor Schulte, CFP®, is founder and CEO of Define Financial (opens in new tab), a fee-only wealth management firm in San Diego. In addition, Schulte hosts The Stay Wealthy Retirement Podcast (opens in new tab), teaching people how to reduce taxes, invest smarter, and make work optional. He has been recognized as a top 40 Under 40 adviser by InvestmentNews and one of the top 100 most influential advisers by Investopedia.