A Grandparent's Guide to Today's Popular Music
It's tough for older folks to stay on top of new music. But knowing what you liked back in the day, we have some suggestions. Also, we tell you how to stream music.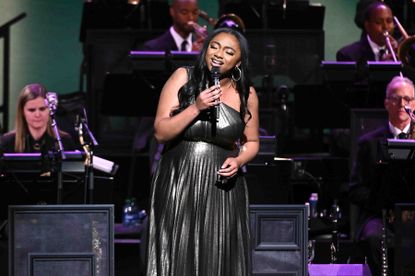 (Image credit: Getty Images)
"There's no good music being made today. I haven't heard anything new that I like since college."
If that sounds like something you might say, here's a gentle introduction to popular music 2023. We're talking about some good stuff. We're taking some top acts in various genres from the '60s up through the '90s and picking recent acts that we think will appeal to fans of those older artists. If you liked so-and-so in the '70s, try listening to so-and-so today…
Don't expect a lot of new works that sound like old favorites, though there will be some. No, we're going to lean more toward new artists working in the spirit of classic groundbreakers. Why? If you want something that sounds like, oh, the Beatles, you should just stick with the Beatles.
Subscribe to Kiplinger's Personal Finance
Be a smarter, better informed investor.
Save up to 74%
Sign up for Kiplinger's Free E-Newsletters
Profit and prosper with the best of expert advice on investing, taxes, retirement, personal finance and more - straight to your e-mail.
Profit and prosper with the best of expert advice - straight to your e-mail.
But if you want something that is distinctive and inventive as the Beatles were, now we're talking. Sometimes the picks will not seem obvious, but stick with us. We'll do our best to spell out the connections and hope that you will give some of these recent artists a good listen.
Back in the day, great popular music came to us easily — on the radio we all listened to, on the TV shows we all watched or at the record store where we all hung out. Now, not so much. If there's anyone in the family who's clued in to the latest music, you can bet it's the grandkids. And you? Won't it be fun to be a step ahead of them for a change?
If you like Joni Mitchell… try Weyes Blood
Natalie Mering, a.k.a. Weyes Blood, is searching for light and love, poetry and beauty in these confusing, perplexing, troubling times, just as Mitchell did in her heyday. "It's Not Just Me, It's Everybody," she declares, melancholy but playful, in the opening song of her latest album, … And In the Darkness, Hearts Aglow.
Okay, it's not Mitchell's "Woodstock" idealism and optimism uniting us, but rather a resigned acceptance that we're all in this together. And yet, as the album title makes clear, the Pennsylvania-raised, Los Angeles-based Mering believes that we, together, can light the darkness. Hopelessly romantic? No, she's a hopeful romantic. Her last album was titled Titanic Rising, so she sees seemingly impossible tasks as possible.
This is just as strong, and poetic, on the personal level. "Grapevine" is a break-up in real time on a California interstate. But it's not about losing love. It's about finding strengths, an emotional motif at the heart of Mitchell's art, of course. And in "God Turn Me Into a Flower," Mering not only portrays Narcissus being granted that wish, but makes us envy him as he becomes the essence of beauty, the lush, languid chamber-pop itself blossoming into a wordless impression of that transformation. It's breathtaking.
If you like Marvin Gaye… try Abraham Alexander
With What's Going On?, Marvin Gaye channeled both personal and societal anguish into passionately soulful songs. Ft. Worth-based Abraham Alexander does the same on his new debut album SEA/SONS with heartfelt words, gorgeous voice and spare, involving musical settings. "Heart of Gold'' is an account of surviving beatings by his father. "Déjà Vu," with guest Mavis Staples' smoldering vocals, seethes with anger for a wrongfully imprisoned Black teen who later commits suicide.
And the opening song, "Xavier," is a heartbreaking lament for Alexander's adopted brother, who was shot to death in 2017. Many songs are drawn from his traumatic life: He was born in Greece to Nigerian immigrant parents. The family moved to Texas when he was 11; his mother was killed shortly after by a drunk driver. With his father largely absent, he was adopted by a couple from his church, who had other adopted children as well. After an injury ended soccer pursuits, music came to Alexander's rescue, though it was a private refuge.
Professionally he was on track for a doctorate in physical therapy — but he connected with local star Leon Bridges, started performing publicly, and friends and family pushed him to follow his dreams. "Blood Under the Bridge'' pays tribute to the support of his adoptive family and to the faith they share, while the tearful "Amen" that marks opener "Xavier" is reprised at the end as an expression of gratitude, closing a truly affecting album.
If you like Led Zeppelin… try Greta Van Fleet
This one falls heavily into the "sounds like" column. And heavy it is, first and foremost for the blues banshee wail of singer Josh Kiszka, at times a dead ringer for Robert Plant in his golden-god prime. The thundering beats and crunching guitar are there, too, maybe without quite the arresting magic of Zep (also fewer Vikings and Hobbits), but there's plenty of visceral wallop.
GVF is a family affair: Josh joined by his twin Jake on guitar and younger brother Sam on bass, with friend Danny Wagner on drums. They make no bones about their Zeppelin adoration, but also love many of the blues and rock artists who inspired Zep. And even Plant has praised GVF, calling Josh "a beautiful little singer." The band doesn't come from the English Midlands, though, but from Frankenmuth, Mic. (do they have hedgerows there?), the name borrowed from local resident and bluegrass musician Gretna Van Fleet.
The scope and sound has broadened from its beginnings, but the core remains the same. Check out the Jimmy Page-like guitar riff that powers "Built By Nations" on the 2021 album The Battle at Garden's Gate. And "Meeting the Master," the first song released to preview the upcoming album Starcatcher (being released July 21) shows GVF effectively, and affectionately, exploring the mystic-folkie realm of the Zep universe.
If you like Ella Fitzgerald… try Samara Joy
A best new artist Grammy Award for a traditional jazz singer? Unheard of. But that's how rare a talent Samara Joy is. The 23-year-old took that honor this year, as well as the best jazz vocal album nod for her major-label debut, Linger Awhile. The album was recorded shortly after she graduated from the jazz program of the State University of New York Purchase.
Fitzgerald comes to mind with Joy's rich voice and combination of seemingly impossible control–and yes, exuberant joy in the upbeat songs and honest emotion in the sad torch ballads. So do Sarah Vaughn and Dinah Washington. But somehow Joy transcends retro binds, even with the fairly straight-ahead settings for these songs: standard small jazz combo instrumentation and no modernizing gimmicks. It helps that many of her selections on the album (released by Verve, Ella's label as well) are not just the same old familiar American Songbook tunes everyone does but also some hidden gems.
And when she does a true standard ("Misty" or "Someone to Watch Over Me"), she gives it a fresh sparkle. On one highlight, the sweet "Nostalgia (The Day I Knew)," she goes another step, writing her own words to a classic recorded instrumental solo by trumpeter Fats Navarro, in the manner of the great Jon Hendricks. That hint at talents only just being tapped, it's forecasting even greater things to come.
If you like Tupac… try Burna Boy
Where Tupac Shakur captured the grit of the streets of Oakland for his game-changing hip-hop, Burna Boy takes it from the streets of Port Harcourt in southern Nigeria, from which he has risen to become in recent years the global star of the form known as Afrobeats, mixing rap, dark soul, Jamaican reggae and dancehall and West African rhythms into a bracing new sound.
His 2019 album African Giant was nominated for the best global music album Grammy Award. His next, 2020's Twice as Tall, won the honors. And his latest, Love, Damini, reached No. 14 on the US pop charts, a major feat for a distinctly African artist. In many ways it's the 21st century echo of what Nigeria's Fela Kuti did in the '60s and '70s, bringing James Brown funk home to create the influential Afrobeat sound. Burna Boy — whose real name is Damini Ebunoluwa Ogulu — does not sound like Fela's sprawling grooves. But he does often have the political fire that made Kuti such an important and controversial figure in Nigeria.
"Monsters You Made," from Twice as Tall, rages against centuries of injustice, with Coldplay's Chris Martin adding vocals. Major African-born artists including Youssou N'Dour and Angelique Kidjo have also collaborated with him. He brings the same level of intensity, commitment and inventiveness as Tupac, but he does it with his own voice and cultural perspective.
How to Listen
There might be a few record stores in your town, but odds are they are specialty shops focused on vintage LPs or trendy newly pressed vinyl. Walmart and Target might have a few shelves of CDs. But the main action for music today is online — music streaming services that, like video streamer Netflix, charge a monthly fee for a catalog of old and new recordings. Here's a quick guide:
Spotify covers a lot of bases. You can listen to full albums or individual songs, with an easy search function. You can find curated playlists or you can create your own. There's also a strong podcast and audiobook lineup. There is the free service with commercials, but you can start a basic premium subscription with a three-month free trial, and then $9.99 a month after. There are also family plans available.
Apple Music is the obvious choice for Apple users as it integrates smoothly across devices, but it's available for non-Apple users as well. It has its own playlists, and it offers suggestions for other artists you may like. Plenty of podcasts, too. A basic subscription is $10.99 a month, with a one-month free trial.
Tidal, owned by music mogul Jay-Z and other stars, has hi-definition play and a vast library. It also offers credits and liner notes that the other services don't. There is a lesser-quality free version, but the better pay service starts at $9.99 a month.
YouTube Music is another strong option, comparable to Apple and Spotify in offerings. There is plenty of music on regular, free YouTube, but the full experience of exploration and building your own library comes via the full music service at $9.99 a month.
Pandora is closer to a radio experience. You can create your own "stations" based on a favorite artist or style of music. There is a free-with-ads version and Pandora Plus with limited search for $4.99 a month. Ad-free Pandora Premium costs $9.99 a month.
Note: This item first appeared in Kiplinger's Retirement Report, our popular monthly periodical that covers key concerns of affluent older Americans who are retired or preparing for retirement. Subscribe for retirement advice that's right on the money.
Steve Hochman has covered popular music at the Los Angeles Times, Rolling Stone, Billboard and Variety as well as serving as music critic for public radio shows on KPCC Los Angeles and KQED San Francisco. He's a co-author of the recent Melissa Etheridge graphic biography, Heartstrings, and has written liner notes for a wide range of album releases. Currently he is a lead writer for Spin magazine, New Orleans' OffBeat and the Bluegrass Situation.