The Most-Overlooked Broker Promotions and Perks
You can get free trades and research tools with most brokerage accounts. These eight other broker promotions and perks help the major players stand out.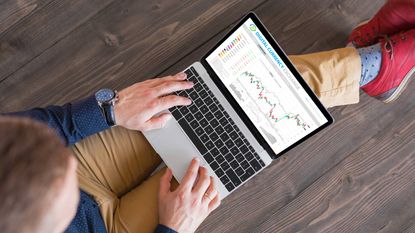 (Image credit: Getty Images)
If you're an investor looking for a deal, it's hard to go wrong with an online brokerage these days. Virtually all of firms in our brokerage rankings offer free trades on stocks and exchange-traded funds (ETFs), along with ample research and tools to help investors make educated financial decisions.
With so many reasonably priced offerings, however, investors might gravitate toward firms that offer a few additional features and freebies to sweeten the pot.
Here, we look at some of the most-overlooked broker promotions and perks.
1/8
Partial-Share Trading
For investors who can't afford sky-high share prices, Charles Schwab, Fidelity and Interactive Brokers have joined smaller, app-based brokers such as Robinhood and Stash in offering partial shares of stock to investors.
Schwab's feature allows investors to buy "slices" of stocks in the S&P 500 for as little $5 apiece.
Fidelity and Interactive Brokers let customers trade partial shares of virtually any stock for as little as $1.
2/8
Income Estimators
Dividend-paying firms typically disburse cash every three months. If you invest for income, you might have a diverse portfolio of stocks – but if many of them pay out on the same schedule, you might find yourself going through long spells with little cash flowing in.
Four brokers – E*Trade, Interactive Brokers, Merrill Edge and TD Ameritrade – have income estimator tools that can help you keep on top of future payments. Each tool uses recent payout data to project the value and timing of your portfolio's dividend payments over the next 12 months.
TD's tool shows dividends from stocks, mutual funds and ETFs only. E*Trade, Interactive Brokers and Merrill Edge factor in income from bonds as well.
3/8
Free Funds
Fidelity brokerage customers have access to four mutual funds with no minimum investment and 0% expense ratios:
To avoid paying licensing fees to index makers such as Standard & Poor's, Fidelity's funds track indexes assembled in-house. That means the funds might outrun or lag ETFs that track traditional indexes. Still, it's easy to see the benefits of free funds with no investment minimum, especially when the savings are compounded over a lifetime of investing.
Including the four funds above, Fidelity offers 28 funds that have no investment minimum.
4/8
Sign-Up Bonuses
Nearly every brokerage tries to entice investors to open new accounts or add substantial sums to existing accounts by offering free trades or cash bonuses. Broker promotions come and go among the firms; here are some recent offers:
Firstrade will reimburse up to $200 in transfer fees when you transfer money from another firm's account. You'll also get a free share of stock (chosen by an algorithm) if you refer a friend who opens an account – your friend gets a share as well.
Interactive Brokers will give you a bonus of up to $200 if you refer a friend that opens an account and maintains a balance of at least $10,000 for one year.
Schwab is running a referral promotion, too. However, the reward – between $100 and $500 – goes to the friend you refer, not to you.
Merrill Edge will give you a bonus of up to $600 when you open a new self-directed investing account.
TD Ameritrade will give you between $350 and $2,500 when you open a new account with a balance of at least $250,000.
Depending on how much you deposit, new account holders at E*Trade can earn from $25 up to $2,500.
Customers who sign up at Ally can earn from $50 to $3,500.
New accountholders at TradeStation can get a cash bonus between $50 and $5,000.
5/8
Credit Card Rewards
Opening a credit account linked to your brokerage can help you earn cash back to beef up your investments. Here's a look at some current broker promotions tied to credit card rewards:
The Fidelity Rewards Visa Signature card comes with no annual fee, and all purchases earn 2% cash back, which can be divided and deposited into up to five Fidelity accounts whether they're your accounts or not.
All purchases on the TD Ameritrade Client Rewards Visa come with 1.5% cash back. Deposit your rewards into your TD Ameritrade brokerage account and you'll receive a 10% bonus on the cash-back.
The Schwab Investor Card from American Express offers a $100 credit if you spend $1,000 in the first three months. After that, you'll get 1.5% cash back automatically deposited into your Schwab account.
Merrill Edge customers who sign up for Bank of America's Preferred Rewards program receive a 25%, 50% or 75% boost on the cash-back reward from eligible Bank of America credit cards, depending on the combined assets in your accounts (the 25% level requires $20,000). Say you hold a Bank of America credit card, which offers 3% on a particular purchase. A $100 purchase would earn $3.75, $4.50 or $5.25, rather than $3. Similarly, a purchase that earns the buyer 100 points would actually earn 125, 150 or 175 points.
6/8
Free ATMs
Whether you set up a cash-management account or just take out a debit card linked to the cash balances in your brokerage account, several brokers will reimburse your fees when you withdraw cash at any ATM.
Fidelity and TD Ameritrade will reimburse ATM fees nationwide. Schwab does that too, plus waives the 3% foreign transaction fee most debit issuers charge to make purchases abroad.
E*Trade and Ally offer more traditional banking services, such as checking and savings accounts. Ally accountholders can use more than 43,000 Allpoint ATMs for free, and the bank will reimburse up to $10 in ATM fees each statement cycle. E*Trade's Max Rate Checking Account comes with unlimited ATM reimbursements on charges that other financial institutions levy (though you may be subject to charges from the owner/operator of the ATM).
Merrill Edge investors who have $50,000 in assets (combined at Merrill Edge, Merrill Lynch and Bank of America) and who have joined the Preferred Rewards program can get 12 ATM-fee reimbursements per year at non-Bank of America ATMs in the U.S. (Bank of America ATMs are free).
7/8
Cutting-Edge Platforms
Investors increasingly want to do brokerage business on the go. In response, all of the brokers in our survey offer mobile apps that you can use to do just about anything you could do on your desktop, such as trading stocks, accessing research, paying bills and transferring funds.
But tech-savvy investors will be pleased to know that some brokers' platforms extend beyond websites and mobile apps.
Investors can interact with their Fidelity, Interactive Brokers, Schwab and TD Ameritrade accounts by chatting with Alexa, Amazon's digital assistant. Schwab users, for instance, can ask Alexa for market information, stock quotes and updates on personalized watch lists.
TD Ameritrade customers can ask questions or even execute a trade through direct messages on Twitter, on Facebook Messenger or through the iPhone Messages app as well. If TD's computer-generated responses don't satisfy you, you'll be automatically connected with a live representative. TD Ameritrade customers can access broker information in their car through Apple Car Play, Android Auto and Echo Auto.
8/8
Stock Lending Programs
Interactive Brokers and TradeStation customers might be able to earn a little extra cash by authorizing that firm to lend stocks you hold to traders interested in paying you interest to borrow your shares and sell them short.
Each brokerage will pay cash they earn from lending your shares directly into your account. You'll earn more money on long positions in thinly traded stocks than you will holding widely available names. Each firm will give you half of whatever income they earn on your stocks.
You'll need $25,000 or one year of trading experience to get into the program at TradeStation. At Interactive Brokers, you'll need approval for a margin account or $50,000 to enroll.
Associate Editor, Kiplinger's Personal Finance
Ryan joined Kiplinger in the fall of 2013. He writes and fact-checks stories that appear in Kiplinger's Personal Finance magazine and on Kiplinger.com. He previously interned for the CBS Evening News investigative team and worked as a copy editor and features columnist at the GW Hatchet. He holds a BA in English and creative writing from George Washington University.