How to Cash In on Sports Gambling
Some 27 states have launched sports-betting markets, 11 of them online. Another five have passed laws to do so.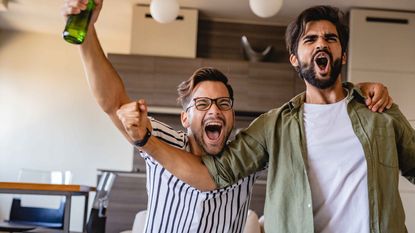 (Image credit: Getty Images)
Online betting gets my vote for the Next Big Thing. The ubiquitous TV commercials may indicate that it's already here, but the industry is actually still in its infancy. The American Gaming Association reports that sports-betting revenues—both online and in what are called the sportsbook sections of brick-and-mortar casinos—increased 436% for the first seven months of 2021 compared with the same period a year earlier and 539% over 2019. But the total came to just $2.1 billion, compared with the $150 billion that the AGA estimates is bet illegally each year, including $10 billion on March Madness alone.
My guess is that legal businesses have the capital and the marketing smarts to grab at least half the illegal revenues in the next decade while growing the overall pie in a delicious way. I can imagine gambling as a platform for other financial endeavors, including lending. The question is which companies will be the big winners.
Bracket crazy. Betting on football and basketball, especially, is a popular American pastime, but it wasn't until a Supreme Court decision in 2018 that sports betting received the blessing of law nationwide. Years earlier, states began passing their own laws, defying bans and opening the floodgates. According to ESPN's tracker, updated through September 29, some 27 states have launched sports-betting markets, 11 of them online, and another five states have passed legislation to do so.
Subscribe to Kiplinger's Personal Finance
Be a smarter, better informed investor.
Save up to 74%
Sign up for Kiplinger's Free E-Newsletters
Profit and prosper with the best of expert advice on investing, taxes, retirement, personal finance and more - straight to your e-mail.
Profit and prosper with the best of expert advice - straight to your e-mail.
In the past, casino companies fought legalization, but they're now em­bracing a brave new world by ac­quiring companies with experience in internet betting not just on sports but on elections and on online versions of casino games. Consider one of my favorites in the group, Caesars Entertainment, which operates 54 casinos in 16 states, including nine in Nevada alone. The Roman Empire–themed Caesars Palace complex in Las Vegas has 3,960 rooms and 124,000 square feet of gaming space on 85 acres. The Palace's enormous sportsbook offers a 143-foot screen that displays horse racing, football games, boxing matches and other events as they happen. (Stocks and funds I like are in bold.)
The company had entered into a joint venture with William Hill, a 77-year-old British firm, to run online gambling, a deal that helped revenues keep flowing during the pandemic when, at one point, Las Vegas casinos shut down completely. In April, Caesars acquired all of William Hill for $3.7 billion.
Meanwhile, Entain, parent of the other venerable U.K. bookmaker, Ladbroke's, had become the object of a bidding war. MGM Resorts International offered $11 billion for the company in January but was trumped by a cash-and-stock bid of $22 billion in September from DraftKings, which in August had paid $1.6 billion for Golden Nugget Online, with an internet customer base of 5 million gamblers who play casino games online.
Based in sports-mad Boston, DraftKings has boosted its revenue from $226 million in 2018 to $614 million in 2020 to an estimated $1.3 billion in 2021 (not including the Entain and Golden Nugget deals). Despite this spectacular rise in sales, Draft­Kings is unprofitable, a condition that analysts expect will persist at least through 2023. The company also lacks the ballast that revenues from thousands of hotel rooms and acres of slot machines provide. But if you recognize the risk, DraftKings is an aggressive and potentially lucrative play on the advent of online gambling.
Weeks after the 2018 Supreme Court decision, FanDuel, now considered the largest U.S. online-gaming company, sold a 58% interest to Dublin-based Flutter Entertainment, a deal that valued FanDuel at about $600 million. Flutter then bought another 37% a year ago for $4 billion, a valuation nearly 20 times the original 2018 purchase—an indication of how hot online gambling has become. Flutter, my top choice in the sector, is a deeply experienced firm, founded in 1958, with a diversified portfolio that includes PokerStars, the world's largest online poker site; more than 600 betting shops in the U.K. and Ireland; and the leading mobile-betting app in Australia. Flutter's market capitalization, at $35 billion, makes it the largest gambling company in the world. Shares have nearly doubled in two years.
Wynn Resorts and Las Vegas Sands, two casino companies that have bet heavily on their casinos in Asia, have been slow off the mark in online gaming. But a lesser-known Nevada firm is worth a close look. Boyd Gaming, with modest downtown Vegas casinos plus others in nine states, has entered into a partnership with MGM to expand the reach of its online sports betting. Unlike other gaming firms, Boyd is expected to be solidly profitable in 2021, with a price-earnings ratio, based on estimated earnings, of just 14.
Another dark horse is Penn National Gaming, whose focus has been casinos at smaller racetracks, with accompanying brick-and-mortar sportsbooks. The company has launched Barstool Sportsbook, an online-betting application, and, through Penn Interactive, operates online slot machines and casino games. In August, Penn National entered into an agreement to buy Score Media and Gaming, a Canadian company with the third-most-popular sports-betting app in North America. COVID clobbered Penn National, with sales falling by one-third in 2020, but the firm has recovered, and sales and profits rose sharply in 2021.
Although it's unclear who will win the online-gambling wars, the sellers of armaments—in this case, software—should do well. The best of those are GAN Limited, a California company, and London-based International Game Technology, whose stock has quadrupled since its COVID low. Entertainment conglomerate Endeavor Group Holdings provides data feeds and video to 45,000 sports events annually.
Looking for diversification? Roundhill Sports Betting & iGaming is an exchange-traded fund launched last year to take advantage of the online-betting boom, and it has returned a sparkling 38% over the past 12 months. Its top holding is Rush Street Interactive, a Chicago-based online sports- and casino-gambling company whose shares doubled between July and October.
VanEck Gaming has large holdings in Flutter, DraftKings and MGM. An older ETF, the fund has returned an annual average of 11% over the past three years, trailing the S&P 500. But with gambling stocks—as with all equities—you're betting on the future, not the past.

Contributing Columnist, Kiplinger's Personal Finance
James K. Glassman is a visiting fellow at the American Enterprise Institute. His most recent book is Safety Net: The Strategy for De-Risking Your Investments in a Time of Turbulence.