Our "K-Shaped," Uneven Economic Recovery
Confidence is key to the recovery, but the sentiment depends on consumers' financial circumstances.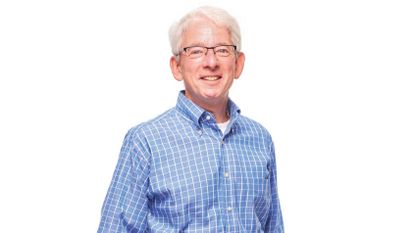 (Image credit: Photograph by Tyler Darden)
Peter Atwater is founder of Financial Insyghts, a research firm, and adjunct lecturer in economics for the College of William and Mary and the University of Delaware.
You have popularized the term "K-shaped recovery" to describe the impact of the pandemic on the U.S. economy. What is a K-shaped recovery? It's the term I use to describe the clear economic divide that has been exacerbated by the pandemic. What I saw as early as the end of March last year was that for people who were able to pivot to working from home, their confidence immediately began to rebound. For everyone else, it was not getting better, and in many cases—particularly for those in the hospitality and travel industry—it was getting worse.
Confidence is critical because it drives consumer spending, which accounts for more than two-thirds of the economy. What has been striking is the degree we've seen a K-shaped recovery in just about everything, from the availability of credit—it was no problem for big corporations to re­finance, while small businesses really struggled—to the workplace, where the bosses feel great and are thriving while those at the lower levels are really struggling.
Subscribe to Kiplinger's Personal Finance
Be a smarter, better informed investor.
Save up to 74%
Sign up for Kiplinger's Free E-Newsletters
Profit and prosper with the best of expert advice on investing, taxes, retirement, personal finance and more - straight to your e-mail.
Profit and prosper with the best of expert advice - straight to your e-mail.
Do you believe the Biden administration's $1.9 trillion coronavirus relief package, which included $1,400 stimulus payments for most Americans, will address these inequities? For those at the bottom, it's providing sustenance. But one of the things about so many of these fiscal stimulus programs is that they're perceived to be temporary, so they have a minimal impact on confidence. You could see that last year, when certainty of support from the government would ebb and flow.
What are the issues that the stimulus package is failing to address? Clearly, employment plays a huge factor in generating confidence. In that regard, I think discussions about increasing the minimum wage are helpful. You could reduce the volume of the working poor, which is a phenomenon that is underappreciated today. I'm not suggesting that there be a single minimum wage for the U.S. because there are wage disparities from state to state, but I think we've been slow to act.
The stock market has performed well during most of the pandemic. What role does corporate America play in addressing these inequities? I think the goal of maxi­mizing shareholder value has gone too far. When you look at the past decade, gains have been disproportionately delivered to shareholders, while employee wages have lagged and losses have been assigned to the public sector. There needs to be better balance. Corporations went into this pandemic ill-prepared for a downturn and were quick to look to the government for support. Big corporations should be capable of standing on their own two feet.
Vaccinations should help boost confidence, but how will we know for sure? I'm watching very closely to see whether we have a rebound in service, entertainment and travel—those industries that have high concentrations of low-wage workers. I look at a lot of Google trends data, and I'm looking for more searches for flights and cruises. One of the things about travel is that it requires planning, and planning is a high-confidence measure. A return to international travel, especially, would suggest a real rebound in confidence.
Senior Editor, Kiplinger's Personal Finance
Block joined Kiplinger in June 2012 from USA Today, where she was a reporter and personal finance columnist for more than 15 years. Prior to that, she worked for the Akron Beacon-Journal and Dow Jones Newswires. In 1993, she was a Knight-Bagehot fellow in economics and business journalism at the Columbia University Graduate School of Journalism. She has a BA in communications from Bethany College in Bethany, W.Va.