Social Media Policy Warning: Loose Lips Sink Ships and Can Damage Your Company's Reputation
If a member of the media calls your company, will the employee who answers the phone know how to handle things? Or will they make your company look bad?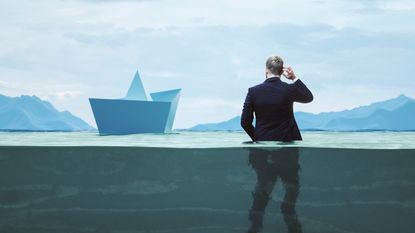 (Image credit: Getty Images)
During WWII, to encourage the nation and our soldiers to be careful about what they said concerning military operations — as enemies could be listening — posters showing a doomed ship with the caption Loose Lips Sink Ships were put up all over the country.
"The modern version is Loose Tweets Sink Fleets," says attorney Jay Rosenlieb, and the warning is equally applicable to businesses today. Companies that don't keep on top of their social media presence, whether through posts by employees or customers, can run into some serious damage-control issues. In addition, poorly handled interactions with the press can also create huge problems for businesses.
"Employees have the ability to do great damage to their employers' business reputation if contacted by members of the media. What they say or do can influence the conclusions a journalist will reach, and write," says Rosenlieb, who practices employment law in Southern California. "For that reason, it is critical to have a media policy in place and educate all employees on how to respond when contacted by members of the press."
Subscribe to Kiplinger's Personal Finance
Be a smarter, better informed investor.
Save up to 74%
Sign up for Kiplinger's Free E-Newsletters
Profit and prosper with the best of expert advice on investing, taxes, retirement, personal finance and more - straight to your e-mail.
Profit and prosper with the best of expert advice - straight to your e-mail.
A certain California auto dealership would soon discover the truth of that advice.
'There is a Problem with My Auto Purchase Contract'
Here's an email I got from a reader recently: "I have a problem with the dealership I bought a car from," explained "Trevor." "One of the contracts — there were two — listed a number of things I did not want and so they were scratched out and initialed.
"But apparently the corrected version was not sent into the financial branch of the manufacturer. I have been billed incorrectly, refused to pay, and the financial people at corporate will not help. They tell me to go back to the dealer, but the dealer's finance manager just hangs up on me and my wife when we try to get him to adjust the billing. So now, I have been warned that my credit will be affected."
At that time, I set up a three-way conference call with Trevor, the dealer's finance manager and myself. I told him that I write a syndicated consumer and legal advice newspaper column, explained what I understood the problem to be, and asked him to grab the contracts and go over what they show.
He hemmed and hawed, replying in a tone of voice that meant it would be a cold day in hell before we would be reviewing those contracts. "I'm busy, and the contracts are in a filing cabinet," he flippantly said.
My reply? "Trevor needs your help. Won't you please go get the contracts? We will wait."
He hung up.
Now, for a moment, just imagine yourself in my shoes. What would you think? What would you do? Here's what Rosenlieb had to say about the interaction:
"I think that almost anyone would consider the devious behavior of the finance manager — refusing to help and hanging up on you — to be what we call in law an adoptive admission, (meaning) 'Trevor is correct, and I've got something to hide,'" Rosenlieb said, adding, "At that point I would try to reach the dealership's management, and if that was not possible, I would contact the manufacturer."
Effort to Reach Management
I tried to reach the dealership's owner without success, the receptionist refusing to let me leave a voice mail even when informed this was a very serious matter. She insisted on a hand-written message which he received three days later.
I phoned the manufacturer's media relations department, explained why I was calling — that this appeared very serious to me — and asked them to look into this for my reader. This resulted in a flurry of calls to the dealership's owner and the customer. Remedial steps were underway at the time this story was written.
It also resulted in a great deal of embarrassment for the car dealer.
"All of this was avoidable if an appropriate media policy had been in place," Rosenlieb said.
What Your Media Policy Should Contain
"Organizations need to establish a media policy and designated media contact," Rosenlieb says. "This will help to avoid incorrect, potentially damaging information from being released. I recommend scheduling meetings with all employees and explaining how they should respond to questions from radio, television, newspaper, internet or magazine journalists."
He outlined these steps to follow when any employee receives an inquiry from a news organization:
Please refer all calls or actual visits from any journalist to our media relations department. With smaller companies, be sure to have more than one person designated to take these calls.
It is essential to be polite and state, "Let me refer you to our designated media person. Here is the phone number, and please give me yours and I will pass it along to be sure you are contacted."
Instruct all employees that under no circumstances are they to make statements to the media. Stress that no matter how tempting it might be, refer all matters and do not take things into your own hands.
Rosenlieb concluded our discussion with this cautionary note: "If you aren't polite and hang up on a journalist, this makes both you and your employer look guilty."
This article was written by and presents the views of our contributing adviser, not the Kiplinger editorial staff. You can check adviser records with the SEC or with FINRA.
Attorney at Law, Author of "You and the Law"
After attending Loyola University School of Law, H. Dennis Beaver joined California's Kern County District Attorney's Office, where he established a Consumer Fraud section. He is in the general practice of law and writes a syndicated newspaper column, "You and the Law (opens in new tab)." Through his column he offers readers in need of down-to-earth advice his help free of charge. "I know it sounds corny, but I just love to be able to use my education and experience to help, simply to help. When a reader contacts me, it is a gift."