Labor Unions Not Backing Down as Strikes Loom: Kiplinger Economic Forecasts
As overall membership dwindles, the remaining labor unions put up a fight for higher wages and more.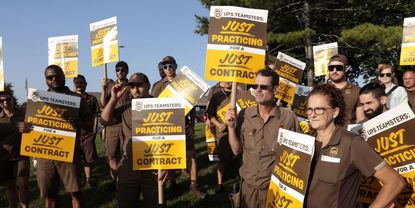 (Image credit: Jeff Kowalsky/Bloomberg via Getty Images)
No matter the job market, unions facilitate bargaining on behalf of their members. To help you understand what is going on and what we expect to happen in the future, our highly-experienced Kiplinger Letter team will keep you abreast of the latest developments and forecasts (Get a free issue of The Kiplinger Letter or subscribe). You'll get all the latest news first by subscribing, but we will publish many (but not all) of the forecasts a few days afterward online. Here's the latest...
Labor unions are flexing their muscles in a way they haven't done in years. In negotiations over pay and benefits, labor leaders aren't being shy about their demands. They know they have leverage in many industries where workers are scarce, and they feel that this is the year to bargain hard.
Some early wage talks have set the tone: The Teamsters' tentative deal with UPS, which will avert a crippling strike, if the members of the union vote to take the deal, as we expect. Workers are in line for $7.50/hour more in pay, which will be phased in over the multiyear contract.
Subscribe to Kiplinger's Personal Finance
Be a smarter, better informed investor.
Save up to 74%
Sign up for Kiplinger's Free E-Newsletters
Profit and prosper with the best of expert advice on investing, taxes, retirement, personal finance and more - straight to your e-mail.
Profit and prosper with the best of expert advice - straight to your e-mail.
Then there's United Airlines' pilots' union, which scored up to a 40% pay hike in their new deal with the airline earlier this summer. FedEx pilots recently rejected a rise of up to 30%, after seeing that. American Airlines has upped its offer to its pilots by $1 billion as it seeks to match what UA agreed to. Southwest's pilot union is also threatening to strike.
Any pilot strike isn't imminent. Federal law requires long talks before pilots actually walk off and cause major travel and shipping disruptions. But most airlines will have little choice but to sweeten pay substantially.
The biggest contract up for negotiation next is the Detroit autoworkers' deal. The United Auto Workers union is in talks with GM, Ford and Stellantis, the parent of Chrysler, and the new UAW president is making no bones about wanting a big raise for his members, along with other concessions. Among them: Reinstating adjustments for cost-of-living increases, and ending Detroit's tiered system of wages and benefits.
Odds are good that at least one of the Detroit Three gets hit with a strike after the current UAW contract expires on Sept. 14. The union has a hefty strike fund and is willing to use it to drive a hard bargain. Its leaders know how much car prices have risen in recent years. Right or wrong, they think Detroit can afford a big pay hike. Strikes by smaller unions are also brewing or popping up. 1,400 workers at a locomotive plant in Pennsylvania have walked off the job. So have some healthcare workers.
Other unions are threatening to join in with sympathy strikes. For instance, UPS pilots, who have their own union, were willing to walk out to help the Teamsters. And some traditionally open-shop industries have seen organizing pushes. More than 340 Starbucks stores have organized. Some Amazon warehouse workers have tried, as well. Most have failed so far, but that may not be the end of the story.
Is all this the start of a renaissance in private-sector unions? Not exactly. Membership is way down from a few decades ago, and that is unlikely to reverse. But the unions that remain are going to play hardball. That, in turn, means wages figure to keep rising faster than normal, making inflation slower to fall.
This forecast first appeared in The Kiplinger Letter, which has been running since 1923 and is a collection of concise weekly forecasts on business and economic trends, as well as what to expect from Washington, to help you understand what's coming up to make the most of your investments and your money. Subscribe to The Kiplinger Letter.

Associate Editor, The Kiplinger Letter
Sean Lengell covers Congress and government policy for The Kiplinger Letter. Before joining Kiplinger in January 2017 he served as a congressional reporter for eight years with the Washington Examiner and the Washington Times. He previously covered local news for the Tampa (Fla.) Tribune. A native of northern Illinois who spent much of his youth in St. Petersburg, Fla., he holds a bachelor's degree in English from Marquette University.