Car Prices Hold Steady So Far As UAW Strike Continues
Car prices are not likely to rise for several weeks should the strike continue, economist says.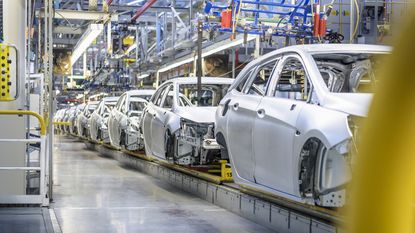 (Image credit: Monty Rakusen, Getty Images)
The United Auto Workers (UAW) strike against Detroit's Big Three automakers is nearing its sixth week but has not resulted in higher car prices so far, according to a recent Cox Automotive report.
"For dealers and shoppers, there will be no impact for several more weeks to come," Jonathan Smoke, Cox chief economist, said in the report published on October 19.
According to the report, disruptions to new vehicle inventory have not been significant enough at this point to cause major delivery or supply setbacks.
Subscribe to Kiplinger's Personal Finance
Be a smarter, better informed investor.
Save up to 74%
Sign up for Kiplinger's Free E-Newsletters
Profit and prosper with the best of expert advice on investing, taxes, retirement, personal finance and more - straight to your e-mail.
Profit and prosper with the best of expert advice - straight to your e-mail.
"Surprisingly, according to data from our team at Kelley Blue Book, all three of the Detroit automakers have actually seen an increase in shopping activity since the start of the UAW strike, in terms of both shopper volume and share of shopping," Smoke said. "This is likely due to a sense of urgency for anyone who thought they would buy in the next few months."
As of October 19, the strike affected production of about 43,000 vehicles per week out of the roughly 145,000 produced by the Big Three — Ford, General Motors (GM) and Stellantis. But should it become "turbocharged" and move closer to affecting 145,000 vehicles, then "the greater automotive market will begin to feel the effects," which will spill over into the used-vehicle market, he said.
In that case, new vehicle sales would fall and supply would tighten heading into 2024, Smoke said.
The strike began at three factories on September 15 after contract talks between the automakers and the union stalled, but more union locals at more plants have since been called on to strike. The strike is one example of the nation's widespread labor unrest across several industries in which workers — including flight attendants, pilots and writers — are seeking higher wages and modified contracts.
More plants, more workers
On October 24 at GM, 5,000 workers from its Arlington, Texas, assembly plant joined the strike, bringing the total number of Big Three union members on strike to more than 45,000.
That walkout came just one day after 6,800 workers walked out and shut down the Sterling Heights, Michigan, assembly plant of Stellantis, and less than two weeks after 8,700 workers walked out and shut down the Louisville, Kentucky truck plant of Ford.
On its website, the UAW cites the profitability of the Big Three, including "a combined $21 billion in total profits in just the first six months of this year." The union also said that the CEOs at these firms made more than $20 million each in 2022, while "autoworkers continued to live paycheck-to-paycheck and can't even keep up with inflation."
The automakers see it differently.
The Big Three weigh in
"We are disappointed by the escalation of this unnecessary and irresponsible strike," GM said in an October 24 website update. "It is harming our team members who are sacrificing their livelihoods and having negative ripple effects on our dealers, suppliers and the communities that rely on us."
"We are outraged that the UAW has chosen to expand its strike action against Stellantis," according to an October 23 Stellantis update . "Last Thursday morning, Stellantis presented a new, improved offer to the UAW, including 23 percent wage increases over the life of the contract, nearly a 50 percent increase in our contributions to the retirement savings plan, and additional job security protections for our employees."
In an October 20 emailed statement to Kiplinger, a Ford spokesperson said that the company is aware that "our UAW employees are hurting in this prolonged strike because of lost wages and lost profit sharing. We're eager to conclude these negotiations with a contract that meaningfully improves their lives and provides a strong future for everyone. We look forward to coming together to build a great company that supports good jobs for generations to come."
According to the UAW website, strike assistance of $500 per week is available, with a bonus check payable the week prior to the Thanksgiving and Christmas holidays.
Esther D'Amico is Kiplinger's senior news editor. A long-time regulatory journalist, Esther has covered a range of industries including antitrust and congressional affairs, infrastructure, transportation, climate change and the industrial chemicals sector. She holds a bachelor's degree in journalism and in English.