Sponsored
Final Month to Invest in the Startup Named One of the 10 Most Innovative Companies in North America
Sponsored Content from Miso Robotics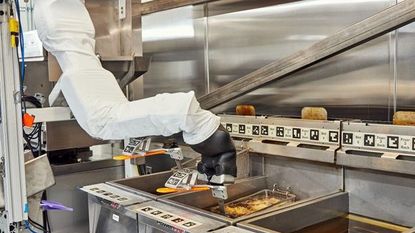 Miso Robotics is ready to automate fast food kitchens and save the industry from staffing challenges.
If you didn't have sympathy before for the difficult challenges faced by your average fast-food restaurant owner or manager, you've probably developed some over the past two years. In an already volatile industry marked with 150 percent annual employee turnover and tough staffing issues, the fallout of The Great Resignation and its impact on the entire U.S. workforce has taken what used to be a difficult task and made it borderline impossible.
Job openings in the restaurant industry are up almost 70 percent over just two years ago. Meanwhile, many fast food employees have moved to warehouse and logistics jobs, where positions have soared by 300%.
Subscribe to Kiplinger's Personal Finance
Be a smarter, better informed investor.
Save up to 74%
Sign up for Kiplinger's Free E-Newsletters
Profit and prosper with the best of Kiplinger's expert advice on investing, taxes, retirement, personal finance and more - straight to your e-mail.
Profit and prosper with the best of Kiplinger's expert advice - straight to your e-mail.
That's left many fast-food restaurants almost comically understaffed and ridiculously outgunned. But amidst all that gloom and doom for the future of your favorite fast stop burger joint, there may be a white knight on the horizon. And oddly enough, it turns out that the white knight isn't even human.
Miso could be cooking your next fast food meal.
Miso Robotics has built a thriving young business around an unusual, yet intriguing concept: Could you staff a fast-food kitchen almost entirely with robots? With so many jobs to fill that most humans don't want anymore, Miso has unveiled a complete line of tech-driven robotics that are cooking, frying, grilling, flipping, and all-around engineering a fast food meal like it was conducting a symphony.
Now, Miso is ready to step up to the big time, and that means bringing on new investors during their Series E offerings, which is open to anyone.
The centerpiece of the Miso line remains the direct descendant of the company's first product developed back in 2015, a burger-flipping robotic arm known as Flippy. Since those early days, Flippy has grown up.
Now equipped with a flotilla of AI-powered super-smarts, Flippy can not only grill a burger to perfection, but its fryer skills allow it to also automate all the fry station cooking as well. Those skills helped land Flippy a tryout with the country's first fast-food burger chain White Castle. And Flippy didn't disappoint. After scoring big during a beta test at a single White Castle location, the slider-centric restaurant decided to roll out the pilot program by installing the robot in 10 of their restaurants in 2021. And today, White Castle is "hiring" Miso's automated kitchen assistants to 100 more locations.
Meanwhile, just like the rest of the AI world, Flippy is only getting smarter. Miso has recently released the new and improved latest version of the robo-cook that's already sizzled up more than 175,000 lbs. of fried foods, while successfully grilling over 10,000 burgers. The new Flippy 2 will take over the entire fry station and perform more than twice as many food preparation tasks compared to the previous version including basket filling, emptying and returning. That innovation was also too entertaining to keep a low profile, with outlets like the Wall Street Journal and TechSpot reporting in recent months on Miso Robotics and its new creations.
From Flippy 2's success came an innovation partnership with Inspire Brands, parent company of Buffalo Wild Wings, to test a new product line called Flippy Wings. Flippy Wings is the only robotic chicken wing frying solution designed for high-volume restaurants and will translate to higher volume with less waste, the company says.
To top it all off, Miso's latest partnership is with Jack in the Box, who just launched a pilot program with the robotics company to improve restaurant efficiency and boost revenue. This could open up the door for Flippy and Sippy to integrate into more of its 2,200 US locations.
But Miso isn't just holding the line on grilling and frying. The company has also launched pilot programs in two major QSR chains for their Automatic Beverage Dispenser, a crafty little bot called Sippy that fills drink cups, seals and labels them, then bundles everything up so all the drinks are ready to be handed over to a waiting customer.
Then there's also the CookRight, a next-level package of cooking software that uses video recognition technology and built-in sensors to up kitchen efficiency, using AI to control beyond the grill and drink stations to ovens and beyond, all holistically and based in one digital platform.
Miso seeks investors today.
All of these partnerships are putting Miso on track to take over the US restaurant market which includes as many as 250,000 nationwide fast food restaurants.
With significant traction underway, Miso Robotics is ready to continue pushing forward and capturing the interest of other top brands in need of automation. The company has already put over $50 million in investments to excellent use by continually optimizing existing and expanding their kitchen-automation technologies. Now, they're seeking investors like you to scale up and meet the rising demand for kitchen robots.
The idea of Miso Robotics cooking your next fast food meal could become a reality–and soon. Secure your shares in Miso Robotics before the company's funding round closes June 23rd.
This content was provided by Miso Robotics. Kiplinger is not affiliated with and does not endorse the company or products mentioned above.