Sponsored
How Online Businesses Can Finally Give You Stable Retirement Income
Sponsored Content from Onfolio Holdings Inc.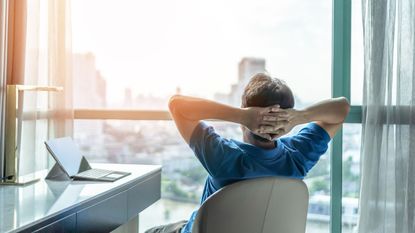 Online business has been one of the most lucrative industries for quite some time, but investing in the space has proven difficult, until much more recently.
Traditionally, the industry has been a risky environment for investors, as everything moves fast online and many businesses are not stable.
As a result, most people operating in the space were entrepreneurs, bootstrappers, or investors with a lot of tech experience.
Subscribe to Kiplinger's Personal Finance
Be a smarter, better informed investor.
Save up to 74%
Sign up for Kiplinger's Free E-Newsletters
Profit and prosper with the best of expert advice on investing, taxes, retirement, personal finance and more - straight to your e-mail.
Profit and prosper with the best of expert advice - straight to your e-mail.
This made the opportunities limited for the more passive income investors looking for above average yields.
Now though, things are changing. More and more people are discovering they can invest in online businesses, either through funds, management companies, or holding companies, and capture some of the fantastic gains on offer.
This industry report shows you some of the ways people invest, and their pros and cons.
One company, Onfolio Holdings, is taking it even further.
For the past three years, Onfolio worked directly with investors to help them source, vet, purchase, and manage online businesses. Much like a property manager in the real estate space, Onfolio turned an active, risky investment into a passive, more diversified one.
They didn't stop there though.
Accessing Stable Dividends Through A Holding Co
Having somebody manage an online business for you takes a lot of the pain away, but there is still downside risk in the space. A single online business can fall out of favor and end up losing value, even with a good team operating it.
As a result, Onfolio CEO Dom Wells turned to the holding company model, much like how public companies such as Berkshire Hathaway or Constellation Software operate.
Onfolio now buys online businesses for the holding company rather than individual investors, and gives hold co investors a cut.
In order to protect the downside risk, they operate a diverse portfolio of online businesses, and offer their investors a fixed 12% dividend as a result.
Let's back up a bit and dive deeper on exactly how Onfolio can afford to pay such a high dividend, and how they manage risk.
How Online Businesses Are Producing Such High Incomes
As mentioned at the start of this article, online businesses are lucrative, and many of them are not particularly cash intensive. The current average acquisition price of a simple online business is around 3-4x annual profit. This means somebody could buy an online business, and expect 25-35% cash ROI.
Online businesses generate incomes in many different ways. Some of them sell advertising, some of them sell their own products or offer services. Many others work with affiliates or partners.
However, the reason that prices of these businesses are relatively low is because of the aforementioned risk. Some businesses fall out of favor overnight, and others struggle to grow.
Buying one business can produce fantastic results, but can also result in loss of capital.
What matters is knowing how to acquire the stable ones that offer value, and how to improve them.
It's a tough game, but that's why the ROI potential is there.
It's Standard Diversification
Companies like Onfolio solve the risk by operating a diverse portfolio instead. If they own 1 business, it could go to zero...but if they own 10, chances are that only 1 will go to zero. This drastically reduces the risk.
Of course, if 1 business does go to zero, one of the other 9 may double in value as the team's efforts to grow it takes hold.
This allows you to capture above average results, while still protecting the downside. That's the most important part of the equation when it comes to finding strong income streams.
Reliable Income
Even more importantly, these businesses throw off reliable, consistent income, without a huge requirement to keep pouring cash back into growth, like you'd see with Silicon Valley tech companies. Those much hyped VC-backed tech darlings might occasionally produce astronomical gains, but they are not very useful for producing something like retirement income.
More simple online businesses can offer just that.
After becoming a holding company, Onfolio created an offering, which allows investors to buy preferred shares in the holding co. These preferred shares earn a fixed 12% dividend, paid out as quarterly 3% payments.
Since they are buying businesses that earn them 25% or more, they're effectively sharing half their profits with investors, while protecting the downside risk.
SEC Compliance
Of course, the online business world is still somewhat of the wild west, and there are many shady operators out there.
This is why Onfolio decided to become an SEC reporting issuer, and in Q3 of this year, will file an s-1 to take their holding company public. They've already filed 3 times with the SEC for previous raises.
Being an SEC reporting issuer, with fully audited financials, makes it much easier for the average investor to participate in their offering without having to be experienced in the online business world.
Once the preferred shares are listed on a US exchange later in 2021, investors will also have the ability to sell some, or all, of their shares more easily too.
In short, what Dom and Onfolio have created is an ability for the average accredited investor to achieve far higher returns than usual, while maintaining some degree of liquidity, and a large amount of downside risk protection.
Not only that, with reliable quarterly payments, the offering should appeal to a wide range of income investors.
In a world where the quest for yield is real, and reliable fixed income investments are hard to find, this could be the opportunity many income investors are looking for.
You can read more about Onfolio's offering on this page and can also download their industry report about different ways to make money from online business.
This content was provided by Onfolio Holdings. Kiplinger is not affiliated with and does not endorse the company or products mentioned above.