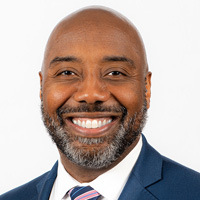 Stephen B. Dunbar III, JD, CLU
Director of Diversity & Inclusion, Executive VP, Equitable Advisors
Stephen Dunbar, Executive Vice President of Equitable, has built a thriving financial services practice where he empowers others to make informed financial decisions and take charge of their future. Dunbar oversees a territory that includes Georgia, Alabama and Florida. He is also committed to the growth and success of more than 70 financial advisers.
He and his team advise on over $3B in AUM and $1.5B in protection coverage, supporting more than 3,300 households. He is passionate about helping people align their finances with their values, improve financial decision-making and decrease financial stress to build the legacy they want for future generations. As a National Director of DEI for Equitable, Stephen also acts as a change agent for the organization, creating a culture of diversity, equity and inclusion.
Dunbar earned his Bachelor of Science (M.S.) in Finance from Rutgers University and his Juris Doctor degree (J.D.) from Stanford University.