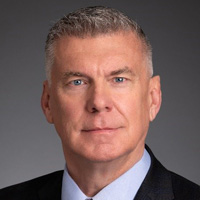 Kevin R. Keller, CAE
Chief Executive Officer, Certified Financial Planner Board of Standards, Inc. (CFP Board)
Kevin R. Keller, CAE, is Chief Executive Officer of CFP Board, the professional body for personal financial planners in the U.S. CFP Board sets standards for financial planning and administers the prestigious CFP® certification – one of the most respected certifications in financial services and one of the few accredited financial services designations. He leads CFP Board to benefit the public by granting CFP® certification and upholding it as the standard of excellence for competent and ethical personal financial planning.
Under Kevin's leadership, the number of CFP® professionals has grown to more than 92.000, CFP® certification standards were strengthened with an updated Code of Ethics and Standards of Conduct and the Center for Financial Planning was launched to create a more diverse and sustainable financial planning profession.
Kevin earned a Certified Association Executive credential and holds Bachelor of Science and Master of Science degrees from The Ohio State University.
Website: https://www.cfp.net/ | LinkedIn: www.linkedin.com/in/kevinkeller2