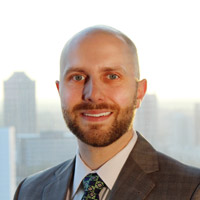 Josh Monroe, CFP®, ChFC
Associate Wealth Adviser, CI Brightworth
Josh Monroe joined the CI Brightworth team in 2019 as a Financial Planner. Before CI Brightworth, Josh spent eight years at a leading insurance and investment firm in a variety of roles, including compliance and supervision. Josh is passionate about financial planning and making complex concepts easy to understand.
Josh is a CERTIFIED FINANCIAL PLANNER™ practitioner and a Chartered Financial Consultant designee. He graduated cum laude from Georgia State University. As a lifelong learner, Josh is constantly reading and applying learning from books about leadership, communication and personal development.
Josh and his wife, Danielle, live in Kennesaw, Ga., with their daughter, Emma. They are active members at Woodstock City Church engaged as community group leaders and foster parents. Josh enjoys running, being outdoors and playing music and games with his family.
Phone: 404.760.9000
E-mail: josh.monroe@brightworth.com
Website: www.brightworth.com
LinkedIn: www.linkedin.com/in/joshmonroe