Small Steps to Help Achieve Big Goals of Health, Wealth and Happiness
It's time to check in with the grand plans you made on Jan. 1. If you haven't made any progress toward your goals, here are some baby steps to get you back in gear.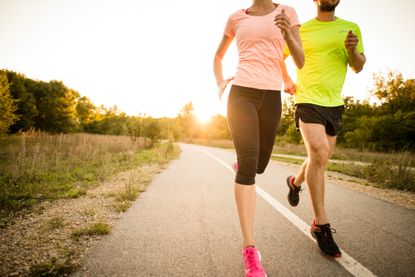 (Image credit: © Martin Novak - www.mnovakphoto.com)
It's hard to believe, but half the year has already passed. How are you doing with your New Year's resolutions? Do they seem too daunting? Perhaps they may not be if you break them up into smaller steps and take action on the first ones. Here are some ideas to kick-start you on the path to achieving your goals this year:
Resolution #1: I want to improve my health.*
Whether that goal means losing weight, eating better, reducing risk factors for disease or lessening stress, many people have remarked to me that this year has brought no meaningful changes to their health and overall well-being. To them, I say take a couple small steps toward your goal, and you'll be on your way.
Small Step #1: Think about going for a walk every day. You can start improving physical activity levels by walking each day, ideally after a meal. Even if the weather doesn't cooperate, you can find ways to walk more. Try the mall (but don't impulse buy while you're there).
Small Step #2: Consider adding more fruits and vegetables to your diet. As you change what you eat, your tastes will begin to change too, and cravings for sugar-rich, processed, fatty foods will diminish. Ask your health professional for some ideas for more nutrient-rich fruits and vegetables.
Resolution #2: I want to improve my financial situation.
This goal can range from paying down debts levels to organizing your estate for the next generation. Wherever you are in the wealth spectrum, you can commit to action.
Subscribe to Kiplinger's Personal Finance
Be a smarter, better informed investor.
Save up to 74%
Sign up for Kiplinger's Free E-Newsletters
Profit and prosper with the best of Kiplinger's expert advice on investing, taxes, retirement, personal finance and more - straight to your e-mail.
Profit and prosper with the best of Kiplinger's expert advice - straight to your e-mail.
Small Step #1: Lay out a budget statement, including all expenditures, assets and liabilities. Just doing this mentally isn't good enough: Make sure you write it down on paper. It will help to organize your thoughts and then your actions.
Small Step #2: Talk to your financial professionals. Your financial adviser, accountant and attorney can all help you gain some perspective.
Resolution #3: I want to improve my overall happiness.
Are you as happy as you could be right now? What are some ways in which you could be happier?
Small Step #1: Call some friends and get together. For some people life can be less fun when led in solitude. Take comfort in your friends and loved ones, and talk about how to help each other.
Small Step #2: Take stock of what you have, do and believe. Happiness is a state of mind, and figuring out where the gaps are from where you are and where you want to be will help you uncover how to make the transitions.
* This newsletter is being provided for informational purposes only and is not designed to diagnose or treat a health problem or disease, or replace the professional medical advice you receive from your doctor. Please consult your health care provider with any questions or concerns you may have regarding your personal condition, as well as, prior to beginning any diet or exercise regimen.
Senior Portfolio Manager, Arlington Capital Management
Justin J. Kumar embraces a proactive, systematic investment management approach with a customized, proprietary system to help guide his clients toward their financial goals.