Donating to Hurricane Harvey Relief Efforts
Plenty of organizations are raising money to help the victims of Hurricane Harvey. Check out these groups before you donate to be sure your gift goes to those who need it -- and not to scam artists.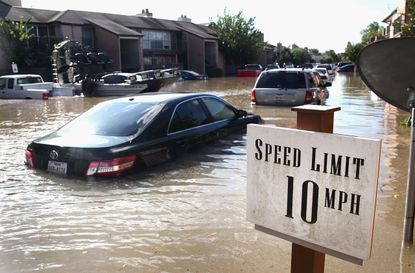 (Image credit: 2017 Getty Images)
Question: I'd like to help a charity that supports Hurricane Harvey victims. What's the best way to give?
Answer: There are many opportunities to support disaster-recovery efforts and help people whose lives have been upended by the hurricane, but you should be careful. It's also prime time for scam artists to take advantage of your generosity and steal your money or even your identity. Take these steps to help you choose a charity and get the biggest tax break -- which can help you afford to give even more.
Check out the charity. Many organizations that analyze charities are compiling lists of top-rated organizations that are helping hurricane victims. The Better Business Bureau's Wise Giving Alliance frequently updates its list of BBB-accredited charities that are raising funds to aid victims of Hurricane Harvey. The list includes some large charities that have established funds specifically for Harvey relief efforts, such as the Red Cross, the Salvation Army and the United Way of Greater Houston. Charity Navigator is also posting the names of reputable charities that are helping hurricane victims.
Subscribe to Kiplinger's Personal Finance
Be a smarter, better informed investor.
Save up to 74%
Sign up for Kiplinger's Free E-Newsletters
Profit and prosper with the best of expert advice on investing, taxes, retirement, personal finance and more - straight to your e-mail.
Profit and prosper with the best of expert advice - straight to your e-mail.
Learn about local organizations. Besides national charities, many lesser-known, local groups are raising funds. The Greater Houston Community Foundation, for example, is collecting donations to the Hurricane Harvey Relief Fund, established by Mayor Sylvester Turner. The community foundation will work with officials from Houston and Harris County, business and community leaders, and area nonprofits to decide how to distribute the money to help with immediate relief needs and longer-term recovery. The community foundation administered a similar fund after previous disasters. A lot of the money went to local nonprofits to help move people out of shelters, provide housing and clothing, assist with federal disaster aid applications, and rebuild destroyed properties. Some of the grants even went to pay hotels to provide temporary housing. The needs will be much larger this time.
"The magnitude of this is unprecedented," says Steve Maislin, president of the Greater Houston Community Foundation. "We think there will be tens of thousands of people whose homes will not be repairable. It will probably be another couple of weeks before we understand the full scope of what has happened. The distribution process will depend on where the needs are." He expects the first grants will be disbursed in two to four weeks.
The Houston Food Bank and the Houston Humane Society have also been active in relief efforts. The Texas Department of Agriculture's STAR Fund helps Texas farmers and ranchers recover from disaster. A frequently updated list from Texas Monthly magazine provides more information about local charities that are leading disaster relief efforts and other ways you can help. You can also find local community foundations in other areas affected by the hurricane at the Community Foundation Locator.
Give appreciated stock or set up a donor-advised fund. People are usually quick to write a check to support a charity after a disaster, but you may get a bigger tax benefit by giving appreciated stock or mutual funds instead. That way, you'll get a tax deduction for your donation but avoid paying capital-gains taxes on the increased value of the stock over time.
Some smaller charities don't accept stock or mutual funds. The Greater Houston Community Foundation will accept larger gifts of appreciated stock to support the Hurricane Harvey Relief Fund, but contact them first to ask about specifics. Another way that smaller charities can benefit from your appreciated investments is if you open a donor-advised fund with a bank, brokerage or community foundation. You can usually donate a wide variety of assets -- from real estate to privately held stock -- to the fund. You'll get a tax break for the value of the property you donate this year, but you will have an unlimited amount of time to decide which charities to support with the money in your fund account. Keep in mind that Harvey relief efforts will probably continue for quite a while. The minimum investment to open a donor-advised fund is $5,000 at Fidelity Charitable and Schwab Charitable, $10,000 at the Greater Houston Community Foundation, and $25,000 with Vanguard Charitable. See Smarter Ways to Give to Charity and Donor-Advised Funds: Contribute Now, Donate Later for more information.
Give from an IRA. If you're 70½ or older, you can give up to $100,000 per year tax-free from your IRA to charity (although you can't give this money to a donor-advised fund). The gift counts as your required minimum distribution but doesn't increase your adjusted gross income. See How to Ensure Your IRA Donation to Charity is Tax-Free for more information about the procedure and benefits.
Providing a place to stay. So many people were displaced by the storm that many are having a hard time finding shelter. Airbnb is making it easy for people with available property nearby to offer temporary accommodations free. Many of these donated properties are in Austin, Dallas and San Antonio (see Airbnb's urgent accommodations page). The SPCA of Texas is also collecting donations and looking for foster homes for animals.
Beware of scams. Don't respond to an e-mail or call asking for donations to help hurricane victims. Instead, take the time to look up the charity on your own before donating. Scam artists use disasters as a way to take advantage of people's generosity and sense of urgency to steal their money or their personal information. For more information, see the Federal Trade Commission's Signs of a Charity Scam page.
TAKE OUR QUIZ: Are You Covered?

Contributing Editor, Kiplinger's Personal Finance
As the "Ask Kim" columnist for Kiplinger's Personal Finance, Lankford receives hundreds of personal finance questions from readers every month. She is the author of Rescue Your Financial Life (McGraw-Hill, 2003), The Insurance Maze: How You Can Save Money on Insurance -- and Still Get the Coverage You Need (Kaplan, 2006), Kiplinger's Ask Kim for Money Smart Solutions (Kaplan, 2007) and The Kiplinger/BBB Personal Finance Guide for Military Families. She is frequently featured as a financial expert on television and radio, including NBC's Today Show, CNN, CNBC and National Public Radio.