How to Raise Money-Savvy Girls
When parents talk to their kids about money, they often speak differently to their sons and daughters.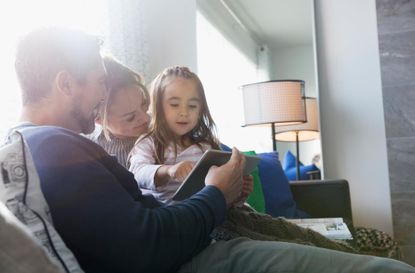 (Image credit: (c)2013 Hero Images Inc. All rights reserved. ((c)2013 Hero Images Inc. All rights reserved. (Photographer) - [None])
In my March Money Smart Women column, Retirement Tips for a Long Lifetime, I promised that I would weigh in on how to raise money-smart girls. That prompted an e-mail from Anne Chernish, a certified financial planner in Ithaca, N.Y., who volunteered her daughter Sydney, 32, as an example.
When Sydney was about 3 years old, Anne says she began "dropping little hints" about money into her conversations with her daughter. For example, she would ask Sydney to think about where her money came from and what she did with it. As Sydney grew, Anne encouraged her to write thank-you notes for cash gifts, earn money by doing small jobs and save money from her allowance. By the time Sydney was 10 or 12, she and her mom were talking about stocks.
Now a brand manager for Diageo, Sydney has "the perfect financial plan," says her mother. She saves money automatically every month, maximizes her retirement plans at work and is fully invested in the stock market. Says Anne, "The key with kids is keeping it short, not getting into too much detail, and repeating."
Subscribe to Kiplinger's Personal Finance
Be a smarter, better informed investor.
Save up to 74%
Sign up for Kiplinger's Free E-Newsletters
Profit and prosper with the best of expert advice on investing, taxes, retirement, personal finance and more - straight to your e-mail.
Profit and prosper with the best of expert advice - straight to your e-mail.
As the mother of a money-smart daughter (and two sons) and the author of Raising Money Smart Kids, I second Anne's observations, which match what I've learned from my own experience and that of hundreds of parents I've spoken with over the years. Small lessons have a big impact, and parents—and grandparents—play a key role in teaching those lessons. Adults often feel awkward talking about money with kids. But the earlier you start, and the more you can make money matters a natural part of everyday discussions, the easier the conversation.
The gender gap. Unfortunately, even when parents do talk to their children about money, there's evidence that they often speak differently to their sons and daughters. A survey by Charles Schwab, for example, found that parents emphasize saving and budgeting with their daughters but are more likely to discuss investing with their sons. So it's not surprising that women are less likely than men to feel comfortable about investing.
That presents a golden opportunity for Kiplinger's readers, such as Tony Hausner, who is also past president of the Washington, D.C., metro chapter of the American Association of Individual Investors. Hausner once asked me if it made sense to buy his 6-year-old granddaughters shares in a stock such as Disney to introduce them to the stock market. My response: Go for it!
Research shows that women don't lack financial competence, but they express less confidence than men when it comes to money matters. It doesn't help that they're less likely than men to talk about money with their friends, which puts them at another disad­vantage (see Getting Women to Talk About Money). So getting an early start is as much about boosting girls' con­fidence as increasing their financial knowledge.
As a hands-on way of learning to manage money, nothing beats an allowance that comes with certain spending and saving responsibilities. Resist the temptation to shield your daughters from those responsibilities; they need to feel comfortable handling their own money so they aren't tempted to cede that job to someone else when they get older.
When it comes time for your daughter to get her first summer job, help her prepare a résumé that showcases her talents and interests. And rehearse with her so she knows how to speak up during a job interview.
Never underestimate the importance of role models, whether that's you or someone else. I once attended an investing boot camp for teenage girls conducted by female financial advisers. Besides asking questions about the markets, the girls were curious about how the advisers got their jobs. When they discovered that one had once been a ballet dancer and another had been in retail sales, it was as inspirational for the teens as anything they learned about stocks and bonds.
Janet Bodnar is editor-at-large of Kiplinger's Personal Finance, a position she assumed after retiring as editor of the magazine after eight years at the helm. She is a nationally recognized expert on the subjects of women and money, children's and family finances, and financial literacy. She is the author of two books, Money Smart Women and Raising Money Smart Kids. As editor-at-large, she writes two popular columns for Kiplinger, "Money Smart Women" and "Living in Retirement." Bodnar is a graduate of St. Bonaventure University and is a member of its Board of Trustees. She received her master's degree from Columbia University, where she was also a Knight-Bagehot Fellow in Business and Economics Journalism.