Getting Women to Talk About Money
Women are less likely than men to discuss finances with their friends, so they start off at a big disadvantage.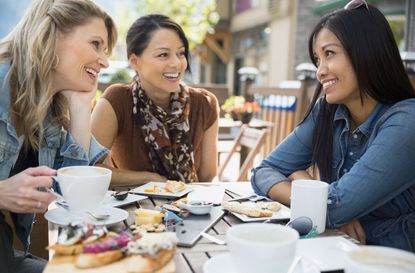 (Image credit: Copyright)
In her biography of Joan Rivers, Last Girl Before Freeway, author Leslie Bennetts describes how stunned Rivers was to discover that her business manager husband, Edgar Rosenberg, had left her millions of dollars in debt when he died. Here was a woman who had built a wildly successful public career, but in her private financial life she apparently inhabited the same "cone of silence" as so many other women. "Women will talk to each other about anything -- including their sex lives and marital problems -- but there's a taboo about money," says Debra Mesch, director of the Women's Philanthropy Institute at Indiana University.
Researchers attribute this reticence to a combination of factors. Men have traditionally been the family breadwinners, and women didn't gain control over their own property until relatively recently. Even when women are the main earners, they tend to minimize their role, says Mesch. And women are trained to think that talking about money is just plain tacky.
But, says Annamaria Lusardi, director of the Global Financial Literacy Excellence Center at George Washington University, family and friends are your primary source of financial information. Avoiding the discussion of money puts women at a big disadvantage that's difficult to overcome. Women consistently score lower on measures of financial literacy, which in turn makes them less confident about discussing the subject or even asking questions. "In our surveys, we find that men tend to feel confident about their financial situation whether they're doing well or not," says Jeanne Thompson, a senior vice president at Fidelity Investments. "But even if women are in a good situation, they don't feel good about it."
Subscribe to Kiplinger's Personal Finance
Be a smarter, better informed investor.
Save up to 74%
Sign up for Kiplinger's Free E-Newsletters
Profit and prosper with the best of expert advice on investing, taxes, retirement, personal finance and more - straight to your e-mail.
Profit and prosper with the best of expert advice - straight to your e-mail.
Learning to speak up. Joan Rivers' case was an extreme one. But financial advisers often have similar experiences when they're working with couples. "Women frequently are not engaged in the conversation," says Dawn Doebler, cofounder of Her Wealth, an initiative of Bridgewater Wealth and Financial Management in Bethesda, Md. "Even in the best of marriages, talking about money can rapidly deteriorate into a strained conversation, and spouses never get through to the end."
Advisers use a variety of techniques to put women at ease. In high-stress situations, such as retirement planning or divorce, "we remind clients that we've been through this hundreds of times with women in the same situation, and there are common themes and common questions," says Doebler. Women themselves are much more likely than men to say that it's important for an adviser to educate them about such things as investment management and retirement risks.
Even in Lusardi's classes, top female students are less likely to participate. To get female students to speak up, Lusardi teaches "personalized" finance classes emphasizing goals that appeal to women. "I used to think one way to motivate students was to teach them that a knowledge of finance can help them become richer," says Lusardi. "But for women, becoming rich was not necessarily the ultimate objective. They're more interested in being financially secure and free of money worries so they can achieve the things they want to do." She also avoids financial jargon and technical terms, which are off-putting. "It's important to start with plain English and build the language of finance."
Based on my own experience speaking to women about money issues, I have found that the best way to breach the cone of silence is simply to speak their language and address their concerns -- and it never hurts to add personal experiences and a dash of humor. Find that comfort zone and a torrent of words -- and questions -- comes pouring out.

Janet Bodnar is editor-at-large of Kiplinger's Personal Finance, a position she assumed after retiring as editor of the magazine after eight years at the helm. She is a nationally recognized expert on the subjects of women and money, children's and family finances, and financial literacy. She is the author of two books, Money Smart Women and Raising Money Smart Kids. As editor-at-large, she writes two popular columns for Kiplinger, "Money Smart Women" and "Living in Retirement." Bodnar is a graduate of St. Bonaventure University and is a member of its Board of Trustees. She received her master's degree from Columbia University, where she was also a Knight-Bagehot Fellow in Business and Economics Journalism.