Dementia: How to Find the Right Fit for Long-Term Care
Tap these resources to locate a memory-care facility for a loved one with Alzheimer's or another type of dementia.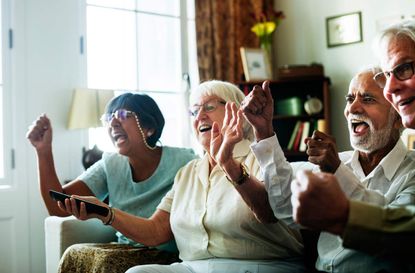 (Image credit: Rawpixel Ltd. (Rawpixel Ltd. (Photographer) - [None])
For Larry Barrett, the agonizing decision to find a memory care community for his wife, Martha, began 10 years ago. That's when Larry first noticed that something was going on with Martha, then 60, a lawyer. She'd forget the name of a person she met the night before. On a trip to Louisville, Ky., where she grew up, she forgot the way to her childhood home.
Larry persuaded Martha in 2010 to see a neurologist, who diagnosed her with mild cognitive impairment. In the years that followed, Martha's condition progressed to Alzheimer's. Larry tried to care for her himself, but things got complicated. He sold their house in Friendship Heights, Md., and moved them into a nearby apartment. Martha began to wander. Once, when Larry was attending a support group for spouses of people with dementia, the apartment building's front desk staff called to say they had found Martha disoriented.
"I was reaching the point where she couldn't be appropriately cared for at home," says Larry, now age 83. After a yearlong search, he found a nearby memory care community for Martha in 2017. The process took an emotional toll. "It's one of the hardest decisions you can make in your life," he says.
Subscribe to Kiplinger's Personal Finance
Be a smarter, better informed investor.
Save up to 74%
Sign up for Kiplinger's Free E-Newsletters
Profit and prosper with the best of expert advice on investing, taxes, retirement, personal finance and more - straight to your e-mail.
Profit and prosper with the best of expert advice - straight to your e-mail.
Many family members of people with dementia face the same decision Larry Barrett did. They want a spouse or parent to get 24-hour, supportive care but also still enjoy some quality of life. It isn't simple to find that kind of care, whether in a nursing home, assisted living, a continuing-care retirement community or a memory care unit. Loved ones also sometimes worry about stereotypes of long-term care, such as an elderly parent being left alone all day, and feel guilty about making the choice to move him or her.
But many long-term-care communities for people with dementia are changing their culture and practices to be "person centered"—focusing on the individual needs of residents and recognizing they still require meaning and purpose in their lives. About 42% of residents in assisted-living communities have Alzheimer's or other dementias, and 61% of nursing-home residents have moderate or severe cognitive impairment.
In this evolving version of care, staff work closely with families to understand and respect the identity of someone before the person entered long-term care and to know the person's interests, routines and needs. A care community might use a resident's previous occupation or interests to offer daily activities to look forward to—perhaps a resident who loved gardening arranges flowers for the dining table each night. Or staff recognize that a resident who wakes at 4 a.m. every day had spent his life as a farmer, accustomed to rising early and having a strong cup of coffee. They adjust to his routine, instead of "correcting" his behavior and persuading him to go back to bed.
Care communities embracing these changes also are connected to their neighborhoods and the outside world. Silverado, a senior care company dedicated to memory care that operates in eight states around the U.S., encourages residents to regularly engage with their communities by making sandwiches for the homeless at a nearby park or baking dog biscuits and training animals at the local shelter. "So many negative dementia behaviors in facilities in the past were related to people feeling like a prisoner, or just boredom and having no sense of purpose," says Kim Butrum, Silverado's senior vice president of clinical services. "But allowing a person to still feel like they make a difference is part of what makes you human. That doesn't stop because you're having trouble with language or your memory declined."
This view is supported by the Alzheimer's Association, which last year released its recommendations for dementia care that call for a "holistic, person-centered approach to care" and "a positive approach" to supporting people with dementia and their caregivers.
"I don't want to minimize the challenges, because of course a dementia diagnosis is scary," says Sheryl Zimmerman, co-director of the program on aging, disability and long-term care at the University of North Carolina at Chapel Hill. "But many assisted living and other providers know ways to offer quality services for people with dementia. In fact, years ago we didn't use the words 'quality of life' and 'dementia' in the same sentence, but now we do."
Do Your Homework on Long-Term Care
Be proactive in researching person-centered care practices, Zimmerman advises. You also can advocate for them in a community you're considering. For example, people with dementia can find showers uncomfortable. But staff can adjust the bathing routine to have a resident sit in a chair, lean back and have her hair washed in the sink, which resembles the pleasant experience of going to a salon and makes the task far less stressful. And person-centered communities will "meet residents where they are," says Zimmerman, meaning they'll tailor care to individual needs. So if a loved one is agitated or begins to wander, staff will look to address the underlying cause, rather than turning first to medication or restrictions.
At Vicar's Landing, a senior living provider near Jacksonville, Fla., a resident kept trying to leave the community. A staffer knew the resident once loved to sit on his porch at his former home and read while enjoying a beer. So staff arranged to have his favorite chair brought over and put outside in a secured courtyard. The dietary manager bought non-alcoholic beer and staff rearranged one of the common spaces to be a small library, says the community's chief executive officer, Bruce Jones. The resident could sit outside and happily resume his routine.
In another instance, a resident who had once worked for an airline began showing up regularly in the director of health services' office, upset and worried. It turns out he was thinking about flight delays and airline schedule problems. The director, Kendall Bryan, went online and printed out the flight schedules for the day from the local airport. The resident could review the flights, and Bryan would let him know that a delay might be a maintenance issue and it would be resolved. Satisfied, the resident would review flights and discuss them with the staff in the dining hall.
A person-centered community might also adopt a Montessori philosophy. A model often associated with early childhood learning, Montessori principles increasingly are being used in long-term-care settings for people with dementia, says Jennifer Brush, a dementia care expert and consultant. It can be difficult for people with dementia to find their way around in a care community. A Montessori approach involves using special cues and signs in the environment to support residents and to help them be independent, Brush says. Instead of a hard-to-read nameplate on a resident's door, a Montessori community would post a large photo that the resident chose, with his name below written in letters in a contrasting color.
Lutheran SeniorLife Passavant Community, near Pittsburgh, is a Montessori community where residents are invited to become meaningfully engaged in the life of the household—the term the community uses for its small, intimate residences, says executive director Laura Roy. Instead of just showing up for dinner and sitting down to be served, a resident might want to help set the table or choose a dessert. Residents who used to love tidying up in their homes sometimes will grab a duster and pitch in, she says. Their "work" also opens up opportunities for communication, which can be difficult for people with dementia. The resident who helped arrange flowers for the dinner table began sharing cherished memories of her late husband, who owned a flower shop.
Dementia Action Alliance, an advocacy group, offers a documentary with more examples of person-centered care. Go to daanow.org/revolutionizing-dementia-care.
Prepare for Dementia Care
Try to plan ahead as soon as a loved one is diagnosed. You want to ensure his or her wishes are clear about how to be cared for as the disease progresses. Together, you and your loved one can fill out a dementia directive, which outlines your loved one's preferences for care.
Document your loved one's story, says Kirsten Jacobs, director of dementia and wellness education for LeadingAge, the association of nonprofit providers of aging services. Create a memory book, a simple binder that holds a photo or memento on each page with a short description, to prompt connections with your relative. Or build a memory box, with photos and treasured items, for outside a loved one's door in a care community.
You also can hire companies to work with you to produce videos, personal histories and other background information, such as LifeBio or MemoryWell. Helping staff know those stories can lead to better care and address staff turnover problems by providing a way to inform new caregivers, says MemoryWell managing editor Michael Alison Chandler. In a memory care unit in Iowa, a resident became upset when a loud bell went off for mealtimes. Staff noticed from his online MemoryWell profile that he'd been a volunteer firefighter. The bell triggered him to think there was a fire and he had to evacuate everyone. The community switched to gentler chimes, and he was no longer upset.
Start Your Search for Memory Care Facilities
To find a care community, use the government's Eldercare Locator. For nursing homes, use Medicare's Nursing Home Compare tool. You can hire an aging life care professional to help find and evaluate communities. And before picking a facility, consider talking to your local long-term-care ombudsman.
Memory care is typically a care community where staff has specialized dementia training, care or programming. Some memory care units are standalone units, while others are part of a larger assisted living, nursing home or continuing-care community. Memory care has become a bigger component of long-term care, although there is no hard data that its care produces better outcomes, Zimmerman says.
Regulations for memory care vary depending on the setting and the state that oversees the facility. Be sure to ask a prospective community exactly what it provides that makes it "memory care."
Most assisted living and memory care units are private pay. Costs can sometimes reach nearly $100,000 a year, but the most expensive community isn't necessarily the best. You'll also want to consider convenience and the programs offered.
Ask Questions About Caregiving
Larry Barrett created a list of seven communities that met his criteria, which included commuting distance and cost. As his visits progressed, he narrowed his list. At one community, despite repeated requests to talk to staff, he could never meet with anyone except the marketing manager. "That was a red flag," he says.
Look behind the tour. Drop in unannounced on weekends or at mealtime. If a community has a problem with that, that's also a warning sign.
Talk to the life enrichment or activities team. Find out how they include meaningful activities in the daily life of the community, and look for creative approaches beyond an arts and crafts table or a game room.
Abe's Garden, a nationally known memory care community in Nashville, builds engagement opportunities around the belief that people with dementia still have a capacity to learn, says executive director Chris Kincaid. Clubs, classes and committees enhance those remaining strengths, instead of just providing busy work. A drum club becomes a brain exercise in learning to keep the beat together. A garden club studies handling orchids and choosing the best light for growing. "The idea is to allow the people who aren't that well aware of a subject to learn more," Kincaid says. "It also can truly trigger the person who used to be the avid gardener, or who painted as a hobby, to recall those happy memories. And it allows us to be able to work with this person as an individual."
At many LeadingAge member organizations, residents, staff and caregivers take part in TimeSlips, which uses improvisational theater techniques to encourage creative storytelling, Jacobs says. The program helps residents improve their verbal skills and leads to other positive behavior changes, research shows.
Scout out the mood of the place. Do the staff smile? Do residents look happy? Abe's Garden has a Family Council whose members share experiences with families of prospective residents. If a community won't let you talk to other families, consider it a red flag. Also, ask how often you'll meet with direct care and other staff.
Larry Barrett says he paid close attention to the ratio of hands-on staffers to residents, and "the skill and empathy" those staffers displayed in regular interactions with residents. "Once I had my short list, I revisited those places and spent time just observing," he says. Judge whether a community feels like a home rather than an institution.
Larry says he also realized what might have been appealing to him—a nice lobby or a large room—wasn't necessarily what Martha needed. More important for her was the help she'd get for activities of daily life and whether she felt comfortable in her new community.
After a Care Facility Choice Is Made
Once a loved one moves in, be an advocate, visiting often and consulting staff. And care for yourself. Larry advises joining a support group for family members. He says that made his yearlong search for a care community much less lonely.
This article was written with the support of a journalism fellowship from the Gerontological Society of America, Journalists Network on Generations and Silver Century Foundation.
Associate Editor, Kiplinger's Retirement Report
Mary Kane is a financial writer and editor who has specialized in covering fringe financial services, such as payday loans and prepaid debit cards. She has written or edited for Reuters, the Washington Post, BillMoyers.com, MSNBC, Scripps Media Center, and more. She also was an Alicia Patterson Fellow, focusing on consumer finance and financial literacy, and a national correspondent for Newhouse Newspapers in Washington, DC. She covered the subprime mortgage crisis for the pathbreaking online site The Washington Independent, and later served as its editor. She is a two-time winner of the Excellence in Financial Journalism Awards sponsored by the New York State Society of Certified Public Accountants. She also is an adjunct professor at Johns Hopkins University, where she teaches a course on journalism and publishing in the digital age. She came to Kiplinger in March 2017.