Medicare Advantage Cost-Cutting Rule Could Impact Care
Step therapy can allow Advantage plans to require patients to try cheaper drugs first.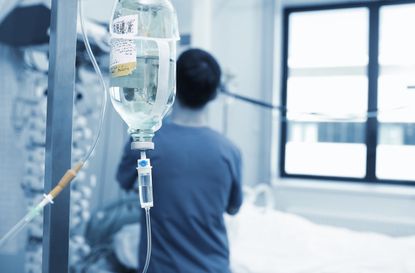 (Image credit: sudok1)
A new rule designed to drive down prices of physician-administered drugs may jeopardize Medicare Advantage enrollees' access to needed care, patient advocates say.
Starting this year, the Centers for Medicare and Medicaid Services is allowing Advantage plans to implement "step therapy" for drugs covered under Part B, which include many treatments for cancer and other serious conditions. That means the plans can require patients to try cheaper drugs before progressing to more expensive treatments.
CMS says that the change will cut costs for Advantage plans as well as patients, because plans will be required to pass along some of the savings to enrollees. But patient advocates and physician groups say that the move may delay—or even completely derail—necessary treatments for critically ill patients.
Subscribe to Kiplinger's Personal Finance
Be a smarter, better informed investor.
Save up to 74%
Sign up for Kiplinger's Free E-Newsletters
Profit and prosper with the best of expert advice on investing, taxes, retirement, personal finance and more - straight to your e-mail.
Profit and prosper with the best of expert advice - straight to your e-mail.
As major Advantage plan providers such as UnitedHealthcare implement the change, enrollees need to read plan documents carefully to find out whether their insurer is requiring step therapy—and understand their appeal rights if those requirements impede access to necessary treatments.
These treatment hurdles are a growing concern for people in traditional Medicare as well as Advantage plans. Step therapy is still not allowed in traditional Medicare Part B, but it is allowed in Part D prescription-drug plans, whether you get that coverage through Medicare Advantage or a stand-alone plan. And CMS has proposed a rule allowing broader use of step therapy in Part D's "protected classes," which include immunosuppressants and antidepressants.
Advantage plans' use of step therapy for Part B–covered drugs is limited to new prescriptions, so no patients currently taking such drugs should have to change their medication, CMS says. And to ensure patients get adequate access to Part B drugs, Advantage plans' step therapy programs will be reviewed and approved by an independent panel of doctors, pharmacists and other experts, says Cathryn Donaldson, spokesperson for America's Health Insurance Plans, which represents insurers offering Advantage plans.
But critics say the rule doesn't adequately address serious concerns, such as how plans will determine whether the cheaper drug is effective and how they can account for the fact that different patients may react to the same treatment in different ways. Seriously ill patients should not have to "fail first" on cheaper treatments "and possibly put their lives in danger," says Leslie Fried, senior director at the National Council on Aging's Center for Benefits Access.
What You Can Do About New "Step Therapy" Drug Rule
Advantage plans must disclose step therapy requirements in their Annual Notice of Change, which is sent to enrollees before the start of the plan year, and their Evidence of Coverage, a document that must be posted on the plan's website. If you're uncertain about the requirements, call the plan for clarification.
If you and your doctor determine that you need direct access to a Part B drug that's subject to step therapy, you can ask the plan for an exception. Plans should generally respond to the request within 72 hours, CMS says. And if your request is denied, you have the right to appeal. For details on the Medicare Advantage appeals process, read Fight a Denied Advantage Claim.
Advantage plan enrollees who are unhappy with their current plan still have time to switch coverage for 2019. Until March 31, you can move to a different Advantage plan or to traditional Medicare. "Don't pick a plan just based on one element of that plan's benefit structure," says Tatiana Fassieux, a consultant and training specialist for California Health Advocates. But if you're uncomfortable with your plan's step therapy requirements, it's worth shopping around.
For help comparing your options, contact your state health insurance assistance program. Find your local program at shiptacenter.org or call 877-839-2675.

Senior Editor, Kiplinger's Retirement Report
Laise covers retirement issues ranging from income investing and pension plans to long-term care and estate planning. She joined Kiplinger in 2011 from the Wall Street Journal, where as a staff reporter she covered mutual funds, retirement plans and other personal finance topics. Laise was previously a senior writer at SmartMoney magazine. She started her journalism career at Bloomberg Personal Finance magazine and holds a BA in English from Columbia University.