Tech Revolution Benefits the Aging
Aging-in-place technology is helping to improve the aging experience for seniors and family caregivers.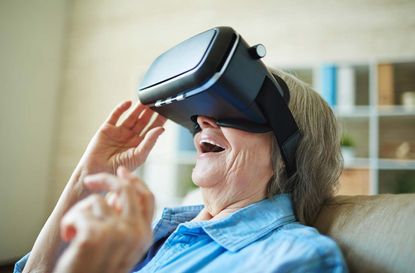 (Image credit: shironosov)
Imagine your frail father dons a virtual reality headset so he can "attend" his grandson's graduation and feel as if he's really there. Or your mom, forgetful about her medicine, swallows a teensy sensor encased in medication that will relay the time she took the pill and the dosage to her smartphone.
Perhaps your mother-in-law has dementia, which makes her agitated. A small robot she holds that acts like a cat, including purring, calms her instantly. Afraid she'll wander? Your phone can alert you if she does.
Whether already in use or still being tested, aging-in-place technology is improving the aging experience for seniors and family caregivers. Part of the reason: the development of artificial intelligence, or AI, and "big data." With AI, devices can react like humans after assessing a situation and learning someone's habits. Wearable gadgets—think Fitbit on steroids—can collect and analyze health data, while medical mini-machines monitor chronic conditions and customize treatment.
Subscribe to Kiplinger's Personal Finance
Be a smarter, better informed investor.
Save up to 74%
Sign up for Kiplinger's Free E-Newsletters
Profit and prosper with the best of expert advice on investing, taxes, retirement, personal finance and more - straight to your e-mail.
Profit and prosper with the best of expert advice - straight to your e-mail.
"Technology is a game-changer, improving older adults' independence, engagement and health and reducing their social isolation," says David Lindeman, director of the Center for Technology and Aging at the University of California, Berkeley. "Technologies we haven't even thought of today will be on the market in the next few years."
Technology may be especially beneficial when baby boomers find they need an extra something, perhaps a friendly robot, to keep them healthy, happy and in charge as they grow older. And new technologies could help caregivers. In a 2015 AARP survey, fewer than 10% of family caregivers said they use, or have used, technology for caregiving, but 71% said they were interested.
In the coming years, aging tech is likely to follow the pattern of smartphones, which gained traction in people's lives relatively quickly. Stand-alone devices are getting smaller, and apps are increasingly available for smartphones and tablets. Plus, aging technology is getting faster, cheaper and easier to use.
What's out there today, or about to debut?
Virtual Reality Offers Real Benefits
Although it began as a teen gaming phenomenon, virtual reality, or VR, is maturing into a technology for older adults. While still in its infancy, VR for seniors is gaining fans among physicians, long-term-care staff, researchers, physical therapists and family members.
Here's how it works: A senior dons special VR goggles that show panoramic images made with a 360-degree video camera. The wearer is transported into a multisensory, three-dimensional world where he is totally immersed in a place or experience, making him feel as if he is actually there. That world might be his childhood neighborhood (via Google Maps), the beach, a faraway family reunion or a grandchild's wedding in real time.
For older adults with mobility issues or cabin fever, VR breaks up day-to-day monotony and loneliness, letting seniors "travel"—sky diving or swimming with whales, anyone?—without leaving home.
But VR offers more than just a good time. It's being studied as a way to reduce physical pain, opioid use, anxiety, stress and social isolation, and to improve mood. At Massachusetts General Hospital, doctors plan to use VR to study brain function in aging. "Individuals with dementia tend to struggle with activities such as executive function and multitasking, which can be hard to evaluate in a clinical setting," says Dennis Lally, co-founder of Rendever, a Boston company developing VR software for seniors. "With VR, it's now possible to track the human interaction with virtual tasks and leverage virtual reality analytics to measure the success of these activities." In the next few months, the hospital will begin testing the VR product.
San Francisco physician Sonya Kim says when she first introduced VR to depressed and agitated patients, she thought, "Wow! This is phenomenal! People are happy!" In 2014, Kim developed Aloha VR, which she uses in group therapy sessions. "Our goal is to improve the quality of life for older adults, and through VR, take senior care to the next level," says Kim, even for patients being treated for dementia. She has seen violent dementia patients who have mellowed after using VR.
Dr. David Rhew, chief medical officer for Samsung Electronics America, believes that VR may be more than just a distraction from pain and anxiety—it may be an actual treatment. "Studies show there's a quantifiable impact, not just when the individual is receiving the VR but also after they take off the headset," says Rhew. A Cedars-Sinai Medical Center study—the largest controlled trial to date for VR pain treatment in hospitalized patients—showed VR reduced pain by 24%.
At the University of Washington, researchers did MRIs on one group who used VR before the imaging and another that didn't. "The VR group showed high levels of activity in the brain suggesting that neurochemicals were being fired," says Rhew. "There is a strong suggestion that VR is reducing pain due to some neurological or physiological impact on the brain."
Consumers have begun snapping up VR gadgets for home use. You can get Samsung's Gear VR headset for $100. But prices range from $15 for a Google Cardboard headset to nearly $600 for an Oculus Rift headset. (Oculus also offers a $99 version.)
The devices are also being used in long-term-care facilities. For the past few months, The Residence at Watertown Square, a Boston-area long-term-care facility, has been using VR. Resident engagement director Shauna Bennett has a preprogrammed tablet that guides viewers through a script she reads. Perhaps it's for an interactive tour of the Grand Canyon or watching stars at night in Alaska. "Five minutes after they try VR, they are so stimulated," she says. "It is a mood changer. They are laughing and smiling and engaged."
Rendever, which designed that Grand Canyon tour, has its product in more than 30 senior facilities; by year-end, it will be in hundreds more.
Social Robots on the Rise
For a growing number of households, Alexa, the AI-enabled, voice-controlled personal assistant on the Amazon Echo speaker, has become a family member. "She" can recite sports scores, play song requests or look up appointments. Alexa is joined by "sisters" Siri, Google Home and Cortana.
These devices are multiplying. A 2016 report from market research company Tractica predicts that 100 million consumer robots will ship between 2015 and 2020—including bots that vacuum and mow the lawn.
Coming soon is Jibo, a $749 tabletop robot due on the market this year that interacts with humans. Jibo can tell a joke when you walk in the room and even teach a grandchild simple math. A built-in camera lets it snap family photos at your say-so.
Robots like Jibo are being developed to react to your mood. Tired? Confused? Sad? Happy? The camera reads your facial expression and then converses with you. Elder care assistant robot ELLI Q, for the home market, is being tested with seniors in San Francisco.
Built on the Android platform, ELLI Q draws content from the Web. The robot is connected to a tablet and suggests activities such as "Want to play a game of bridge?" (if you say yes, it will pull up a Web-based game) or "How about a walk?" after you've sat in front of the TV for a while. The robot will remind you to take your medicine; it also reads body language.
Robotic pets are making the rounds in homes and senior facilities. At Front Porch, a nonprofit that manages senior communities and has a Center for Innovation and Wellbeing, residents in skilled nursing and memory care interact with Paro, a robotic seal, and a dog and cat from Hasbro's Joy for All Companion Pets.
Sue Norton-Clapham's mother Mabel Norton, 98, is an animal lover. Although Norton has dementia and her words are garbled, she talks to Lily, the seal, and Noodles, the cat. She has to share them with other residents of her Chula Vista, Cal., facility, so her daughter plans to buy her a robotic pet of her own. "I work and can't always be with Mom," says Norton-Clapham, "so it really makes me feel great that she is connecting to something and still able to have those emotions and be a person."
Hasbro's pets include three cats ($100 each) and a dog ($120) that looks like a Golden Retriever. When you speak, the dog looks toward you; stroke its back and you feel a "heartbeat."
Robotics can be put to use in other ways, too. For example, robotic exoskeletons are being developed for those who need help moving around after a stroke, perhaps, or who have trouble walking. A wearable mobile machine, powered by electric motors and other technology, allows a person's limbs to move. ReWalk Robotics makes ReWalk for the home and rehab facilities. The battery-powered exoskeleton has motors at the joints, so those with spinal-cord injuries can walk, turn and climb stairs.
Technology to Improve Your Health
"Connected" health technology is a godsend for people who want to grow old in their homes and retain their independence. According to an industry report by MarketResearch.com, the market for connected smart sensors is expected to reach $117 billion by 2020. Health tech lets users get help in an emergency with mobile medic alert–like personal emergency response systems; track health and habits via wearable devices that gather biometric cardiac, respiratory, sleep and activity data; and monitor chronic conditions. It also lets patients speak with doctors remotely in real time (known as telemedicine), partake in virtual rehab, anticipate falls and manage medication.
Through GPS, sensors, chips, cameras, voice activation, cellular connectivity and smartphone monitoring apps, technology provides a way to share information and offers peace of mind to family caregivers and loved ones. An adult child, for instance, can easily access the information by logging onto a smartphone, tablet or computer. Health tech company AliveCor sells a $99 smartphone-connected electrocardiogram that detects abnormal heart rhythms; called Kardia Mobile, the app on the smartphone lets the user see the results and take them to the doctor.
And don't forget mental health and well-being. Software such as Posit's Brain HQ (some brain exercises are free, but full access costs $14 a month or $96 a year) and Rosetta Stone's Fit Brains ($80 a year) can help keep the brain sharp. Other technologies let people stay socially connected and engaged. Integrated systems such as GrandCare ($999 to $1,499 plus $99 a month) and Independa (Independa-enabled LG smart TV ranges from $699 to $1,199) combine multiple functions such as videocalling, reminders and activity monitoring (including looking for unusual behavior).
Technology can also be used to manage medication. Not taking your medicine properly, or at all, can land you in the hospital—or worse. Today, there are smartphone apps and physical devices that release pills on schedule, and provide text or phone-call reminders if you forget to take your medicine. Apps, which vary in cost, include Medminder, Reminder Rosie, e-Pill and PillPack.
And there is a new world of ingestible sensors. Proteus Digital Health, a health technology company, is partnering with health care systems to prescribe medications with sensors for patients with heart failure, cardio metabolic risk and hepatitis-C.
Here's how it works: The medication is put into a capsule with a Federal Drug Administration–approved sensor the size of a grain of sand. Swallow the capsule and the sensor turns on when it reaches the stomach. It sends a signal to a small wearable sensor patch placed on your torso. The patch records the time you took your medication, the type of medicine and the dose. It then relays that information to your mobile device. If no information is relayed to the patch because you forgot to take your pill, the Proteus software sends you a reminder on your mobile device. The ingestible sensor passes through your body like food.
The Proteus sensor is currently being used in eight large U.S. health care systems, which are picking up the tab while these smart pills are being tested.
According to Dr. George Savage, co-founder of Proteus, fewer than 50% of people take their medication correctly. "Digital medicine helps doctors make better decisions," says Savage. Physicians can see if patients are failing to respond to the therapy or if it's how they are taking the medicine that is at fault, he says.
All of these technologies are just the beginning, with many more in the works. For example, smart contact lenses are being developed to measure blood glucose from a wearer's tears to monitor diabetes. Novartis is working with Google to create a contact lens that has a tiny antenna that sends data to the user's smartphone if her glucose level is too high or too low. Another company, Medella Health, has the same goal. It'll be a few years until either is tested, approved and distributed.
Also on the horizon: Lighter and cheaper exoskeletons that pinpoint problem areas on the body. Let's say as your dad grows older, he develops a gait problem. A camera captures his movements and spots his weaknesses, then algorithms analyze the pictures so an engineer can make a brace or other assistive technology.
A few small exoskeletons are in use, such as ReWalk. But they aren't necessarily affordable. "Robotic prosthetic limbs cost anywhere from $5,000 to $50,000," says Majd Alwan, executive director for LeadingAge Center for Aging Services Technologies. But Alwan says he believes that over the next five years, prices will be halved as competition increases. With so many technological advancements under way, the future of aging looks golden.

Contributing Writer, Kiplinger's Retirement Report
Sally Abrahms is an award-winning journalist and expert on baby boomers and seniors. She has published in the
Wall Street Journal, TIME, Newsweek, AARP, The Washington Post, The New York Times, Forbes, USA Today
and others. Sally is the author of two books, and recently contributed a chapter on housing to
Not Your Mother's Retirement
. For more about Sally, go to
www.sallyabrahms.com