Hate Math? Your Retirement Could Be at Risk
Math anxiety is extremely common, and it could affect your retirement saving potential. Here's why and what you should do about it.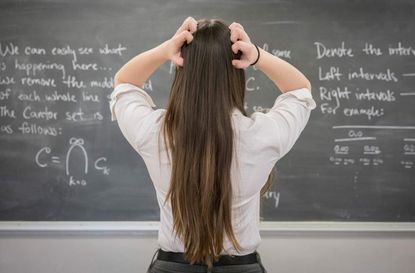 (Image credit: (C)Hill Street Studios/Blend Images LLC ((C)Hill Street Studios/Blend Images LLC (Photographer) - [None])
You may not have heard of math anxiety, but let me assure you, it is real. Defined as a "negative emotional reaction to mathematics," math anxiety is an extreme feeling of nervousness that some individuals experience when faced with performing tasks involving math.
Math anxiety is felt by people in all age groups. According to one study, 93% of American adults (opens in new tab) have indicated that they felt some level of math anxiety, and 17% have suffered from high levels of it. This anxiety can linger from childhood to adulthood, and ultimately it could affect your retirement saving potential.
I've seen math anxiety firsthand in the classroom
As a former high school math teacher, I had numerous students who suffered from this enigma. Math anxiety is different from being nervous about taking a test or being afraid to make a mistake in front of your peers. The anxiety these kids faced was often so bad that even when I would sit one-on-one with them, their nerves would still prevent them from being able to focus on and comprehend math problems.
Subscribe to Kiplinger's Personal Finance
Be a smarter, better informed investor.
Save up to 74%
Sign up for Kiplinger's Free E-Newsletters
Profit and prosper with the best of Kiplinger's expert advice on investing, taxes, retirement, personal finance and more - straight to your e-mail.
Profit and prosper with the best of Kiplinger's expert advice - straight to your e-mail.
In most cases, students who needed help the most were the least likely to be recognized or ask for help. The idea of facing their anxiety was as nerve-racking as suffering through it on their own. These kids underperformed on assignments, quizzes and tests compared to their classmates without math anxiety. The underperformance then fed the anxiety, causing the student to feel they were not good at math, ultimately hating the subject and anything that could be associated with it, such as finances.
You may think math anxiety goes away as an adult, but …
As adults, this anxiety may seem to subside, simply as a result of being removed from the classroom or situations that regularly induced the anxiety. However, this anxiety can quickly rear its ugly head when the person once again is faced with a mathematical judgment situation in everyday life.
When might the use of math actually be relevant in one's everyday life? How about in establishing and carrying out a financial plan? Developing a financial plan of any kind will almost certainly require the solving of a mathematical problem or equation. Consequently, an individual who struggled with math anxiety (opens in new tab) as a student may experience yet another hurdle as a result of this condition, now as an adult.
How math anxiety can hurt you financially
In my experience, it's no easy task for anyone to tackle and organize all of their financial information, and then accordingly construct and implement a plan designed to take them from where they're at now to where they want to be in the future. However, for someone crippled with math anxiety, this isn't just a task that won't be easy to do; it's a task that feels impossible. So, instead, they're likely to put retirement planning on the back burner for another day and to ease that old feeling of inadequateness.
Even though there are resources and professionals who could assist in this task, just as when they were kids, many will not ask for help … yet they really need it. The idea of appearing uneducated causes them to feel insecure and certainly not confident enough to seek out a professional financial planner.
Sound familiar? What you should do
If you've ever experienced math anxiety, a good first step is to realize you aren't alone in your struggles. Next, as an adult, it may be easier to calm your fears and realize that, like other obstacles you've faced, this too is doable. Many resources are available to guide you. Lastly, because you're an adult, you have the option to enlist a financial planner and let someone else do the math for you – and now it won't even be considered cheating!
Madison Parker is an investment advisor representative of, and advisory services are offered through USA Financial Securities. A Registered Investment Advisor located at 6020 E. Fulton St., Ada, MI 49301. Parker Financial Group and Rodger Parker are not affiliated with USA Financial Securities.
Partner, Parker Financial Group
Maddie Parker is a partner at Parker Financial Group (opens in new tab) (PFG) in Overland Park, Kansas. She holds the designation of CERTIFIED FINANCIAL PLANNER™ professional. Maddie has a Bachelor of Science in Education of Mathematics and a Master of Science in Education of Mathematics from the University of Kansas.