Should You Fast-Forward to a 'NextGen' Adviser?
If your grandfather's financial adviser doesn't feel like a good fit, it might be time to go shopping.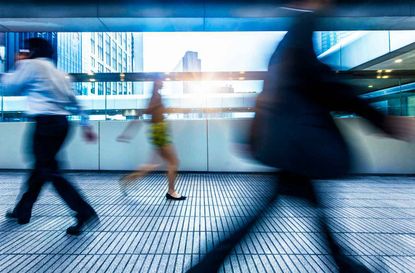 (Image credit: chinaface)
Our brains are wired to be attracted to all things new (opens in new tab), and in the field of financial advice what's new is the "NextGen" adviser. Just who is this mysterious NextGen adviser? Is it a good idea for everyone to hire one right now?
Let's start with some facts. The financial advice field is aging at an alarming pace. According to research by Cerulli Associates, (opens in new tab) 47% of advisers at RIA firms are over 55, and only 11% are under the age of 35. Data from Ernst & Young (opens in new tab) echo those findings: The average age of a financial adviser is 50 and climbing. That means your adviser is probably on his or her way to retirement – and the hard work you have done to create planning continuity could go out the window, forcing you to begin again. Quick take-away: If you are working with an adviser today, ask him or her about the succession plan — it will affect you more than you can imagine. If you are in the process of looking for an adviser, read on!
NextGen Is Not Your Grandfather's Financial Planning
Discerning clients are no longer satisfied with the industry's traditional offerings. The last two decades have seen accounting scandals, stock market upheaval and sky-rocketing student loans. Today's clients, especially those on the younger end of the spectrum, distrust old strategies and want a different flavor of advice. Traditional financial planning topics like investing for retirement now share the stage with urgent pain points like debt management and cash flow. Clients want real-time updates that are more reminiscent of a Facebook newsfeed than a once-per-year printed annual performance report.
Subscribe to Kiplinger's Personal Finance
Be a smarter, better informed investor.
Save up to 74%
Sign up for Kiplinger's Free E-Newsletters
Profit and prosper with the best of expert advice on investing, taxes, retirement, personal finance and more - straight to your e-mail.
Profit and prosper with the best of expert advice - straight to your e-mail.
What does this mean for the industry? For one, clients are beginning to demand a different kind of financial planner: a NextGen adviser who is equally well-versed in brainstorming loan-repayment strategies as they are thinking through the choice between renting and buying. NextGen advisers came into the industry when comprehensive financial planning was the norm. Their model was shaped by the premise that advice based on the entirety of the client's money and personal situation is the way to financial well-being.
They also see the benefit of financial planning as an ongoing process — not a one-time exercise. Life pivots quickly. For some clients, that might mean moving cross-country to pursue a professional opportunity. For others, change might spell marriage and kids. Employment uncertainty and an increasing desire to take retirement in chunks, as opposed to waiting until 65, mean that planning and investment strategies must be built to adapt.
Could a NextGen Adviser Bridge the Gap?
What is the right move for professionals years from retirement who want to make smart financial decisions in this ever-changing landscape? They ought to consider finding an adviser who understands their needs today and has a deep bench of expertise at his or her fingertips. Too many clients feel pressured to select a professional who will be a good choice for their situation two decades from now. That approach results in much frustration for both the client and the adviser. My advice is to stop shopping for a suit that will fit "some day" and find one that has a tailored fit today.
Hiring a NextGen financial adviser offers a few important perks:
A NextGen adviser is more likely to "get" a younger client. That can translate into more compassion, connection and a shared understanding of financial goals and strategies. Do you want to get a handle on student loans or credit card debt? Are you trying to build a safety net of savings so that you can launch your own business? Not interested in buying a house and would rather take three months every year to travel? NextGen advisers can relate, which means less explaining and solid financial advice custom-fit for you.
A NextGen adviser is totally comfortable with digital technology. This goes beyond offering automated investing for a lower fee — something that many traditional firms are adding to their service menus. In addition, NextGen advisers are intuitively comfortable with apps, cloud technology, texting and social media. As a client, you will get access to advice and information in the format that is easy for you to digest.
NextGen advisers take a collaborative approach. Far from the traditional dynamic of the all-knowing adviser and the client who nods and signs on the dotted line, they understand that your long-term financial outcomes are driven by your ability to stick to the plan. As a result, they combine behavioral finance and technology to co-create solutions with you. They embrace the role of a financial coach. For you, that means stronger buy-in and better habits.
3 Tips for Choosing a NextGen Adviser
Be sure to interview several candidates, while keeping these three points in mind:
1. Hire a team, not a lone ranger. Your odds of a great financial outcome are better when you hire a team with a full range of expertise: investments, retirement and estate planning, cash-flow planning, taxes, insurance and charitable giving. Look for a deep bench of professional experience.
2. Demand a CFP. Many financial advisers have a veritable alphabet soup after their name. Making sense of those qualifications can be a challenge. How are you supposed to know which letter combinations matter most? My recommendation is to treat a CFP (Certified Financial Planner) designation as non-negotiable. It assures that the professional you choose is a true planner with the training and the expertise to look at more than just your investments. Ask the adviser about his or her qualifications, and think through those critically to discern which ones are most relevant for your situation.
3. Look for a holistic approach.You may have many goals and financial resources, and your financial plan should reflect that. Choose a planner who will work with you to adapt your strategy for whatever comes next and consider potential implications of decisions across all areas of your financial life.
Whether you are working with a financial adviser or just considering hiring one, remember that your journey to financial well-being is a marathon. Begin by building relationships that are right for you today — and will continue to support you over your lifetime.
William Rassman is a Certified Financial Planner and Director of Advisory Services for the independent investment and insurance firm Centric Capital Advisors. He began his career in NYC at Smith Barney in 2008. He has held positions at Deutsche Bank, Merrill Lynch and Mariner Wealth Advisors.
This article was written by and presents the views of our contributing adviser, not the Kiplinger editorial staff. You can check adviser records with the SEC or with FINRA.
Vice President - Wealth Adviser, Centric Capital Advisors
William Rassman is a Certified Financial Planner™ and Vice President – Wealth Adviser for the independent investment and insurance firm Centric Capital Advisors (opens in new tab). He began his career in NYC at Smith Barney in 2008.