Retirees, Survive and Thrive in the Gig Economy
With hundreds of online platforms focused on everything from ride-sharing to legal services, there's a good chance you can find work that fits your interests and expertise.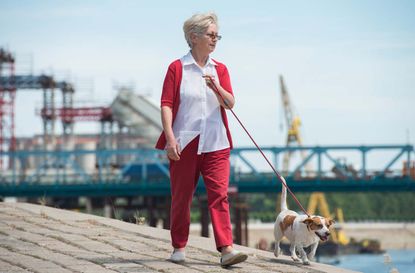 (Image credit: fotokostic)
How's this for a job description? Set your own hours, and work as much or as little as you like. Work from the comfort of your own home, or perhaps your vehicle. Use whatever you have to offer—whether it's professional expertise, an extra bedroom or simply your spare time—to earn some extra cash, stay engaged or try out new career paths.
That's the nature of work in the "gig economy," also known as the "sharing" or "on demand" economy, a world where online intermediaries connect independent workers with customers—and it's everyday life for a growing number of seniors looking to supplement their income. Older adults are driving for Uber (opens in new tab), the ride-sharing service; renting out their spare rooms or vacation homes to travelers through Airbnb (opens in new tab); and pet-sitting through DogVacay (opens in new tab).
More than 400,000 seniors are now doing gig work through such online platforms, according to a recent study by the JPMorgan Chase Institute. Although the gig economy is often seen as the province of millennials, older on-demand workers are getting a greater share of their income from these platforms than younger people, the study found. On many gig platforms, the ranks of older workers are growing fast. A November report from Airbnb, for example, notes that the number of U.S. hosts age 60 and older climbed more than 100% over the previous 12 months, making them the fastest-growing host age group on the home-sharing platform.
Subscribe to Kiplinger's Personal Finance
Be a smarter, better informed investor.
Save up to 74%
Sign up for Kiplinger's Free E-Newsletters
Profit and prosper with the best of Kiplinger's expert advice on investing, taxes, retirement, personal finance and more - straight to your e-mail.
Profit and prosper with the best of Kiplinger's expert advice - straight to your e-mail.
With hundreds of online platforms focused on everything from ride-sharing to legal services, consulting and health care, there's a good chance you can find gig work that fits your interests and expertise. "There's something for everybody, and that is one of the exciting parts of this," says Fiona Greig, director of consumer research at JPMorgan Chase Institute (opens in new tab).
In many ways, gig work can be a perfect fit for baby boomers and older adults looking to generate extra income. You can work just a week or two here and there, leaving plenty of time for travel and other interests, or use part-time on-demand work as a way to smooth the transition from a 40-hour work week to full-time retirement. Gig jobs often provide social interaction for seniors who might otherwise feel isolated. And because there are typically no job interviews, there's less risk of age discrimination, which can make it tough for seniors to find traditional employment.
But there are also some big challenges. Instead of a steady paycheck, gig work tends to provide lumpy, unpredictable income. That makes budgeting difficult. On-demand workers generally don't get traditional workplace benefits, such as 401(k)s and health insurance, or unemployment benefits when they're out of work. And because they're typically considered self-employed, gig workers must carefully track their income and expenses, make quarterly estimated tax payments, and deal with other tax headaches.
Seniors are turning to gig work as they face longer life spans and traditional employment becomes tougher to find. While employment in traditional jobs declined slightly between 2005 and 2015, the percentage of workers in alternative work arrangements—including temp agency and on-call workers and independent contractors—climbed to nearly 16% in late 2015, from about 10% in early 2005, according to recent research from the National Bureau of Economic Research. The sharpest rise in alternative work arrangements was among workers age 55 to 75, the study found.
Many gig-economy platforms are actively reaching out to older adults. In a temporary partnership that ended last year, Uber teamed up with Life Reimagined (opens in new tab), an AARP subsidiary that helps people navigate life transitions, to offer financial incentives and educational events to Life Reimagined members who signed up to become drivers. Airbnb has published research on how home-sharing can help older people remain in their homes as they age. And the Freebird Club (opens in new tab), a new home-sharing platform launched in April, is focused solely on older adults, limiting membership to those ages 50 and up.
Find the Right Fit
The sprawling gig economy is no longer just about ride-sharing and renting out spare rooms. To find the right platform for you, first consider what you have to offer. If you speak a foreign language or play a musical instrument, you could teach lessons through Take-Lessons (opens in new tab). If you have a car or an RV that you rarely use, you can rent it out through Turo (opens in new tab) or RV Share (opens in new tab).
If you're a lawyer, consultant or health care professional, you can find gig work through UpCounsel (opens in new tab), Catalant (opens in new tab) or Doctor On Demand (opens in new tab). To get a sense of the variety of gig work available, check out the list put together by Hurdlr (opens in new tab), a service that helps gig workers track their income and expenses.
Also think about what you want to get out of your gig work—whether it's simply extra cash, social interaction, growing your small business or testing out a career change. If you're ready for a career change, gig platforms offer a low-risk way to try something new. "One of the nicest things about these platforms is you don't have to have an existing network to get started," because the online platforms can instantly match you with potential clients, says Steve King, partner at Emergent Research (opens in new tab), a small-business research and consulting firm. "If you've been an accountant and now want to make movies, you can do that," he says, through platforms such as Fiverr (opens in new tab), an online marketplace that matches customers with freelancers in video, music, design and other fields.
Other platforms are particularly well-suited for seniors looking to socialize. The Freebird Club (opens in new tab), the new home-sharing platform for older adults, is like Airbnb, "but a very social version which is geared toward companionship," says Peter Mangan, founder and chief executive officer. Unlike Airbnb, where many vacant properties are listed as short-term vacation rentals, Freebird lists only properties where the host is currently living. Instead of seeing only an accommodation listing, potential guests see hosts' profiles, complete with personal interests and hobbies, and hosts can see guests' profiles. As a host, you can choose the level of interaction with guests you prefer, whether it's minimal interaction, sharing meals when possible or spending time together visiting local sights. "We want people to select each other based on perceived compatibility and shared interest," Mangan says.
For Forrest Greenslade, home-sharing started out as a financial safety net, but it quickly became an engaging social activity and support for his second-act career. Greenslade, age 77, retired as president of a women's health organization in 2000, thinking he would write management books and do some public speaking. But a heart attack in 2001 forced him to abandon that plan, and he turned instead to painting and sculpting. Then, the financial crisis and recession "ate up my 401(k)," says Greenslade, who lives in Pittsboro, N.C.
So four years ago, Greenslade and his wife turned the apartment over their garage, which Greenslade had been using as an art studio, into an Airbnb rental. That generates roughly $12,000 to $15,000 in annual rental income, Greenslade says, and the apartment, decorated with Greenslade's paintings, "attracts people who have common interests with us" who hang out and drink wine in the garden with their hosts. Guests sometimes even purchase a piece of Greenslade's art. "We've had a wonderful experience," he says.
Get Real
If you're considering gig work, set reasonable expectations by researching the platforms that interest you, your earnings potential and the challenges ahead.
Ideally, "you don't just arrive at 64 and quit your job and decide to do gig work," says George Schofield, author of After 50 It's Up to Us: Developing the Skill and Agility We'll Need (Clarity Group, $15). Network with other on-demand workers, asking about their successes and failures, and consider picking up some gig work while you still have a traditional job.
When estimating your potential earnings, remember that there may be many workers competing for the same gigs. In recent research by Emergent and Intuit, 62% of gig workers said getting enough work is a challenge. "Frankly, if you're trying to use most of these platforms for full-time work, you're facing an uphill battle," King says.
Although it's relatively easy to get started with gig work, it may take some time to learn how to maximize your income on any given platform, says Garrick Chow, who teaches a course on working in the on-demand economy through the online education company Lynda.com (opens in new tab). Ride-sharing drivers, for example, may need to pinpoint the most profitable times to drive, rather than driving around all day wasting gas.
Be prepared for your income to come in fits and starts. More than half of gig workers in the Emergent/Intuit survey said that unpredictable income was a challenge. "One way to manage that volatility is to be sure you're withdrawing income you need from cash reserves" or other ultra-safe assets, rather than relying on gig income to pay the bills, says Rebekah Barsch, vice president of planning and sales at Northwestern Mutual (opens in new tab). Gig workers should keep at least six months' worth of living expenses in cash, she says.
Many gig workers need to sock money away when work is plentiful so they have savings to carry them through the lean times. Lori Clinch, age 53, of Winter Haven, Fla., started pet-sitting through DogVacay (opens in new tab) four years ago. "Normally I'm turning people away," she says, but business tends to dry up in January and February, when the snowbirds are in their Florida homes and have no need for pet-sitting. So Clinch has learned to step up her savings in November and December, when business tends to be brisk.
You may also need to construct your own safety net. Gig work generally doesn't offer an employer-provided retirement plan, disability insurance or health care coverage. Consider putting a good chunk of your gig income into an IRA or other retirement-savings vehicle. Organizations such as The Freelancers Union (opens in new tab) and Peers.org (opens in new tab) can help you construct your own benefits package, complete with health coverage and disability insurance.
Get Organized
As a gig worker, you're generally considered self-employed. You won't have an employer to withhold taxes from your paycheck, and you'll need to carefully track your income and expenses.
On-demand platforms may or may not send you a 1099 showing the income you've earned during the year. Regardless of whether you receive a 1099, "the income will remain taxable," and you should keep your own records, says Mike Slack, lead tax research analyst at the Tax Institute at H&R Block (opens in new tab). Apps such as Hurdlr (opens in new tab) and Everlance (opens in new tab) are designed to help gig workers track their income and expenses and get a real-time picture of their profits and taxes owed.
Document gig-related expenses as they are incurred so you can deduct them on your tax return. If you're a ride-sharing driver, for example, create a business-versus-personal mileage log in real time. The IRS "does not look with favor on a log created on April 15," says Mark Luscombe, principal federal tax analyst at Wolters Kluwer Tax & Accounting (opens in new tab). Ride-sharing drivers may also deduct tolls, parking fees and the portion of cell-phone expenses that's attributable to work as a driver. If you're renting out a home, or just a room, you may be able to deduct a portion of your real estate taxes, insurance and utilities. Apps focused on specific types of gig work can help with the bookkeeping. These include SherpaShare (opens in new tab) for drivers and Guesty (opens in new tab) for Airbnb hosts.
Gig workers generally need to file a Schedule C self-employment tax return and pay 15.3% self-employment tax, which covers Social Security and Medicare taxes. To avoid underpayment penalties, you'll typically need to make quarterly estimated tax payments. But if you still have a traditional employer, you can ask that employer to boost the withholding from your paycheck to cover the taxes you'll owe on your gig work, Slack says. Or you can increase the withholding on any required minimum distributions you are taking from retirement accounts (see The RMD Solution to the Hassle of Filing Estimated Taxes in Retirement).
If you're renting out your home, you'll likely need to file Schedule E and pay tax on your rental income. You may also owe self-employment taxes if you provide what the IRS calls "substantial services" to renters, such as meals and transportation, Slack says.
In response to the rapid growth of the gig economy, the IRS last year launched the Sharing Economy Tax Center (opens in new tab), with links to tax tips and publications for gig workers. For many seniors, however, gig work is just one piece of a much bigger retirement-income puzzle. Leta Miller, age 61, became an Airbnb host in 2013, renting out one room in her four-bedroom Wichita, Kan., home. That only brings in about $1,000 a year, she says, so she also prepares tax returns for three months a year, does some bookkeeping and teaches yoga, while her husband, a musician, also does some computer-related gig work. While home-sharing isn't making them rich, it helps them avoid dipping into their retirement savings—and Miller sees few downsides. "The only time we've had a drawback," she says, "was somebody who snored really badly."
Senior Editor, Kiplinger's Retirement Report
Laise covers retirement issues ranging from income investing and pension plans to long-term care and estate planning. She joined Kiplinger in 2011 from the Wall Street Journal, where as a staff reporter she covered mutual funds, retirement plans and other personal finance topics. Laise was previously a senior writer at SmartMoney magazine. She started her journalism career at Bloomberg Personal Finance magazine and holds a BA in English from Columbia University.