Fee-Based Annuities May Not Be Your Best Bet
New rule is already having a significant impact on how investors pay for investment products and advice.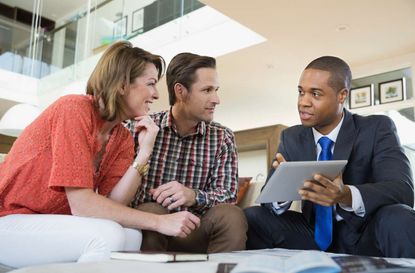 (Image credit: Copyright)
Annuities have long had a reputation for generating rich commissions for salespeople. Now, a new generation of annuities that are free of commissions promises to alter that perception—but the trend isn't a clear win for investors.
Insurance companies including Lincoln Financial Group, Pacific Life and Great American Life Insurance in the past year have launched new "fee based" variable and fixed-indexed annuities for use in brokerage accounts where investors pay an annual asset-based fee. Rather than be rewarded with an up-front commission, the adviser charges annual fees on the assets.
Fee-based annuities have some advantages for investors. When advice fees are charged separately—rather than as commissions baked into the annuity contract—investors have a better sense of how much they're paying for advice and how much for the investment. And by removing the temptation for an adviser to recommend the annuity that pays the juiciest commission, fee-based annuities should better align advisers' and clients' interests.
Subscribe to Kiplinger's Personal Finance
Be a smarter, better informed investor.
Save up to 74%
Sign up for Kiplinger's Free E-Newsletters
Profit and prosper with the best of expert advice on investing, taxes, retirement, personal finance and more - straight to your e-mail.
Profit and prosper with the best of expert advice - straight to your e-mail.
But you won't necessarily come out ahead. If you're buying an annuity you plan to hold for the rest of your life, and there's little for the adviser to do other than recommend an appropriate product at the outset, it may be hard to justify paying an annual asset-based fee.
The new products are a response to the U.S. Department of Labor's fiduciary rule, which requires financial professionals offering advice on retirement accounts to act in their clients' best interests. Although some of its key elements have been delayed until mid 2019, the rule is already having a significant impact on how investors pay for investment products and advice. Some brokerage firms, for example, are eliminating commission-based IRAs in favor of fee-based accounts.
Weigh the Costs
In some cases, fee-based annuities can be substantially cheaper than their commission-based competitors. Consider variable annuities—tax-deferred vehicles that let you invest in mutual-fund-like accounts. In a typical commission-based variable annuity, the annual fee—including a "mortality and expense" charge that compensates the insurer for risks it's taking in the contract, an administrative fee and a fee to preserve income guarantees—totals about 3%, says Stan Haithcock, an annuity agent in Ponte Vedra Beach, Fla. But in a fee-based variable annuity, he says, investors are likely to pay total annual fees of 1% to 2%, plus the adviser's fee.
What's more, annuity experts say, the ongoing active management required in a variable annuity justifies paying an annual asset-based fee to an adviser. Some variable annuities have dozens or even hundreds of underlying investment options, and the adviser can earn his fees by selecting appropriate investments and helping the investor maximize tax-deferred growth.
But fee-based fixed-indexed annuities don't make as much sense for investors, critics say. In these annuities, growth is tied to a market index. The downside is limited, but gains are also typically limited to a certain percentage of the index return over a specified period and subject to an overall cap. Because growth is determined by a preset formula, advisers don't provide much ongoing active management in these products. "There's no rationale," Haithcock says, to charge an ongoing asset-based fee in these annuities.
By removing the commission, however, insurers can boost the guaranteed minimum interest rate and the cap on gains in fee-based fixed-indexed annuities, says Will Fuller, president of annuity solutions at Lincoln Financial Group. So depending on the level of the adviser's fee, he says, the client may get a higher rate than if he bought the commission-based product.
When sizing up a fee-based annuity, be sure you're adding the advisory fee to the product cost for an apples-to-apples comparison against commission-based annuities, says Mark Cortazzo, a financial planner in Parsippany, N.J. A fee-based variable annuity with annual fees of 1.8%, for example, may look like a bargain compared with a commission-based variable annuity charging 3% a year. But when you add in the annual 1% fee you'd pay in a typical fee-based account, your total costs come to 2.8%—almost as much as the commission-based annuity cost.
Ask how the asset-based fee will be debited: To avoid triggering tax consequences and eating into any income guarantees, it should typically be drawn from other assets in your fee-based account—not from the annuity itself. And if the adviser is really not offering ongoing advice on the product, but simply saying "buy this," Cortazzo says, ask yourself whether you should be paying an advisory fee at all.

Senior Editor, Kiplinger's Retirement Report
Laise covers retirement issues ranging from income investing and pension plans to long-term care and estate planning. She joined Kiplinger in 2011 from the Wall Street Journal, where as a staff reporter she covered mutual funds, retirement plans and other personal finance topics. Laise was previously a senior writer at SmartMoney magazine. She started her journalism career at Bloomberg Personal Finance magazine and holds a BA in English from Columbia University.