How to Remodel Your Home
Transform your home the way you want, on time and on budget.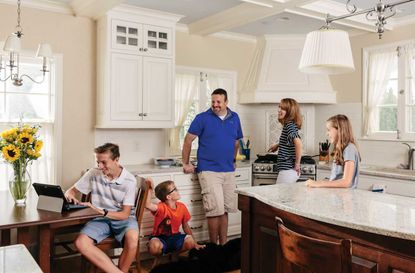 (Image credit: Lucy Hewett)
Jason and Carrie Kelroy of Wauwatosa, Wis., loved their 2,200-square-foot, 1930s-era colonial, and they loved their neighborhood, where they could walk to schools, their church and a coffee shop, or drive to a Milwaukee Brewers game or to Summerfest on the lakefront in 20 minutes. But with three kids and two big dogs, the space felt tight. "So we thought, Let's make it work for the long run," says Carrie.
In 2014, the Kelroys undertook the first in a series of remodels. They hired David Pekel, a design-builder and president-elect of the National Association of the Remodeling Industry, to renovate their kitchen and add a mudroom. They also removed a wall to enlarge the kitchen, added 250 square feet to the back of the house and moved a powder room. That project took five months and cost $215,000. In 2017, they paid another firm to waterproof the basement, and they rehired Pekel to remodel the rec room and add a full bath to create a hangout for their kids. This time it cost $75,000 and took three months. Next up: a master bath remodel expected to start late in 2017.
With strong consumer confidence and rising home prices, homeowners such as the Kelroys have taken advantage of growing home equity and low interest rates to remodel like crazy. Baby boomers who want to age in place are leading the charge, followed by millennials who, due to a shortage of affordable, entry-level homes, are buying fixer-uppers.
Subscribe to Kiplinger's Personal Finance
Be a smarter, better informed investor.
Save up to 74%
Sign up for Kiplinger's Free E-Newsletters
Profit and prosper with the best of expert advice on investing, taxes, retirement, personal finance and more - straight to your e-mail.
Profit and prosper with the best of expert advice - straight to your e-mail.
A major remodel requires patience, perseverance and money -- not to mention a tolerance for dust and disruption. For some couples, it also requires a referee to navigate the conflicts that numerous decisions create. Regardless of your project's size, complexity and cost, you have a greater chance of success if you follow these seven steps.
Step 1: Create a Wish List
Now's your chance to spend guilt-free hours browsing home and design magazines and websites such as Houzz.com and Pinterest.com to discover your wishes, likes, needs and wants. Gather your tear sheets, printouts, photos and notes in a file or an idea book on Houzz.com (online or on the mobile app). Don't worry about cost. If you can't afford what you've chosen, your project designer can help you get the look and feel for less.
Think about how you use your house. What works? What doesn't? What are your priorities? Do you want to maximize use of existing space—say, by finishing an attic or basement? Or do you want to add a first-floor family room or master suite? Improve traffic flow? Add light? Increase privacy or security? What do you want to change most, and what can wait?
Step 2: Get Real
The before and after images of home-renovation shows on HGTV and the DIY Network are compelling, but don't be deceived about the projects' cost and duration. Budgets on TV aren't realistic, with some contractors charging less than their usual rate and advertisers donating free materials. Time frames are rushed, with con­tractors working around the clock with many more workers than usual.
To get a rough idea of what your project may cost, check the 2017 Remodeling Cost vs. Value Report (opens in new tab). For 29 pop­ular remodeling projects, you can get a project description and the average cost in nine regions and 99 cities. The report also provides an estimate of the percentage of the job cost that would be recouped if the home were sold within a year of completion -- though that's a moot point if you don't plan to sell soon. If you plan to move within five years, be careful not to over-improve beyond what's typical in your neighborhood because you aren't likely to get the cost back in the sale price.
Next, ask yourself: How much do you want to spend? Will you pay from savings or borrow the money? If you want to borrow, reach out to lenders to see roughly what you'll qualify for. Don't stretch your budget to the limit. Rather, allot 10% to 15% for a contingency fund to pay for unexpected construction issues. If you don't need it, you can always use the money to buy new furniture.
How long will your project take? That depends on its scope, but Pekel offers these guidelines: Remodeling a bathroom with high-quality finishes (such as custom tile work and a custom vanity top) will take about two months. A kitchen gutted to the framing and remodeled within the existing space but with a wall removed will take three to three and a half months. Remodeling or adding a large room can take six months. A year from your desired completion date isn't too soon to begin planning.
You'll have to decide whether you can live in your home during the renovation or whether you'll need to move out. For the Kelroys' first project, which put their kitchen out of commission when the work moved inside, they set up a temporary kitchen in their dining room and grilled out a lot. If the whole house is involved, you could move in with family or friends temporarily or find a month-to-month rental property. Talk with your contractor about a deadline for your move. The cost of storage, moving and rent could add thousands to your budget.
Step 3: Pick a Remodeler
For one-stop shopping, most homeowners hire a design-builder, which is a general contracting company that provides design and construction services. Or you could hire an architect to design your project and a general contractor to build it. If you go with an architect, look for one who specializes in residential design and has solid experience in remodeling -- a different beast than new construction.
Design-builders typically use a designer and an architectural engineer, but they also consult structural engineers and specialty trade contractors about cost, schedule and construction issues. They typically set their cost in one of two ways: With a fixed-price contract, you know from the outset what your cost will be, as long as the plan is comprehensive and detailed. If changes are required after construction begins, the cost will either go up or down, reflected in written change orders to your contract. A cost-plus contract, also known as a time-and-materials-plus-profit contract, is more open-ended, but it creates the risk of cost overruns and price shock at the end, says Steve Bliss, founding editor of Buildingadvisor.com (opens in new tab). He says such a contract is most suitable for small jobs for which large cost overruns are unlikely. But a cost-plus contract may be necessary in situations with many unknowns, such as an older custom home with unknown history and unique features. In that case, ask the contractor to set a maximum price.
To find a design-builder, start with neighbors, friends and relatives whose remodels you admire, and ask for referrals and about their experience. Check out neighborhood message boards for recommendations. Visit the Consumers' Checkbook website, which rates contractors in seven major metro areas.
You can also find lists of remodelers at the websites of the National Association of Home Builders (opens in new tab) or the National Association of the Remodeling Industry (opens in new tab). Look at the pros' websites, where they describe their work and post photos of their best projects.
Call at least three design-builders. You won't have plans in hand, so you won't be able to get apples-to-apples bids. Describe your needs, wants, the size of your project and budget. Ask for an estimated range of cost and timeline. Beware a lowball estimate.
Dan Bawden (opens in new tab), a design-builder in Bellaire, Texas, and chairman of the Remodelers Group of the National Association of Home Builders (opens in new tab), describes the road to a contract like this: Schedule a first appointment at your home with each of the two contractors you like best. See whether you have good chemistry (remember, you'll be in each other's lives for a while). The contractor will take some measurements and photos, look at your idea book to get a better sense of the quality and cost of the finishes you want, discuss the feasibility of your project, and offer some initial design ideas. Be prepared to give the contractor a copy of the bylaws of your homeowners or condo association, which will outline any requirements and restrictions or protocols for review of your plan.
The contractor will give you a ballpark estimate of the cost to design and build your project, and you can discuss adjustments to get your top priorities and weed out the things you won't miss. Bawden calls this exercise "What do I save if?"
Step 4: Vet the Details
If you accept the estimate, the contractor will prepare a detailed proposal and estimate. It should describe the project from beginning to end, including steps in construction and materials to be used. The contractor may require a separate agreement and fee for the design in case you choose to hire someone else.
If you accept the proposal and estimate, the contractor will schedule a design meeting at your home to identify structural issues and take measurements that will allow him to prepare architectural drawings, hire engineering services needed for structural changes and get required permits.
The design typically evolves through conceptual drawings, a traditional floor plan, elevation drawings (drawn as if you are standing in the room and looking at the walls), and three-dimensional renderings with color and realistic detail. Depending on the design software, you may be able to walk through your project virtually.
Next comes a scope of work, the game plan for how the project will be built. It will provide dollar amounts called allowances (often a price per square foot or category) for the materials and fixtures that you get to choose, known as selections.
Even with impeccable planning, you should expect the unexpected. In the contract, the builder should outline the use of written change orders that will be used to describe additional work, cost and time. Change orders also result when homeowners change their minds after construction has begun—an expensive proposition.
All those items will be pulled together in the final construction contract, which will include the terms and schedule for payment, a project timeline with start and completion dates, and the builder's warranty.
Remodelers typically offer warranties for their work for one or two years. The warranty will cover the work and the products and materials installed by the contractor, excluding those already covered by manufacturers' or suppliers' warranties.
Design-builders may ask for a down payment of up to 25% or 33% of the job cost, says the NARI. The contractor will schedule payments due at milestones in the work, such as completion of a foundation or framing. "The money should follow the progress of the job," says Bawden. You could negotiate a lower down payment, but offer to make smaller, more frequent payments throughout the job, says Bliss. A final payment of, say, 5% to 10% will be due when the space is livable and usable (your contract probably will say "substantial completion").
Step 5: Pick Your Stuff
Here's an opportunity to shop till you drop. Selections typically include paint colors, cabinets, flooring or carpeting, countertops, tile, plumbing, and lighting fixtures. A builder may ask you to make your selections before he completes the scope of work and final construction contract to lock in costs and avoid waiting for orders after construction begins. The builder may refer you to showrooms where it has relationships and you may receive builder discounts.
Making selections can be time-consuming and overwhelming. "Some people are afraid to commit, and I've had people cry over a choice of tile," says Bawden. But one of the biggest mistakes homeowners make is failing to make those decisions promptly, which can delay the project and increase the cost.
Step 6: Begin the Work
To make sure everyone is on the same page, the contractor will call a preconstruction meeting to review the scope of work with all team members, including you. You'll cover such matters as the arrival and departure times of workers, where to locate a Dumpster and store materials, and how they will contain dust.
You may need to empty cabinets, clear countertops and store belongings elsewhere. Designate one room for valuables, and ask the builder to install a keyed lock.
Good communication during construction is key. Expect a weekly progress meeting and regular com­munication by phone or e-mail. Respond quickly to avoid causing delays.
Step 7: Wrap It Up
As the project nears completion, the contractor will walk with you through the remodeled area to create a list of incomplete items or touch-ups. The contractor will send a cleaning crew, and then your final payment will be due. Hold back a small amount as leverage until those loose ends are tied up, says Bliss. You'll receive a certificate of completion and a lien release document. Don't sign it until the work is finished and you're satisfied.
After you live in your new space, you'll inevitably see other odds and ends that you want fixed, says Bawden. Over several weeks, apply a piece of tape to mark items as you spot them. Then call the contractor to do them all at once and under warranty.
Renovations done right can provide a new outlook on an old home. "Our first project was like moving into a new house. It changed the way we lived in it," says Carrie Kelroy.
Home Remodeling Trends: Do's
Neutrals, like greige (warm gray with lots of brown) and warm beige.
Contemporary cabinet styles with clean lines and simple doors.
Wood, reclaimed and rustic woods, white- or gray-painted cabinetry.
Quartz countertops and backsplashes with subway tiles.
Hardwood, ceramic-tile and high-quality vinyl flooring.
Induction cooktops, convection ovens and microwave drawers.
Home Remodeling Trends: Don'ts
Sterile-looking white and off-white. Brights (lime green, anyone?). Disco-era mauve and hunter green.
Traditional or fussy styles. Crown molding in baths and kitchens.
Wood veneer or vinyl (thermofoil) cabinet surfacing.
Granite (not entirely out, but waning a bit).
Wall-to-wall carpeting, especially in the bathroom.
Freestanding microwaves on the countertop or built-in at eye level.
Coming Up With the Cash
If you need to borrow, talk with lenders early in your planning so you know your options, says Jerry Anderson, vice president of residential lending at Alliant Credit Union (opens in new tab). Here are two popular ways to finance remodels:
Home-equity borrowing. A home-equity loan (also called a second mortgage) provides a lump-sum payout and the predictability of a fixed rate and monthly payments over five to 20 years. A home-equity line of credit (HELOC) is a revolving line of credit that you can tap as needed. You'll pay a variable rate of interest on any outstanding balance. During the initial draw period, usually 10 years, you can borrow up to your limit and pay interest only. If you pay down the balance, you'll replenish the line. When the draw period ends, you must make payments of principal and interest.
The average fixed rate for a home-equity loan was recently 5.27%, and the average variable rate for a HELOC was 5.49%, according to Bankrate.com. Lenders may offer discounts on the rate for large lines. Most lenders will lend you up to 75% or 80% of the appraised value of your home, but some will go higher.
A construction-to-permanent loan. This loan is based on the future value of your home, after your project is done. Lenders generally charge a bit extra for their risk, usually an eighth to a fourth of a percentage point. They'll usually lend up to 90% of your home's "as-completed" value, but no more than $424,100 in most locales or $636,150 in high-cost areas. On jumbo loans of more than $636,150, you'll be able to borrow up to 80% of the home's completed value. During construction, you'll pay interest only on the balance. When construction is complete, interim financing converts to a permanent mortgage.
TAKE OUR QUIZ: How Smart of a Homeowner Are You?
Contributing Writer, Kiplinger's Personal Finance
Esswein joined Kiplinger in May 1984 as director of special publications and managing editor of Kiplinger Books. In 2004, she began covering real estate for Kiplinger's Personal Finance, writing about the housing market, buying and selling a home, getting a mortgage, and home improvement. Prior to joining Kiplinger, Esswein wrote and edited for Empire Sports, a monthly magazine covering sports and recreation in upstate New York. She holds a BA degree from Gustavus Adolphus College, in St. Peter, Minn., and an MA in magazine journalism from the S.I. Newhouse School at Syracuse University.