7 Things to Review Before Accepting a Buyer's Purchase Agreement
Be sure to take a close look at these key areas.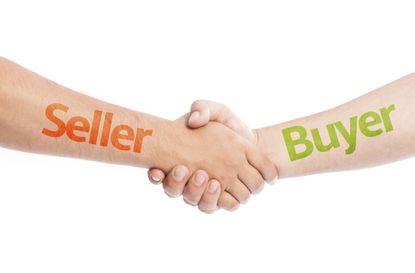 (Image credit: Getty Images/iStockphoto)
If you are selling your home and and have gotten an offer or two from potential buyers, consider these key points first before sealing the deal:
1. Price
If you receive what you consider an insultingly low offer, don't give in to an emotional response. Be realistic, objective and, above all, cool. Examine the offer. Was the price based on an independent appraisal or a broker's market analysis? How long has your property been on the market? How many written offers have you received? What kind of market are you in -- buyer's or seller's?
Don't use price alone as a reason not to counter or negotiate. A first offer may reveal what's most important -- price or terms -- to this particular buyer and thus give you the key you need to begin the bargaining.
Subscribe to Kiplinger's Personal Finance
Be a smarter, better informed investor.
Save up to 74%
Sign up for Kiplinger's Free E-Newsletters
Profit and prosper with the best of expert advice on investing, taxes, retirement, personal finance and more - straight to your e-mail.
Profit and prosper with the best of expert advice - straight to your e-mail.
2. Condition of Home and Inspection
It is fair that the purchaser should have the opportunity to have your home inspected for soundness of construction and state of repair. Keep the process fair by insisting that the person or firm to be used is named in the contract by professional designation, and set a time limit for the removal of the contingency -- five or so working days.
As a rule, contract language determines what must be in working order at settlement. Make sure everything is clearly spelled out; otherwise, local law and custom may prevail.
3. Financing
If the contract is contingent on a buyer's ability to obtain an acceptable loan, does the clause spell out what actions are required by the buyer? What interest rate and number of discount points does the buyer consider "acceptable"? Is there a time limit? What will happen if no loan is secured by the agreed-on deadline? How will you know when the buyer gets a loan commitment? How can the contingency be removed? Generally, you'll want to leave the buyer as few escape hatches as possible.
4. Response Deadline
You'll be asked to respond to a contract offer within a specified period of time -- say, one or two days. Try to get as long a response time as possible. If you are presented with a desirable contract containing a deadline you are unable to meet -- perhaps because your attorney or spouse is out of town -- counter promptly with a more suitable time frame -- and an explanation.
If you think you'll have other offers coming in, you'll want to buy as much time as possible to review them and perhaps use one offer to jack up another.
5. Sale of Buyer's Home
Should you cooperate with a prospective purchaser who must sell a home before buying yours? Maybe. But when you accept a contract offer contingent on the sale of the buyer's house, you are linking the sale of a property you know -- yours -- to the sale of one you don't know -- his. You'll be taking your house off the market until the buyer's house is sold and closed. If things go awry, you could end up weeks later just where you started -- hanging up a "for sale" sign.
Nevertheless, if you believe accepting an offer contingent on the sale of the buyer's home is the best you can hope for under the circumstances, seek the advice of a broker familiar with the market in the area of your potential buyer's home. Assure yourself that the property is salable and reasonably priced. Get marketing plans set out in the contract. For example, it should be clear what the owner proposes to do if the home doesn't sell after one month, after two, and so on.
Consider asking for an up-front nonrefundable option (in lieu of an earnest-money deposit), which you will retain if the deal fails to close within a specified time. Have the contingency sale clause reviewed by your attorney. Better still, have her write it.
6. Settlement Date and Occupancy
If you're selling your home because you already have another house under contract, seek a settlement date that will enable you to take your sales proceeds to the next closing. Be realistic; the buyer of your home will probably need at least 30 to 50 days to arrange financing and come to closing.
Most sold homes are delivered to the buyer empty and clean on settlement day. If you need a temporary place to live after settlement, resist the path of least resistance. Our best advice: If at all possible, avoid staying in your old home even one night after closing. And don't accept the new owner's offer -- no matter how friendly -- to accommodate you with a short-term lease.
7. Other Conditions
Other contingencies address problems or events that may happen between the time the contract is signed and the time title is passed to the buyer. If your house burns down or a natural disaster strikes, what happens? Does the buyer have to buy and pay the agreed-on price? Can the whole deal be called off? Can a lower price be offered? What about insurance proceeds?