6 Steps to Spring Clean Your Financial House
Do you have piles of paperwork cluttering up your kitchen? When's the last time you checked insurance rates or tracked your spending? Spring is a great time to get organized.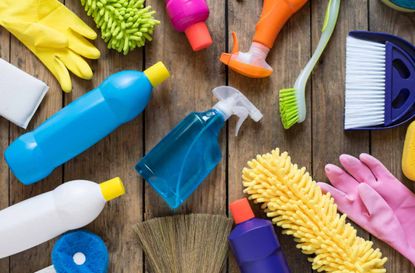 (Image credit: Chutima chaochaiya)
It has been a long winter, and the last thing anyone wants to think about is spring cleaning; however, an annual deep clean of your house is a chance to start fresh, get organized and get back on track.
The same is true for your "financial house." By taking this time once a year to review your financial well-being and creating clean and organized finances, you may be able to gain confidence while freeing up more time to enjoy the warm spring weather just around the corner.
Use the following S-P-R-I-N-G acronym to get motivated as you review components of your "financial house."
Subscribe to Kiplinger's Personal Finance
Be a smarter, better informed investor.
Save up to 74%
Sign up for Kiplinger's Free E-Newsletters
Profit and prosper with the best of Kiplinger's expert advice on investing, taxes, retirement, personal finance and more - straight to your e-mail.
Profit and prosper with the best of Kiplinger's expert advice - straight to your e-mail.
S—Shred old financial documents.
Keep your tax returns, canceled checks, and any records that support tax deductions for auditing purposes. But, it may be time to get rid of those old pay stubs, financial records and documents that you've been saving for years. The IRS recommends keeping tax documents anywhere from three to seven years depending on your specific tax situation. Visit www.irs.gov (opens in new tab) to learn more and determine how long you should retain your tax documents. And remember, it's important to shred, not throw away old financial documents to help protect your identity.
P—Prioritize your expenses.
Review your savings goals and spending habits. If you have never tracked your spending or set a budget, you may be surprised at how much small purchases add up. Consider using online resources to establish a budget and provide personalized financial reminders. These sites also provide expenditure comparisons, such as the average cost of auto insurance, to help identify additional savings opportunities.
R—Review your estate plan.
Creating an estate plan is a way to efficiently pass on assets to your loved ones and to help avoid the stress and cost of probate after you pass away. If you already have an estate plan, do an annual review to make sure designations are all still current. If a major life event has occurred ,— such as marriage, divorce, birth or death — since the last time you updated your estate documents, take action and meet with a qualified attorney to help you make the necessary revisions.
I—Investigate your insurance coverage.
Now is a great time to review all of your current insurance policies to make sure you're still paying the best rates and have the appropriate amount of coverage. This review includes home, vehicle, health, long-term care, life insurance and more. If you have had a policy in place for a number of years, there may be enhanced benefits or better rates available in the marketplace than in years past. Consider bundling policies and shopping rates to find the best deal for you.
N—Negotiate your rates.
Every year, make it a priority to look at your outstanding debts and the interest rates you're paying. Compare rates so that you have a realistic expectation of a possible rate reduction. If your rates are on the high side, contact the loan provider or credit card company and start negotiating a lower rate.
G—Go over your retirement plan.
If you already have a retirement savings account, review the plan and consider contributing the maximum amount possible or, at a minimum, taking advantage of any employer-matching programs available to you. If you do not have a retirement savings account through work or want to contribute even more, consider opening an individual IRA or a Roth IRA as a way to save for retirement.
Remember, your finances should be top-of-mind all year long; but take some extra time this spring to review your progress and get your financial house in order. If you are feeling unsure about your retirement, be sure to consult a qualified financial professional.
Steve Post contributed to this article.
President, Fortune Financial Group
Christopher Scalese, financial adviser, insurance professional and author of the book Retirement is a Marathon, Not a Sprint, is the president of Fortune Financial Group. Scalese has spent much of his career assisting with the financial transition from the working years to the retirement years. His primary goal is to help structure finances for steady income, while limiting risk and avoiding unnecessary taxation. Scalese is a financial representative and a life and health insurance licensed professional.