How Investors Can Spot the Next Steve Jobs: 5 Tips
Apple's co-founder was the quintessential "stemwinder," a leader with the passion to drive a company (and stock portfolios) forward. To seek out companies led by stemwinders, investors should ask these five questions.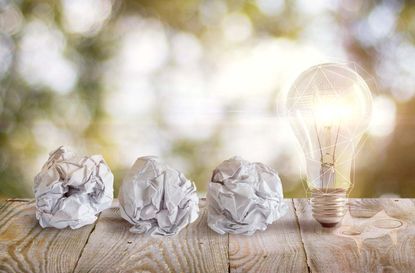 (Image credit: NATALIMIS)
When thinking about which companies are worth investing in, people usually look for a strong balance sheet and positive cash flow, but before delving too deeply into the company's bottom line, they should take a moment to consider its top leader. Is there a "stemwinder" at the helm?
What is a stemwinder? He or she is the leader of the business. It is the leader's job to "wind the stem" of the company on a regular basis to create momentum, keeping the company moving toward its goal. The term "stemwinder" refers to the stems of wind-up toys popular years ago, before battery-powered toys.
In a company, the work of winding the stem relates to goal-setting, product development, marketing, recruiting and hiring, sales, manufacturing, service and all of the other key functions of the business. The best CEO stemwinders know what the business needs and work diligently on that part of the business just when it needs it. Stemwinders do not necessarily need to be able to perform all these functions themselves or be masters at them – they just need to be able to find the best people for the job.
Subscribe to Kiplinger's Personal Finance
Be a smarter, better informed investor.
Save up to 74%
Sign up for Kiplinger's Free E-Newsletters
Profit and prosper with the best of Kiplinger's expert advice on investing, taxes, retirement, personal finance and more - straight to your e-mail.
Profit and prosper with the best of Kiplinger's expert advice - straight to your e-mail.
Often a great stemwinder has the vision to see a market opportunity before others do. They have incredible energy and passion, and they often are very open to new, innovative ideas.
A great growth company has to first have a great product or service, often created or developed by the company founder or leader. But this is only the first step. A great growth company will not only have an innovative new product or service, it will also have someone who knows how to sell it. This is the downfall of many CEOs. They have a solid product or service that is truly remarkable; however, they lack the ability to figure out how to bring it to market. So, a stemwinder needs to have not only great passion for the product or service, but also the ability to introduce the product to the customer in a way that is effective, efficient and profitable.
I have been studying some of the best stemwinder CEOs in the world and have learned a great deal about effective leaders. They all have one common trait: unyielding passion to grow and nurture their businesses. I believe studying great leaders can help you to develop a better portfolio of securities.
Who are some examples of stemwinders? I believe Sam Walton may go down as one of the top stemwinders of all time. His simple philosophy of how to grow a retail business was the key to his success. He had two basic beliefs — low prices and great service would make for a fine retail business. Those simple principles are still the driving force today in guiding Wal-Mart's current management.
Another stemwinder we all know is Steve Jobs, an exciting entrepreneur with design, development, marketing and financial skills. As co-founder and former CEO of Apple, he was, in essence, the complete CEO and a person driven to achieve extraordinary results. Jobs' middle name should have been "stemwinder" — he knew no other way to live.
Apple is enjoying tremendous success. In 2010, Steve Jobs was proud to announce that the company had achieved its first $50 billion year of sales. Today, thanks to the legacy of Jobs' steadfast commitment to perfection, the company is doing $50 billion in sales in one quarter!
Obviously, we all wish we could have invested in Wal-Mart or Apple when they first went public; perhaps some investors did because they realized that Walton and Jobs had the vision to carry their respective companies to success.
The stemwinder I see the most potential in right now is Elon Musk. His product, vision and leadership have the potential to propel Tesla (TSLA (opens in new tab)) to incredible success for decades to come.
Other stemwinders with outstanding potential who are less known by most investors are:
Want to know how to spot a stemwinder? Ask yourself the following five questions:
Do they have great energy and passion for the company mission?
Do they have the ability to overcome obstacles and create solutions?
Do they attract and hire strong, capable talent?
Do they have vision, seeing great opportunity when others see none?
Do they have a record of success?
Do all stemwinders succeed? Of course not; many keep trying and fail. There are many hard-charging CEOs and leaders who are trying to wind up their companies each and every day. Some of them do not seem to be able to wind up the right parts of the company, and as a result they do not achieve success. Sometimes success comes to a company because all the stars align to develop a unique growth opportunity.
However, that doesn't mean that you shouldn't seek out stemwinders. I think many investors underestimate just how important management is in a growth company. When great innovation meets excellent management, amazing things can happen and the value creation can be incalculable and unforeseeable.
Rob Lutts is president and chief investment officer of Cabot Wealth Management and the author of The Great Game of Business: Investing to Win.
President and Chief Investment Officer, Cabot Wealth Management
Rob Lutts is the founding partner, president and chief investment officer of Cabot Wealth Management and the author of The Great Game of Business: Investing to Win (opens in new tab). He has studied thousands of companies, both domestic and international, over the years, investing and managing portfolios professionally since 1983. He received his MBA in Investments and Finance from the University of Massachusetts in Amherst and his Bachelor of Science degree in Finance and Management from Babson College.