Warning Signs an Investment's Too Good to Be True
If someone offers you guaranteed fabulous returns with absolutely no risk, that's a dead giveaway. However, other shady signs are tougher to spot.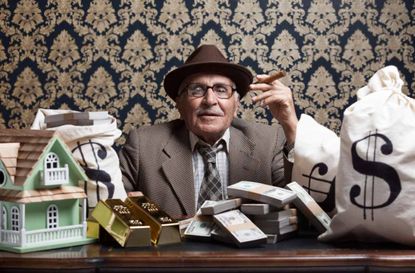 (Image credit: selimaksan)
Over the last few years, the broad markets have generally been on an upswing, which is great news for those planning for their retirements, business investments, education funding, philanthropic aims, charitable contributions and estate transfers. A major goal of investing is to build wealth, and many investments are based on knowledge and trust, so their merit and viability may not be questioned until they turn. But by then, it may be too late.
As you read news stories about once-respected companies engaging in dubious business practices, you should carefully review your own accounts for these warning signs:
1. Claims of high investment returns with little or no risk.
Every investment carries some degree of risk, and investments yielding higher returns typically involve more risk. Be extremely suspicious of any "guaranteed" investment opportunity, and look at the worst returns along with the best and the averages.
Subscribe to Kiplinger's Personal Finance
Be a smarter, better informed investor.
Save up to 74%
Sign up for Kiplinger's Free E-Newsletters
Profit and prosper with the best of Kiplinger's expert advice on investing, taxes, retirement, personal finance and more - straight to your e-mail.
Profit and prosper with the best of Kiplinger's expert advice - straight to your e-mail.
2. Overly consistent returns.
Investment returns tend to go up and down over time, especially instruments seeking to always beat the market. Be wary of an investment that continues to generate regular, positive returns regardless of overall market conditions. If you are invested in a higher-yielding instrument, especially one that has a foreign domicile, then also be aware of the tax and filing consequences that may apply.
3. Secretive and/or complex strategies.
Avoid investments that you don't understand or for which you can't get complete information. Review the risks and fees involved.
4. Issues with paperwork.
Ignore excuses regarding why you can't review information about an investment in writing, and always read an investment's prospectus or disclosure statement carefully before you invest. Account statement errors may be a sign that funds aren't being invested as promised. Also, you may be a victim of what was previously unthinkable: an unscrupulous business practice in which accounts are opened in your name without your authorization.
5. Difficulty receiving payments.
Be suspicious if you don't receive a payment or have difficulty cashing out your investment, especially if you have been told differently. Keep in mind that Ponzi scheme promoters sometimes encourage participants to "roll over" promised payments by offering even higher investment returns.
If you begin to worry that your investments are showing signs of suspicion or even fraud, then it is imperative that you bring your concerns to a professional who can help you determine the proper steps, which may involve higher authorities. If you feel that an unscrupulous broker or financial planner has misled you, then you may have to contact that person's branch or complex manager to lodge a formal, written complaint. You may have to take claims to binding arbitration.
If there is evidence of fraud, especially among multiple investors, then you could collectively contact the U.S. Attorney's Office and/or the state securities regulator where you live or where the suspected crime originates.
Any suspicion of financial crime or commodities, investment, securities, mail or telemarketing fraud should be reported to one of more of the following:
The government takes financial crimes very seriously but can only act when alerted.
Senior Portfolio Manager, Arlington Capital Management
Justin J. Kumar embraces a proactive, systematic investment management approach with a customized, proprietary system to help guide his clients toward their financial goals.