Travel Insurance to Protect Your Vacation
A comprehensive travel insurance policy covers all sorts of problems that might derail your trip. But mind the gaps.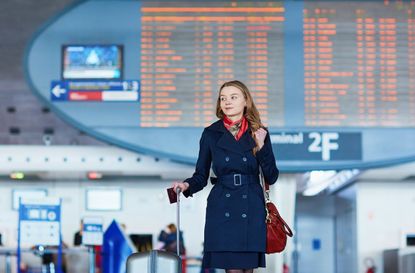 (Image credit: ekaterinapokrovsky.com)
You've finally booked a long-awaited Mediterranean cruise. Before cracking open your guidebook, make one more purchase to ensure that your dream vacation goes smoothly: travel insurance.
Nearly one-fourth of Americans had to cancel, delay or interrupt travel plans between spring 2013 and fall 2014, reports the U.S. Travel Insurance Association, mainly because of illness, severe weather or transportation delays. A comprehensive travel insurance policy includes coverage for those problems and others that might derail your trip, both before and during your vacation. As insurance goes, it's relatively inexpensive—typically 5% of the cost of your trip. You can generally lock in coverage up to 24 hours before your departure. But the sooner you buy, the more key, time-sensitive benefits you get, including coverage for preexisting conditions.
Good reasons to buy. Most insurers' package plans will reimburse your prepaid, nonrefundable trip expenses if you have to cancel or interrupt your travels because of a close family member's death or illness, storm damage that makes your destination uninhabitable, or a layoff from work. They also typically reimburse you if your flight is delayed or your bags are lost or stolen. And you should get 24-hour phone support.
Subscribe to Kiplinger's Personal Finance
Be a smarter, better informed investor.
Save up to 74%
Sign up for Kiplinger's Free E-Newsletters
Profit and prosper with the best of expert advice on investing, taxes, retirement, personal finance and more - straight to your e-mail.
Profit and prosper with the best of expert advice - straight to your e-mail.
If you fall ill or injure yourself abroad, the medical and medevac component will pay for emergency medical care, as well as medically equipped flights to a hospital or, in extreme circumstances, back home. When you travel abroad and rely on your own health insurance, you typically have to pay out of pocket and submit a claim when you return—if your policy provides coverage at all. Medicare pays for treatment abroad only in rare circumstances.
But even comprehensive policies have plenty of limitations and gaps—and hoops you have to jump through to claim a benefit. For example, if your bag was stolen, you'll need proof, such as a police report. And the coverage probably won't pay to replace your most expensive items—at full value or at all—so you may do better to add a camera or iPhone as a "scheduled item" on your homeowners policy.
Damian Tysdal, founder of TravelInsuranceReview.net (opens in new tab), says that one of his clients' most common regrets is not buying a policy sooner because they lose out on valuable perks. For example, preexisting medical conditions are normally excluded from travel insurance. But this exclusion can be waived if you buy your policy within about 10 to 30 days after you put down your first deposit toward your trip and satisfy a few other conditions. Usually, you can also add a "cancel for any reason" rider if you buy insurance within 10 to 21 days of spending money on your vacation, but such a rider is rarely a good value.
Terrorist attacks and disease outbreaks, such as Zika, are high on the list of travelers' concerns this year, but you may pay a lot more to cover these perils. What about weather-related problems or disasters? If you buy a policy with hurricane and weather coverage well in advance and there's storm damage to your destination that forces you to cancel, you are eligible for coverage. But your flight may have to be significantly delayed (say, between 12 and 48 hours), your accommodations ruined or the area evacuated. Once a hurricane is named, it's too late to buy coverage.
Don't rely on travel insurance sold by airlines, cruise companies or travel-aggregator sites. "It's one plan, no choice," says Tysdal. Even if you recognize the name of the insurer, it may have trimmed-down benefits to make the plan more affordable. For example, searching a weeklong trip to Peru on Delta.com produced a trip insurance add-on for $50. But it limits medical coverage to $10,000 and evacuation to $50,000, and will reimburse cancellation expenses for fewer reasons (and only up to the cost of the $668 plane ticket). Searching for a policy on comparison site Squaremouth.com (opens in new tab) for the same itinerary produced similarly priced plans with broader coverage, including ones with at least $50,000 in medical coverage and $100,000 for evacuation.
With a cruise-protection plan, you might receive a refund as credit toward a future cruise rather than as cash. Your credit card may offer trip-protection benefits, but the gaps are even more notable, especially for medical care.
If you don't think you'll need trip insurance—or you think the hassle of making a claim would be more trouble than it's worth—at least consider a stand-alone medical and medevac policy. Emergency evacuation can run six figures, which your travel insurer will coordinate and pay on your behalf. As above, look for about $50,000 in medical coverage and $100,000 for medevac coverage.
Shop around. The best way to shop for a policy is to use a comparison site, such as www.insuremytrip.com (opens in new tab) or www.squaremouth.com. (Policies are priced the same whether you buy them through a site or directly from the provider.) First, jot down your concerns or nonnegotiable items: Is your beachfront resort in hurricane territory? Look for a policy that allows you to cancel if a hurricane warning is issued within 24 to 36 hours of your departure. Are you participating in any "hazardous" activities, such as scuba diving? You may need to purchase an additional rider or dive only to a specified depth.
Next, enter into the quote box your trip dates, some personal details and the sum of all prepaid, nonrefundable portions of your trip that you don't want to forfeit. Once the search engine has generated a list of plans, sort them from least to most expensive, then work your way down until you find a policy that meets your needs at a reasonable price.
Getting reimbursed can be a hassle, and failing to submit proper documentation, such as proof of payment for claimed expenses, can delay or rule out a refund. For example, you will need a physician's note declaring you unfit to travel in order to cancel for medical reasons, or a report from the airline confirming your suitcase is delayed. Meals and accommodations may be covered while you're waiting out a flight delay, but you will need to keep your receipts. And if you recoup trip costs another way—say, your airline offers you credit for a missed flight—you can't accept the credit and apply for reimbursement. Look for travel insurance plans with primary medical care, rather than secondary, to speed up the claims process.
In all situations, call your provider as soon as you encounter a problem to confirm you're following the correct steps.
Cancel for any reason?
Spooked vacationers are increasingly looking to travel insurance to soothe their worries about terrorist attacks and diseases such as Zika. But even if your policy includes terrorism coverage, you'll typically be compensated for canceling your trip only if the attack occurs in or near a city on your itinerary (not just anywhere in the country), within 30 to seven days of your departure, and if it is deemed a terrorist attack by the State Department.
The same goes for travelers who are anxious about traveling to Zika-prone countries. Government or CDC warnings related to disease outbreaks are not considered valid reasons to suspend your trip. However, you'll still be eligible for medical coverage if you contract the virus during your travels.
To assuage your fears, you would need a "cancel for any reason" rider, but these upgrades are not a great value. The rider typically increases the price of your policy by 50% and will reimburse you for only about 75% of trip costs. "We don't recommend it unless travelers come to us with very specific concerns we know won't be covered," says Megan Singh, project management director at Squaremouth.com. Plus, you must still cancel two or three days before your trip is scheduled to begin.
Associate Editor, Kiplinger's Personal Finance
Miriam lived in Toronto, Canada, before joining Kiplinger's Personal Finance in November 2012. Prior to that, she freelanced as a fact-checker for several Canadian publications, including Reader's Digest Canada, Style at Home and Air Canada's enRoute. She received a BA from the University of Toronto with a major in English literature and completed a certificate in Magazine and Web Publishing at Ryerson University.