Best Cars for Young Drivers, 2013
Each vehicle has stability control and at least six airbags. Reliability is also key -- you don't want your kid to get stuck on the side of the road.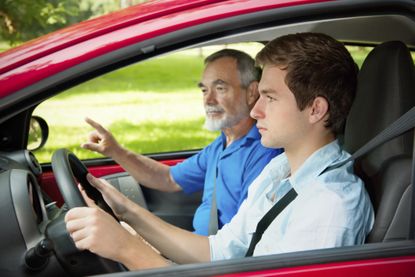 (Image credit: Getty Images/iStockphoto)
Got a high schooler, college student or new graduate who needs a car? We went shopping for youth-friendly wheels (no Camrys or Malibus) with a value spin. Here are four of our favorite new and used vehicles that won't bust your (or their) budget. They get high marks for safety and reliability. To see the full list of 10 cars, check out our slide show.
To start our search, we looked for vehicles that received a Top Safety Pick designation from the Insurance Institute for Highway Safety (its crash tests are more extensive than government tests). All of our picks have stability control and at least six airbags. Reliability is also key -- you don't want your kid to get stuck on the side of the road -- so we used Consumer Reports' used-car verdicts to help choose vehicles with above-average reliability. We looked for the technology kids want (and because that tech reduces distractions while driving, you want your kids to have it): Bluetooth and USB or iPod hookups that allow you to select songs on an in-dash screen. All the models have automatic transmission. Used-car prices are from Edmunds and assume clean condition and 12,000 miles per year.
2013 Mitsubishi Outlander Sport. Mitsubishi's Outlander, a small SUV, has scored high for reliability for years. Plus, the IIHS just gave the Outlander Sport a Top Safety Pick + award, meaning that it passed the new small-overlap crash test that simulates hitting a tree or telephone pole. Hands-free calling and USB are standard on the ES version ($21,195). Environmentally conscious drivers will appreciate the regenerative braking system (typically found on electric vehicles and hybrids), which captures energy that helps keep the battery charged and boosts fuel economy to 31 miles per gallon on the highway.
Subscribe to Kiplinger's Personal Finance
Be a smarter, better informed investor.
Save up to 74%
Sign up for Kiplinger's Free E-Newsletters
Profit and prosper with the best of expert advice on investing, taxes, retirement, personal finance and more - straight to your e-mail.
Profit and prosper with the best of expert advice - straight to your e-mail.
2013 Nissan Altima. The redesigned sedan has Infiniti-esque good looks and stellar fuel econ­omy (38 mpg on the highway). The 2.5 S ($23,650) features Bluetooth with streaming audio and steering-wheel controls for phone calls and music. A smart monitoring system displays each tire's pressure, and -- if you need air -- Nissan's Easy-Fill Tire Alert honks the horn to let you know when each tire is properly inflated.
SLIDE SHOW: See the 10 Best Cars for Young Drivers
2013 Subaru Impreza. A redesign last year gave this compact a striking new look, better fuel economy (36 mpg on the highway) and more standard features. As always with Subarus, sure-footed handling comes baked in thanks to standard all-wheel drive. On the 2.0i Premium ($21,065), auto-off headlights preserve the battery, and steering-wheel buttons control audio and hands-free calls. Bluetooth includes audio streaming, so you can select a playlist on your phone and play it over the car audio system.
2010 Honda Civic.Known for reliability, Honda's Civic is a perennial pick for good value. To get the tech features we wanted, we chose the top-of-the-line EX-L with Navigation ($16,966). The good news is that the three-year-old Civic costs about one-third less than the new version. Besides navigation, Bluetooth and a USB port are standard, and the Civic gets 36 mpg on the highway.
2010 Kia Soul. With its funky looks and plentiful amenities, such as standard Bluetooth and USB, the Soul + ($12,043) is a bargain. It handles like a go-kart but doesn't have too much power -- plus, it gets 30 mpg on the highway. There's plenty of room in the back -- the Soul has 39 inches of rear legroom and 19 cubic feet of cargo space -- to give the 'rents a ride or pack up all that stuff for the drive to college.
Ask Jessica a question at janderson@kiplinger.com, or follow her on Facebook or Twitter.

Associate Editor, Kiplinger's Personal Finance
Anderson has been with Kiplinger since January 2004, when she joined the staff as a reporter. Since then, she's covered the gamut of personal finance issues—from mortgages and credit to spending wisely—and she heads up Kiplinger's annual automotive rankings. She holds a BA in journalism and mass communication from the University of North Carolina at Chapel Hill. She was the 2012 president of the Washington Automotive Press Association and serves on its board of directors. In 2014, she was selected for the North American Car and Truck Of the Year jury. The awards, presented at the Detroit Auto Show, have come to be regarded as the most prestigious of their kind in the U.S. because they involve no commercial tie-ins. The jury is composed of nationally recognized journalists from across the U.S. and Canada, who are selected on the basis of audience reach, experience, expertise, product knowledge, and reputation in the automotive community.