Will There Be a Second Stimulus Check?
Despite support from President Trump and key Congressional leaders, the odds of getting another $1,200 stimulus check this year are fading fast.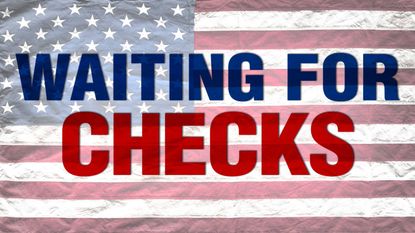 (Image credit: Getty Images)
Talk of a second round of stimulus checks began even before the IRS started delivering the first round of payments back in April. From the get-go, many lawmakers assumed that $1,200 (or more) per eligible American wasn't enough to provide a long-term boost to the U.S. economy. President Trump, Senate Majority Leader Mitch McConnell (R-Ky.), House Speaker Nancy Pelosi (D-Calif.), and other key players have said they support a second round of stimulus checks. Plus, both the HEROES Act (passed by the Democrat-controlled House in May) and the HEALS Act (introduced by Senate Republicans in July) included new stimulus check proposals.
So, with all this support, why hasn't a second round of stimulus checks been authorized? It's because Democrats and Republicans can't agree on the overall cost of the next economic stimulus bill. Democrats say they won't support any legislation that provides less than $2 trillion in spending. However, the White House is only willing to spend up to $1.5 trillion. And McConnell's "skinny" bill, which failed to pass in the Senate and didn't even include a stimulus check provision, only offered $650 billion in spending – $350 of which was previously appropriated money. (The HEALS Act called for $1.1 trillion in spending.) If lawmakers can't agree on the total amount of a new stimulus bill, then nothing will get done – which means you won't get a second stimulus check.
Chances of a Second Round of Stimulus Checks are Fading
There's still a chance that Congress and the White House will come together and enact another recovery bill that includes a second round of stimulus checks…but the odds of that happening are fading fast. Both Democrats and Republicans are digging in their heels regarding their spending positions, and the two sides don't even appear to be talking to each other at the moment. No new negotiations are schedule for the future, either.
Subscribe to Kiplinger's Personal Finance
Be a smarter, better informed investor.
Save up to 74%
Sign up for Kiplinger's Free E-Newsletters
Profit and prosper with the best of Kiplinger's expert advice on investing, taxes, retirement, personal finance and more - straight to your e-mail.
Profit and prosper with the best of Kiplinger's expert advice - straight to your e-mail.
Time is running out, too. Lawmakers will be leaving Washington, D.C., and returning home in early October. They won't be back in session until after the November elections. That means there's only a few more weeks to work on an agreement. Democrats and Republicans haven't been able to negotiate a new deal over the past four or five months, so it's easy to assume they won't be able to put their differences aside now.
It also doesn't appear as if a second round of stimulus checks will be slipped into a government funding bill. To avoid a government shutdown, Congress must act by September 30 to fund the federal government beyond that date. At one point, it looked like some economic stimulus measures could be added to any funding bills. However, it now appears as if there's an agreement to pass a "clean" continuing resolution, without any added provisions, to fund the government at current levels until sometime after the election.
Still a Sliver of Hope
Again, there's always a chance that a last-minute deal can be reached. Pressure from constituents could force some lawmakers into a more compromising mood. The opportunity to send voters another stimulus check right before the election (and take credit for it) could also entice lawmakers to cut a deal.
If an agreement can't be reached before lawmakers head home in October, a second round of stimulus checks might have a better chance of passing after the election during a lame-duck session of Congress. If that doesn't happen, the new Congress that convenes in January might have better luck. But that would depend largely on the outcome of the elections and who is in control of the White House and Congress next year.
Senior Tax Editor, Kiplinger.com
Rocky is a Senior Tax Editor for Kiplinger with more than 20 years of experience covering federal and state tax developments. Before coming to Kiplinger, he worked for Wolters Kluwer Tax & Accounting and Kleinrock Publishing, where he provided breaking news and guidance for CPAs, tax attorneys, and other tax professionals. He has also been quoted as an expert by USA Today, Forbes, U.S. News & World Report, Reuters, Accounting Today, and other media outlets. Rocky has a law degree from the University of Connecticut and a B.A. in History from Salisbury University.